Contents:
A mutiny inside Russia echoes across MENA
Ibrahim Al-Assil
Senior Fellow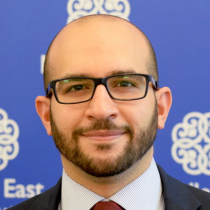 The shock of Wagner Group's attempted coup in Russia is being felt across the globe, including MENA, where governments have been following the news closely.

Wagner has been instrumental in shaping and increasing Russia's regional leverage; now, Putin will likely be overwhelmed by the attempted mutiny's long-term implications, which may weaken Russian domestic stability and possibly affect the Kremlin leader's calculations in the Middle East and beyond.
It's not every weekend that a nuclear-armed power faces a mutiny and the possibility of civil war. Two days after the mercenary Wagner Group seized a military headquarters in southwestern Russia and marched on Moscow, there are still no official details of the deal that suddenly ended the uprising. The anxiety, however, is already being felt across the globe, including in the Middle East, where governments have been following the news closely. The Wagner "private military company" (PMC) has been active in Syria, Libya, and Sudan, and it has been a critical tool for Russian President Vladimir Putin's foreign policy in the region over the last eight years. 
The Turkish president was among the first leaders to call Putin. Recep Tayyip Erdoğan urged his Russian counterpart to act with "common sense" in responding to the situation and, according to the Kremlin, offered his full support. Besides facing a coup d'état attempt himself in 2016, Erdoğan is concerned about the Kurdish situation in northern Syria and the unpredictable repercussions there if Russia's role is weakened. Syria was also discussed in the call between Putin and Iranian President Ebrahim Raisi. Iran voiced its support to the Kremlin right after the news of the mutiny started to come out. Energy and security interests will make it very likely that both Saudi Arabia and the United Arab Emirates follow suit and express their support for Putin soon. The emir of Qatar has already called Russia's leader to say that he stands behind him.
When it comes to the Wagner Group, the Biden administration has been working with partners in Cairo and Abu Dhabi to pressure the leaders in Sudan and Libya to end their ties with the Russian PMC. Now if Putin asks them to do the same, they may be much more likely to acquiesce. But how will that affect the dynamics of the conflicts in Syria, Libya, and Sudan, and what will that mean for the Russian influence and reliability in the region?
Wagner has been instrumental in shaping and increasing Russia's regional leverage. Undoubtedly, last weekend's dramatic events have shaken all that. Putin will likely be overwhelmed by the attempted mutiny's long-term implications, which may undermine Russian domestic stability and possibly affect the Kremlin leader's calculations in various regions around the world, including in the Middle East. Another world capital has been silently watching — Beijing. Will China try to step up to fill a potentially growing strategic gap in the Middle East should Russia's role start to diminish? What will that mean for sensitive issues like the Iranian nuclear program and the possibility of a direct or indirect escalation of Israeli-Iranian tensions? Could terrorist groups like the Islamic State try to capitalize on the Russian confusion inside Syria if that happens? While we wait to see what Putin's next move will be and try to better understand how severely the mutiny has shocked the Russian establishment, asking the right questions is key.
Follow on Twitter: @IbrahimAlAssil
Egypt-India relations reach next level
Mirette F. Mabrouk
Senior Fellow and Founding Director of the Egypt program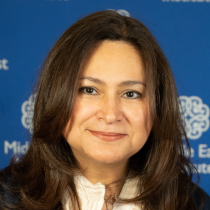 An enhanced bilateral relationship would be significantly advantageous for Egypt as well as India.

While both countries condemned Russia's invasion of Ukraine, neither allowed itself to be drawn in further by Western governments, signaling an inconvenient independence.
It was the first state visit by an Indian leader to Egypt in over two decades, and the occasion was marked with the appropriate pomp and ceremony. Egyptian President Abdel-Fattah el-Sisi presented India's Prime Minister Narendra Modi with Egypt's highest honor, the Order of the Nile, at the presidential palace, further ratcheting up the countries' relationship.
This was Modi's first visit to Egypt; while, Sisi had been invited to India in late January as the official guest at India's Republic Day. Following the meeting, Modi and Sisi signed an accord elevating Egyptian-Indian ties to "a strategic partnership," according to a statement by Egypt's presidential office. The two governments also signed agreements in agriculture, archaeology, antiquities, and competition law, according to Arindam Bagchi, a spokesperson for India's Ministry of External Affairs, although no further details were given. Officially, the "strategic partnership" means that both countries commit to periodic talks with a view to deepening ties. Unofficially, there is a lot at stake because an enhanced relationship would be significantly advantageous for both countries.
In economic terms, the countries did around $7 billion of trade last year, with both Modi and Sisi saying they hope it can be boosted to $12 billion over the next five years. For Egypt, currently in a serious economic crunch, the advantages are obvious: more desperately needed hard currency in seriously depleted coffers. Another, even more attractive option for Egypt is a proposal currently under consideration by India allowing the possibility of barter for goods and Egypt's paying for imports in rupees, allowing it to conserve its seriously depleted dollar reserves. Yet a further potential advantage for Egypt is its possible entry into the BRICS (a loose grouping of developing economies including Brazil, Russia, India, China, and South Africa); last March, Egypt took a step closer to that goal when it was accepted into the BRICS's New Development Bank, along with Bangladesh and the United Arab Emirates. Apart from nudging them in the direction of BRICS+ admission, the bank offers its members a huge advantage: They can use their national currencies in trade exchanges, offering further relief.
For India, apart from greater access to a large, growing, and still lucrative Egyptian market, the possibility of barter is also appealing. And for a country with growing interest and investments in renewable energy, the opportunity presented by an Egyptian offer to dedicate space for Indian industries in the Suez Economic Zone, which could be used for a $12 billion green hydrogen plant built by the Indian firm ACME, is particularly attractive.
Strategically, there is even more on the line. Egypt and India have often seen eye to eye politically, dating back to the non-aligned movement days, under Gamal Abdel Nasser and Jawaharlal Nehru, and echoes of that partnership are still evident today, particularly as relates to their relations with Russia following its full-scale invasion of Ukraine. While both countries condemned the Russian aggression, they refused to be drawn in further by Western governments, signaling an inconvenient independence. As India's Foreign Minister Subrahmanyam Jaishankar put it dryly last year, the era of "Europe's problems are the world's problems, but the world's problems are not Europe's," was grinding to a halt. Cairo and New Delhi are busy redrawing their geopolitical alliances and fault lines. For India, Egypt's geostrategic location, linking Africa, the Mediterranean, West Asia, and Europe, makes it an invaluable ally. India's future development necessitates access to vital maritime routes, and access to the Suez Canal is crucial. So is access, potentially, to the African Continental Free Trade Area. There are whispers that a free trade agreement, last proposed by Egypt in 2008, might be on the horizon. A preferential trade agreement is already in place, and Modi has previously announced that India, as host of this year's G20 summit, will invite Egypt.
In September 2022, Egyptian Minister of Defense Mohamed Zaki signed a security cooperation agreement with his Indian counterpart, Rajnath Singh, in Cairo. The potential for defense sales is significant, and for Egypt, Indian arms are delivered with intellectual property (IP) agreements, giving them an untouchable advantage over those from other suppliers.
While increased cooperation between Egypt and India is mutually advantageous, it should also be viewed as part of a bigger shift in global geostrategic relations: Several countries previously viewed by Western countries merely as "allies" are now opting for diversity in their relations and independence in their policies. Modi notably arrived in Egypt on the heels of his trip to the United States, and it was relevant that, in Cairo, neither leader mentioned the unfolding crisis in Russia. The conversation focused squarely on Egyptian-Indo interests.
Follow on Twitter: @mmabrouk
To avert tensions and build ties, Iran's foreign minister tours the Gulf region
Banafsheh Keynoush
Non-Resident Scholar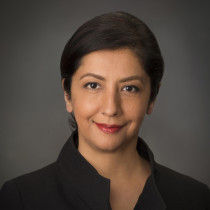 Iranian Foreign Minister Amir-Abdollahian just wrapped up a tour of Qatar, Oman, Kuwait, and the UAE to deliver the message that Iran does not seek war and proposes a structure for dialogue and cooperation.

Through this shuttle diplomacy, Iran wants its GCC neighbors to deliver new economic deals in exchange for an Iranian commitment to resolve its nuclear issue.
Iranian Foreign Minister Hossein Amir-Abdollahian just wrapped up a tour of Qatar, Oman, Kuwait, and the United Arab Emirates. His message: Iran does not seek war and proposes a structure for dialogue and cooperation. Another focal point of his regional talks was how to revive the 2015 Iran nuclear deal, which the United States pulled out of in 2018.
These issues will be discussed again at a foreign ministerial meeting between Iran and the Gulf Cooperation Council (GCC), on the sidelines of the United Nations General Assembly, in New York, in September. Meanwhile, before Amir-Abdollahian's regional tour, Saudi Arabian Foreign Minister Faisal bin Farhan Al Saud was in Tehran to seal a March 2023 Chinese-brokered Iranian-Saudi deal to resume diplomatic ties.
In Qatar, a country that frequently mediates tensions between Tehran and Washington but has hesitated to deliver on its economic deals with Iran, Amir-Abdollahian advanced talks on several cooperation agreements. Iran's Central Bank governor, Mohammad Reza Farzin, was in Doha to boost monetary, banking, and economic cooperation.
Amir-Abdollahian discussed building consensus on the issue of Gulf stability while in Oman. Earlier, White House Middle East Coordinator Brett McGurk was in Muscat to hold indirect talks with the Iranian nuclear negotiator, Ali Bagheri Kani.
In Kuwait, the foreign minister met with the Kuwaiti-Iranian Friendship Association and Prime Minister Sheikh Ahmed Al Nawaf Al Ahmad Al Sabah. Home to a minority Shi'a population, Kuwait aims to build internal balance with this community and external balance by expanding trade routes involving its Gulf ports by engaging with Iran.
The UAE and Iran signed an air transportation cooperation deal and discussed ties in the health, commercial, and education sectors. To minimize regional economic risks and maximize the benefits of cooperation, UAE leaders invited Iran's President Ebrahim Raisi for a state visit. Less than two weeks before, Bagheri was in the UAE to meet with representatives of the three European countries of France, the United Kingdom, and Germany that are parties to the nuclear talks with Iran.
Through this shuttle diplomacy, Iran wants its GCC neighbors to deliver new economic deals in exchange for an Iranian commitment to resolve its nuclear issue. This can help Raisi advance his "neighbors first" foreign policy. Iran's Supreme Leader Ayatollah Ali Khamenei is on board, saying he is open to reaching a nuclear deal.
But for the risk-averse GCC states trying to help Tehran buffer its tensions with the West, it remains to be seen if, this time, Iran will be in a better position to work with its neighbors. If U.S.-led international sanctions against Iran persist and its nuclear program turns into a bigger problem, this goal might not be so easily realized.
Follow on Twitter: @BanafshKeynoush
Intra-GCC ties on the mend as Qatar restores relations with Bahrain and the UAE
Gerald M. Feierstein
Distinguished Sr. Fellow on U.S. Diplomacy; Director, Arabian Peninsula Affairs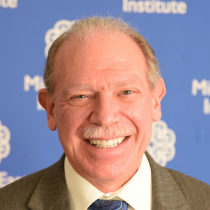 The announcement by Qatar and the UAE that they were reopening their embassies in Abu Dhabi and Doha marks the conclusion, at least for now, of the intra-GCC conflict that threatened to devolve into armed conflict in 2017.

While many of the issues that drove the conflict then are no longer relevant, not all issues have been resolved, and Qatari policymakers are not convinced that the conflict is entirely behind them.
The announcement on June 18 that Qatar and the United Arab Emirates were reopening their embassies in Abu Dhabi and Doha brings to a final conclusion the intra-GCC dispute from 2017 that was marked by a quadripartite (Saudi Arabia, the UAE, Bahrain, and Egypt) boycott of Qatar. Bahrain and Qatar announced in April that they would be restoring diplomatic ties, while Saudi Arabia and Egypt had already done so following the al-Ula agreement reached with Qatar in January 2021. At its nadir, the conflict threatened to lead to a military confrontation, while Iran and Turkey rushed to support the Doha government.
The al-Ula agreement reflected a recognition by Riyadh, Abu Dhabi, Manama, and Cairo that their attempts to isolate Qatar had failed as the authorities in Doha were largely successful in adopting workarounds to blunt the effects of the boycott. In the meantime, many of the issues that motivated the boycott in the first place became largely irrelevant in the intervening three years. A major complaint leveled against Doha was Qatar's relations with Iran and Turkey. Yet both the UAE and Saudi Arabia opened their own channels of communication to Iran beginning in 2019 and have subsequently restored their diplomatic ties with Tehran. Meanwhile, Turkey has also largely repaired its relations with the quadripartite states, strained by its support for Islamist political parties, especially the Muslim Brotherhood, which these four Arab countries saw as threatening their domestic positions.
The practical implications of the restored intra-GCC ties remain to be seen. While embassies in respective capitals have reopened and many of the operational elements of the GCC never ceased working even during the boycott, elements of mistrust persist. Earlier flareups of conflict with Qatar, especially in 2014, were papered over without being fully addressed, only to resurface later on. News coverage by the Doha-based Al-Jazeera cable news network, which the other GCC states saw as antagonistic and threatening to their interests, continues, and Qatar still insists it will follow its own preferences on foreign policy — even ones bound to generate friction with its GCC partners. For those reasons, while they welcome the warming ties with the other GCC states, Qatari policymakers are reluctant to declare that the conflict that generated so much angst five years ago is fully and entirely behind them.
Rift with UN growing amid opposition to implementation of Libyan 6+6 election deal
Jonathan M. Winer
Non-Resident Scholar
The June 7 6+6 deal on Libyan elections has attracted criticism from multiple fronts, including the U.N.'s special envoy, who has enumerated four "contested issues" likely to raise critical political hazards if the elections go forward.

In the coming weeks, Libya is likely to see shuttle diplomacy to get its parliamentary bodies to amend the 6+6 agreement, but no one should expect elections, parliamentary or presidential, to take place anytime soon.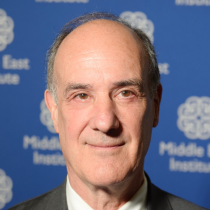 The June 7 deal on Libyan elections reached by the 6+6 Joint Committee for Preparing Electoral Laws, representing Libya's two parliamentary bodies, appears to be rapidly falling apart. Critics of important elements of the purported deal include the United Nations' special envoy, Abdoulaye Bathily.
On June 19, in his remarks to the U.N. Security Council, Bathily highlighted four major "contested issues" raised by the deal: (1) who would be eligible to run for president; (2) its mandatory second round for presidential elections regardless of whether anyone secures a majority of the popular vote in the first round; (3) postponing parliamentary elections until after the first round of presidential elections, and canceling them if the first round "fails"; and (4) requiring the establishment of a new interim government before elections can take place.
Vast universes of political hazards are embedded in each of these four points.
The first issue raises the ever-problematic question of whether people like warlord Khalifa Hifter and Saif al-Islam Gadhafi, son of the late Libyan dictator Moammar Gadhafi, can run for president. Both men have substantial resources and political bases, but they are persona non-grata to significant Libyan constituencies, given Hifter's 2019-20 assault on Tripoli and attacks on civilians, and Saif's family heritage. If they are prevented from running, they and their networks, domestic and foreign, are unlikely to cooperate in enabling elections to succeed.
The second issue invites circumvention of the popular will by the losers, giving them the chance to seek an alternative winner, or to prevent a second round entirely, thereby making the entire exercise fruitless.
The third provision encourages current office holders in the two parliamentary bodies to prevent presidential elections from taking place and thereby stay put in their sinecures. There's precedent for that in the last-minute cancelation of the Dec. 24, 2021, elections in the face of U.N. and international pressure.
The fourth provision is the kicker. Any number of other power players in Libya want to unseat the current interim prime minister, Abdul Hamid Dbeibeh, selected two years ago by the U.N.-brokered Libyan Political Dialogue Forum in a process whose integrity raised serious questions. But getting there would require Dbeibeh to accept the change and the newly appointed interim prime minister (and how does that happen?) to honor his supposedly temporary appointment and happily step aside no matter who is eventually selected as president.
Reflecting these problems, on June 26, 38 past candidates for the canceled Libyan presidential elections of 2021 issued a statement rejecting the 6+6 agreement because it would open the door to candidates who did not qualify for the elections then, in a move directly aimed at excluding Hifter. The same day, the Tripoli-based High State Council issued a press release announcing its candidate to take over from Dbeibeh for the interim position of head of a "crisis government," as agreed on by the 6+6.
In the coming weeks, Libya is likely to see shuttle diplomacy by Bathily to get Libya's parliamentary bodies to amend the 6+6 agreement, with a real risk of a rupture between them and the U.N. special envoy — and therefore, with the U.N. Special Mission in Libya (UNSMIL). No one should bet on Libyan elections, parliamentary or presidential, to take place anytime soon.
Follow on Twitter: @JonathanMaWiner
Photo by STRINGER/AFP via Getty Images
---
The Middle East Institute (MEI) is an independent, non-partisan, non-for-profit, educational organization. It does not engage in advocacy and its scholars' opinions are their own. MEI welcomes financial donations, but retains sole editorial control over its work and its publications reflect only the authors' views. For a listing of MEI donors, please click here.