This is the second in a series of articles examining and rebutting the shu al-badīl? argument ("What's the alternative?") in the run-up to this year's presidential elections, when Bashar al-Assad, president of Syria since 2000, is widely expected to seek a fourth seven-year term of office.
 
"I have prepared the country for you for 20 years," said Hafez al-Assad before his death in 2000, to his son Bashar. What did Hafez mean and what are the implications for the future of Syria, now that presidential elections loom once more?
The Assad dynasty has been in power for 51 years. The father-son rule began in 1970 with 30 years under Hafez, followed by 21 years under Bashar. Were Bashar's bid for re-election to succeed this spring, his reign would run till 2028, giving him 28 years, nearly catching up with his father's.
Both presided over a Syrian population that was a multi-layered religious and ethnic mosaic. The majority, 75%, was Sunni, 10% were Christian, 12% were Alawi, and 3% were Druze and other minorities. Kurds (who are typically Sunni Muslim) accounted for around 10% of the population, while the overwhelmingly majority were Arabs, with small groupings of Turkmen, Circassians, Assyrians, and Armenians. War and displacement have, though, played havoc with those figures in the last 10 years.
The Assads always claim to be secular and non-sectarian, yet this delicate social fabric, in place for centuries before them, was badly damaged over their first 40 years, and positively shredded during their last 10. Membership of the ruling Ba'ath Party became the only sect that mattered — "You are either with us or against us" ran the refrain — and while Hafez skillfully wove all religions into the fabric, so that his own minority Alawi sect was not too obviously prominent, Bashar has been less deft. That carefully woven fabric is indeed unravelling.
A fractured country
Living conditions within Syria are far worse these days than they were before the 2011 uprising, especially in regime-controlled areas, which today account for about two-thirds of the country. The remaining third is divided between the autonomous Kurdish-led, Syrian Democratic Forces (SDF)-run region east of the Euphrates, still controlling the country's oil and gas fields, and the last rebel-held region of Idlib Province, strongly supported by Turkey. Syria has splintered.
In each of the three areas, there are separate education systems, separate legal and administrative systems for vital documents like marriage, birth, and death certificates, as well as property deeds. There are even separate currencies, with Idlib now using the more stable Turkish lira to avoid the collapsing Syrian pound.
Despite this obvious fracturing, Assad's state media outlets ensure one consistent message — that only he can steer the country through its current miseries, that only Assad can deliver Syrians from Islamist extremists and "terrorists." Much of the world believes the Syrian war is over and that Assad has won anyway, little realizing that ISIS is on the rise again and that violence and deaths continue on a daily basis. His own narrative, his neat ending, has dominated.
Before the uprising and ensuing war, the Syrian pound had been stable for years at a rate of SYP50:$1. Today it has reached SYP3,000:$1, with the government unable to prevent its further rise. The Central Bank of Syria (CBS) has issued a new SYP5,000 banknote, more than double the previous highest SYP2,000 denomination note, acknowledgement that the inflationary pressures on the economy are here to stay. Both notes are banned by the Syrian Interim Government in Idlib. The cost of living has risen by 93% across the country while incomes have failed to keep pace. Inflation and unemployment are rampant. The entire economy is on life support with no end in sight.
Yet while 90% of the country struggles below the poverty line, the rise of a new breed of business tycoons in regime-held Syria is there for all to see. As fast as they come under Western sanctions, new operatives are found to act as the discreet front for the regime and its proxies.
Displacement and upheaval
Nearly a third of Syria's population — some 6 million people — have fled their homeland, now living as refugees in neighboring Turkey, Lebanon, and Jordan, with about 1 million making it to Europe. Overwhelmingly men, often of conscription age (18-42), the refugees left behind an imbalanced labor market, where women outnumber men by four to one, forced to step into roles previously considered men's domain. Divorce rates, historically low, have shot up by 25%, in a further symptom of societal fracturing as families are split apart by a range of issues, including political differences and challenges to the traditional patriarchy. A further 6 million are estimated to be displaced internally, some multiple times, especially in Idlib Province. That means only one-third of the population are still living in the same homes as before 2011.
Two stories have emerged from inside Syria in recent weeks reflecting societal extremes. One tells of Filipina maids "sold" from the UAE to new masters in Syria, wealthy, well-connected families, where they are abused, raped, and often unpaid, while another tells of starving children scouring rubbish dumps for scraps. Opposite ends of the social scale in Syria are on display for all to see.
Meanwhile Russia is protecting all its own soldiers currently stationed inside Assad's Syria from the coronavirus by vaccinating them with its own Sputnik-V vaccine. Syrian citizens in regime-held areas have to wait, with no date on the horizon, while Syrian media tells us they trust the Russian vaccine more than the Pfizer or AstraZeneca ones. The U.S.-led international coalition has likewise vaccinated all of its own soldiers inside the SDF areas controlled by the Kurdish administration.
What little reconstruction as has taken place inside the country is highly political. While Western sanctions render the transfer of funds into the country all but impossible, Christian charities and NGOs somehow manage to feed money in to finance the rebuilding of damaged churches. In Homs, newly varnished pews sit uneasily beside flattened Sunni suburbs. Resentment and divisions are clear, but Assad, deflecting the country's miseries onto the convenient scapegoats of Western sanctions and the coronavirus, sticks to his script. Omnipresent posters of his face reinforce the message — that he alone remains the country's savior.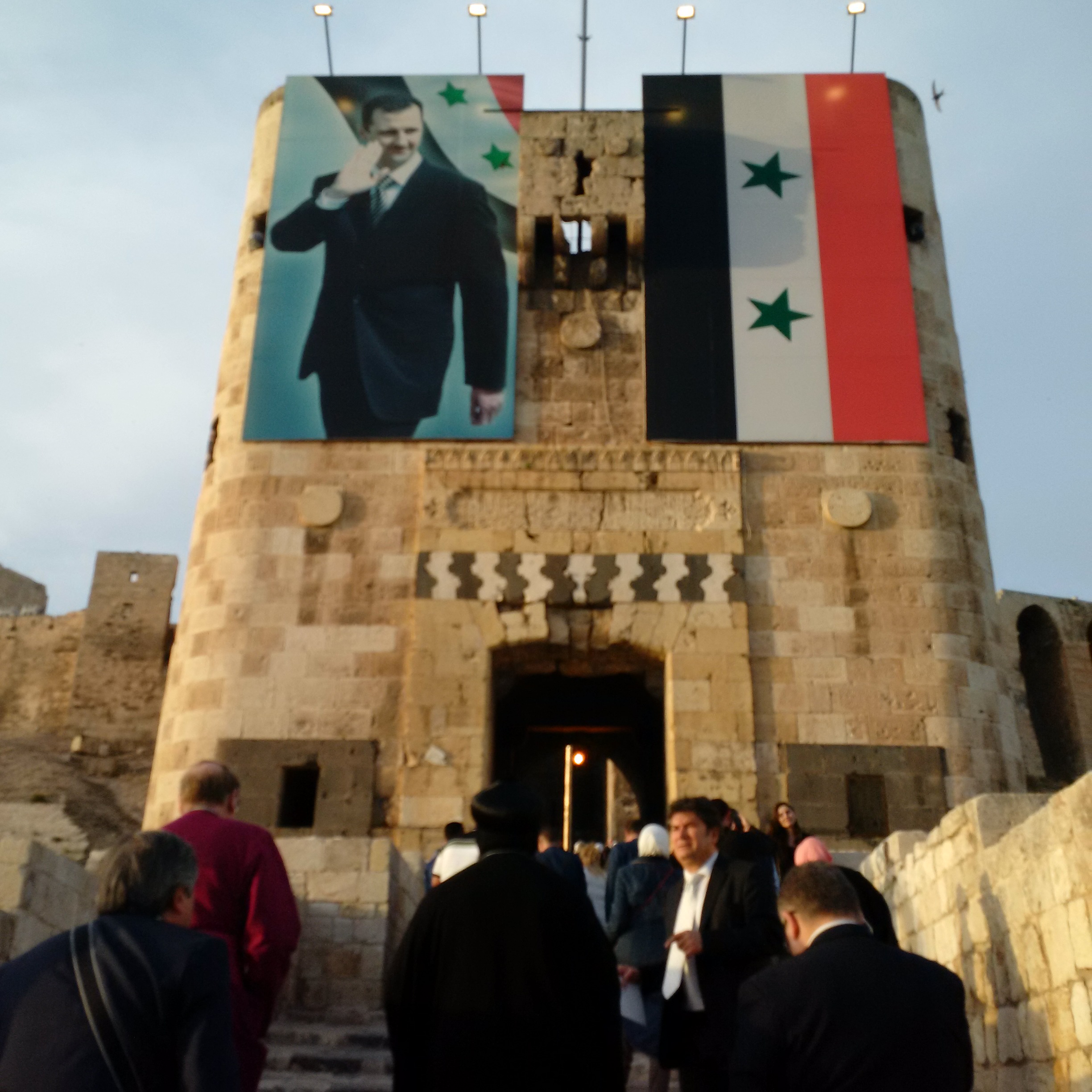 The upcoming elections
As Assad prepares to run, with Russian backing and a raft of newly appointed media managers, for a fourth term in Syria's upcoming presidential elections, his victory looks assured. Vetted opposition figures will no doubt be allowed to stand as window-dressing, but decades of despotism, repression, and arrests by his many-tentacled security agencies modelled on the Stasi have ensured that no serious opposition contender has ever been allowed to live inside the country and current rules forbid anyone living outside Syria from even being a candidate.
Asma al-Assad, his wife, has taken charge of all civil society initiatives under the mantel of her Syria Trust foundation, more dominant than ever now that rival Rami Makhlouf has been sidelined and asset-stripped. She and her children, especially the eldest son Hafez, now 17, appear to be actively grooming themselves for leadership, to carry on the dynasty.
But one thing can be said with certainty — that under seven more years of Bashar al-Assad, the divisions in Syrian society will only grow. His resistance to reforms has remained dogged throughout the fruitless years of dispute-ridden discussions in Geneva, from which first Kofi Annan, then Lakhdar Brahimi, then Staffan de Mistura have resigned as U.N.-appointed special envoys. Geir Pedersen, two years into the job, sees failure looming, without "the political will." "If you leave this to the U.N. alone," he warns, "we will not succeed."
The natural plurality of Syrian society is still there, smoldering below the surface. Once Assad's outside backers — Russia, Iran, and Hezbollah — realize Syria has no future with him at the helm for another seven years, no prospect or hope for improvement, his removal can be quickly engineered. Their combined asset-strip of the country's oil and mineral resources is complete, meaning it is already ceasing to be profitable for them to invest further in the Syrian war.
Another seven years with Assad at the helm will only guarantee that the wounds in Syrian society will deepen. Without him, those wounds have a chance of healing. His departure would unblock the path to political transition, sanctions would quickly be lifted, and rebuilding investment would flow in. Millions of refugees would return, the scope for extremism would shrink, and the world would be a safer place. What possible reason can there be keep him on? The 20 years his father gave him have expired.
Diana Darke is a non-resident scholar with MEI's Syria Program and an independent Middle East cultural expert and Syria specialist. She is the author of My House in Damascus: An Inside View of the Syrian Crisis (2016), The Merchant of Syria (2018), and Stealing from the Saracens: How Islamic Architecture Shaped Europe (2020). The views expressed in this piece are her own.
Top photo courtesy of the author.
---
The Middle East Institute (MEI) is an independent, non-partisan, non-for-profit, educational organization. It does not engage in advocacy and its scholars' opinions are their own. MEI welcomes financial donations, but retains sole editorial control over its work and its publications reflect only the authors' views. For a listing of MEI donors, please click here.