Question: Ambassador Khempon, could you provide a brief context for understanding the relationship between Thailand and Jordan? That is to say, how would you describe Thailand's interests in Jordan? Furthermore, what are the distinctive aspects of this bilateral relationship, as opposed to Thailand's relations with other Middle Eastern countries or partners outside the region?
Answer: Thailand sees Jordan as a genuine friend and as a strategic ally in the Middle East. Thailand also looks at Jordan as an example of a country of moderate Islam in which Islam and modernization can go hand in hand. This friendship is exemplified in the excellent relations between the two Royal Families of Jordan and Thailand. Both hold each other in vey high regard, and this has influenced the tone of communication between high ranking officials of Thailand and Jordan.
Unlike other countries in this region, Jordan is not a source of energy for Thailand. Nor is there a substantial number of Thai workers in Jordan. Trade between the two countries is not at a high level, though Thailand maintains a large surplus. Yet, there is potential for a more dynamic economic relationship, for example, in trade and tourism. Jordan's political stability, relative to some of its neighbors, provides confidence that such progress in the bilateral relationship is indeed possible.
Thailand values Jordan as a modern and progressive country and as an example for other countries in the Arab world. A considerable number of people from around the Arab world have migrated to Jordan because of its being a more free and open society, as well as a safe environment. Thailand sees this as a basis for an expanding market for Thai products which could also be launched into the Levant region (i.e., Lebanon, Syria, Jordan, Egypt, Iraq).
Politically, Thailand values Jordan as a fundamental policy shaper for the Middle East Peace Process and as one of the most reliable sources of information on regional political and security developments. In relation to this Thailand sees Jordan as a friend that can consider Thailand interests, if need be, in other regional political fora such as the OIC, GCC or the Arab League.
There are approximately 200 Thai university students in Jordan, the majority of whom come from the Southern Border Provinces of Thailand. This is a good opportunity to support the educational opportunities of these Muslim students and to constructively engage with them so as to enhance confidence and understanding. With the cooperation of Jordan institutions and officials, enhancing the well being and facilitating the success of these Thai students can be seen as a way of cultivating a new generation of future leaders from the South of Thailand that will be a strength for the country, and of course for Thai–Jordan relations.
Question: Since you arrived at your post in Amman, Ambassador Khempon, what developments have consumed most of your attention or energy, why, and in what respect?
Answer: Enhancing bilateral relations with Jordan based on technical cooperation has become a priority for the Royal Embassy. We focus on technical cooperation in the area of human resources development and agricultural capacity improvement, which Thailand has expertise in and could contribute to the prosperity of Jordan. The main project at the moment is focused on how to increase water for Jordan both for drinking, and for agricultural purposes. Thailand has a successful history with artificial rainmaking through a technique developed by His Majesty the King of Thailand, who thus holds the patent on this rainmaking process known in Thailand as "Royal Rain".  
With a view to enhance relations between Jordan and Thailand and to extend support to His Majesty King Abdullah II of Jordan in helping the Jordanian people, His Majesty the King of Thailand has given permission for a transfer of rainmaking technology to Jordan through a government-to-government process. This will be important for Jordan as it is the fourth poorest country in the world in terms of water supply.
Last July, the Thai government sent a team of experts to Amman to conduct a feasibility study on rainmaking. The team found that there are a lot of cloud formations in the sky over Jordan, especially during the winter months of December until March, they do not condense enough to become rain. In fact, most of the clouds evaporate in less than 30 minutes. To create rain, the Jordanian rainmaking unit needs to conduct cloud seeding procedures. Thailand will provide a transfer of technology in doing it. So, the Royal Thai Embassy is in the process of expediting the conclusion of the framework agreement on cooperation between Thailand and Jordan in artificial rainmaking.
Thailand is also offering itself as a model of combating drought in the Jordan to make the rainmaking sustainable. In Thailand a permanent Rain Making Unit was incorporated in the apparatus of the Ministry of Agriculture, with the regular task of cloud seeding and making rain all year round. Thailand hopes to see Jordan improve and sustain its capability to convert scattered cloud above its sky into rain, as shown in the feasibility studies. Therefore, this has been a goal for The Royal Thai embassy as the main coordinator between the many agencies involved on both sides.
The conflict situation in Syria and the resulting influx of Syrian refugees into Jordan this past year has been another issue in which Thailand has sought to work closer with our Jordanian friends. Thailand has a long history with providing humanitarian assistance to refugees along our own borders, and because of this experience, Thailand understands the importance of providing assistance to our friends who have been asked to share the same burden in their own circumstances. After consultations with several Jordan counterparts, the Royal Thai Embassy made recommendations to the Government of Thailand on ways to provide assistance to Jordan and so far, Thailand has responded to the appeal of the Jordanian government and UN agencies by making a donation to the Hashemite Charity – the chief humanitarian agency currently managing the refugee camps along the Jordanian Syrian border.  It goes without saying that Thailand is committed to further assisting our Jordanian friends on this matter.
Question: Since assuming your post in Amman, what personal experiences have you had that have shed a new light on Jordanian and/or Arab culture? In other words, have you had any unexpected encounters that already have, or that might affect you in your personal or professional daily life?
Answer: I found that Jordan and Thailand have much in common. As kingdoms, our survival in history of foreign relations and diplomacy rely on the wisdom and relentless efforts of monarchies to guide the country through the constant rivalry of regional and local powers, and to achieve prosperity for the peoples. All the Jordanians I have met express pride in their King. This is a special sentiment for a Thai person. Also I appreciate how Jordanians, like Thais, regard their extended family with importance.
Perhaps what is also similar between Thais and Jordanians is that we exhibit friendliness towards strangers. The fact that Jordan is situated at the crossroads of interactions among diverse cultures and civilizations – from the Nabatian, Greek, Roman, Christian to Islamic – it has become a moderate country with rich resources in tourism and friendly to all. With the friendliness of the Jordanians who welcome tourists with open arms, it is no wonder why Jordan has a strong and successful tourism industry.
It is not an accident that Jordan has managed to remain relatively calm and peaceful since the Arab Spring began. With guidance from the King, the country had implemented social and economic reforms before the wave of Arab Spring forces changes in the region. There is a saying in Jordan that 'the Jordan Spring came before the Arab Spring,' which I think is true. Although Jordan faces many challenges, I believe that the King has been steering the country in the right direction.
King Abdullah II is also seen actively involved in regional diplomacy to create peace in the region. In the past decade, the King of Jordan has also initiated a Look East policy and strengthened relations with the ASEAN countries and other nations of the Far East. In this regard, Bangkok has served as a hub for its national carrier, the Royal Jordanian Airlines in connecting with countries in Asia. I'm proud to say that Thailand has become a springboard for Jordan in tourism and trade exchanges. I'm sure that Jordan is considering a more active role in Asia in the near future in order to maximize the opportunities when ASEAN is integrating itself into an ASEAN Economic Community in 2015.  
Question: Who or what spurred your decision to travel to the Al Zaatri refugee camp?
Answer: I wanted to see with my own eyes how bad the situation on Syrian refugee is and to assess how Thailand can contribute to help Jordan. The Jordanian government and UN agencies had launched a joint appeal to international community for help. Actually, Amman is only a little more than one hour from the border, and one-and-a half hours away from Damascus. Mafraq is the border province where people along the Jordanian and Syrian border who are relatives cross in and out on a daily basis. The area sees enormous cross-border trade between the two countries and has contributed significantly to the Jordanian economy. It is the main trade route by land for Jordan's agricultural produce into Syria and through to Turkey and to Europe. Indeed, this border trade is the major lifeline for Jordan since ancient times. Now border trade has come to a complete stop, resulting in the loss of billions of dollars of revenue for Jordan and added more problems to its economic hardship. The border is technically open, and Syrian refugees still risk being ambushed by armed groups as they make their way across the border into Jordan every day.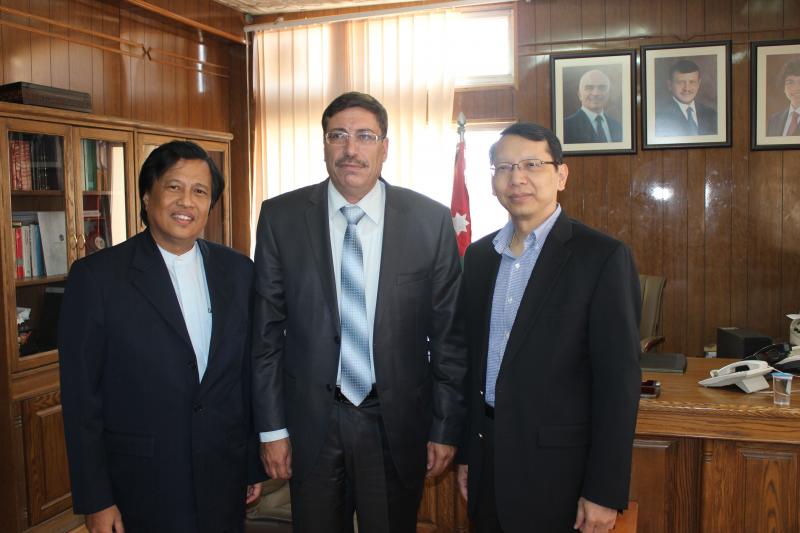 Malaysian Ambassador to Jordan HE Dato' Abdul Malek Bin Abdul Aziz (left), Governor of Mafraq, Ali Nazzal (middle), and Thai Ambassador to Jordan HE Piriya Khempon (right)
Question: What were your initial reactions to the circumstances you encountered there - on a human as well as a professional level?
Answer: I met with the Governor of Mafraq Province and senior officials in the province and was told that there are waves of Syrian refugee came to Jordan. The first wave was during the early stages: they crossed the border by car and by plane to stay "temporarily" with relatives in Jordan. The figure given was about 400,000 people. This group was taken care of by their relatives who provided accommodation and assistance in the hope that they would return when the situation improved. However, with the deterioration of the situation in Syria, they ended up staying in Jordan. These people are allowed to move freely in Jordan. some of them go to Amman where they try to find jobs. The majority of them, however, stay in Mafraq province where the local government provides assistance such as education, medical care, transportation, etc.
The influx of refugees has added to the already difficult situation for Jordan in terms of resource scarcity (i.e., water, gas and fuel, electricity and other public utilities). The fact that many Syrian refugees are dispersed throughout Jordan also poses problems for Jordanian security authorities aiming to keep Jordan safe.
As the situation in Syria worsened, the Jordanian government agreed to open up the Al Zaatri camp near the border. At the moment, the Government has said there are about 200,000 Syrians in the camp, mainly women and children. Those armed personnel who cross the border into Jordan will be moved to the special camp in the military compound after being disarmed. The Jordanian government does not wish to get itself embroiled in the conflict in Syria for fear of retaliation.
I was impressed by the help by International organizations that provided food supplies and medical assistance to these refugees at the Al Zaatri camp. I saw long lines of hundreds of new comers waiting to receive initial screening and registration. Many field hospitals are providing treatment. Food supplies are abundant. Electricity poles are erected to provide power and lights for them. Countries in the Gulf region such as Saudi Arabia and Qatar have provided thousands of containers to be used as temporary shelter for these people. They have to stay in containers rather than in tents to shield them from the bitter winter cold.
Although the Al Zaatri camp is like a big town equipped with facilities to help these refugees, it is  nonetheless a depressing picture, as these people mostly women and children, have been forced to flee their homes and abandon everything. I saw no smiles on any of the faces of the refugees I encountered.
As I left the Al Zaatri camp, I heard that the Jordanian Government is contemplating opening a 2nd camp to cope with endless influx of the refugees. It seems that if there's no political solution insight, the violence will continue and Syrians will risk their lives in fleeing the cities toward the Jordanian border for the safer place.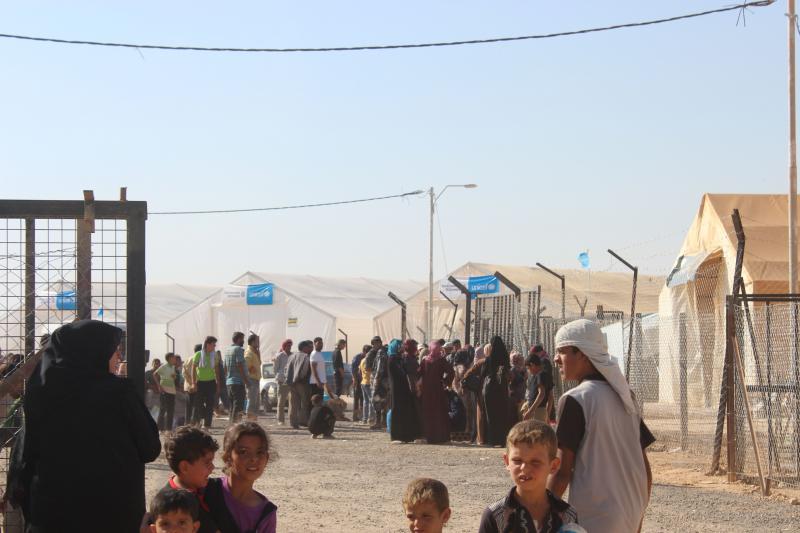 Newly arrived refugees awaiting processing and registration at the Al Zaatri refugee camp in Jordan.
Question: Upon later reflection, what insights or concerns did your experience at the camp raise, whether regarding the refugees, Jordanian citizens and authorities, and/or the trajectory of the Arab Spring as it applies to Jordan?
I couldn't help thinking that the so-called "Arab Spring" is the result of the future catching up to the dictatorships of the Middle East, which for so long did so little to change or reform the socio-economic landscape of the countries. The regimes that crumbled are those which ruled for decades but did not do enough to democratize and reform. They suddenly collided with the new era of advanced social networking technology such as Facebook as Twitter, which had leveled the playing field for the people on the street. They now have unprecedented power to mobilize support for mass demonstrations. Thus, the image of the self-immolation of Mohamed Bouazizi, the Tunisian fruit vendor whose frustration with the unjust actions of the authorities could be tweeted and re-tweeted quickly throughout the country to call for a mass demonstration. One thing in common from Tunisia to Egypt to Syria is that changes did not come from the top down, but from the masses who are frustrated from years of economic and social hardship, corruption, and unemployment. The countries were forced to change quickly and unavoidably.
The circumstances in Egypt, Tunisia, and Syria differ from those in Jordan, in my opinion. In Jordan, the far-sightedness of His Majesty King Abdullah and his advisors led to reforms before the Arab Spring came. During the past three years, we have seen His Majesty King Abdullah repeatedly "reshuffle" his Government. Several mechanisms have been set up to root out corruption. We have seen the determination of the Government to expedite and catch the "big fish" in corruption cases. Jordan is undergoing an important learning process in the midst of regional turmoil. It is remarkable that Jordan has remained relatively calm and peaceful in the context of this regional turmoil.
Jordan has never stopped trying new reforms. The latest one is the upcoming election on January 23, 2013 when Jordanians will go the polls to elect 150 MPs to a new house, and a new Prime Minister will be selected. This election is an important step in Jordanian political history. It is my opinion that this is another wise move by King Abdullah II to capture the moment and initiate a reform from the top down.  
---
The Middle East Institute (MEI) is an independent, non-partisan, non-for-profit, educational organization. It does not engage in advocacy and its scholars' opinions are their own. MEI welcomes financial donations, but retains sole editorial control over its work and its publications reflect only the authors' views. For a listing of MEI donors, please click here.