This week's briefing on recent news and upcoming events in the region featuring Randa Slim, Gerald Feierstein, Alex Vatanka, Robert S. Ford, and Michael Sexton.
Drone strike in Iraq
Randa Slim
Senior Fellow, Director of Conflict Resolution and Track II Dialogues program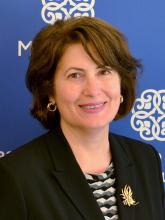 In Iraq, near the Syrian border, two drones attacked Brigade 45, part of the state-sanctioned Popular Mobilization Forces (PMF), on Sunday. The strike dragged Iraq into the heart of the Iranian-Israeli military confrontation taking place in Syria. Resulting in two deaths, including that of a senior commander in Brigade 45 (also known as the Hezbollah Brigades), the attack must be analyzed through three lenses: regional escalation between the U.S. and Iran, the future of the PMF in Iraq, and Iranian-Saudi competition for power in the Middle East.
Iraqi leaders have long said they wanted Iraq to be a place of dialogue and mediation rather than confrontation between the United States and Iran. That is no longer possible. The Sunday attack comes after a spate of bombings targeting PMF bases and weapons depots. Of these attacks, only one on July 19 is reported by unnamed U.S. officials to be Israeli in origin. Last Wednesday, PMF Deputy Commander Abu Mahdi al-Muhandis officially blamed Israel and accused the U.S. of helping the Israeli aggression. The Fatah Coalition, the parliamentary bloc controlled by the PMF leadership, today called U.S. forces present in Iraq to aid and assist Iraqi security forces (ISF) in their fight against ISIS, to leave Iraq, and that it considered the drone attack a declaration of war on Iraq and its people.
Given the fact that these attacks put U.S. soldiers in harm's way, especially if they target areas where U.S. military personnel are located, it is likely there was some communication between U.S. officials and their Israeli counterparts warning of the strikes. The attacks are harming the PMF military infrastructure and generating popular opposition to their paramilitary status, partly because many of the PMF weapons depots are located in civilian areas and threaten civilians. The PMF would most likely respond to these attacks partly to show strength to its supporters and most importantly to establish some sort of deterrence against future attacks. Where it responds and whom it targets will mostly be coordinated with the leadership of Iran's Islamic Revolutionary Guard Corps (IRGC), the PMF's main sponsor and bankroller.
At the domestic level, the Iraqi president, along with the Iraqi prime minister and speaker of parliament, convened a meeting today with the leadership of the PMF. Iraqi officials find themselves between a rock and a hard place. On one hand, they understand the need for a strategic partnership with the United States and continuing U.S. military presence in the country. On the other hand, they cannot sit idly in reaction to violation of their territorial sovereignty. Last week Iraqi Prime Minister Adel Abdul-Mahdi enacted tighter air traffic controls, putting his office in charge of approving all types of aviation in Iraqi airspace and thus helping to mollify PMF concerns that the Iraqi state institutions were not doing enough to prevent attacks against their facilities and personnel. Sunday's attack on the Brigade 54 convoy highlighted the uselessness of such a measure. The ongoing struggle inside the Iraqi government about how to address this challenge is less about preventing future Israeli attacks and more about who makes decisions of war and peace in Iraq. Lebanon's experience with Hezbollah demonstrates the inability of weak and fragile state institutions such as that exist today in Iraq in bringing paramilitary forces like the PMF under state control.
At the regional level, Saudi Arabia and other Arab countries in the Gulf have been pursuing an engagement policy with Iraqi state institutions despite their misgivings about the increasing power of Iran-controlled Iraqi militias in the country's politics and security. The Gulf countries will be closely following how the Iraqi government will address this issue and whether or not Iraqi officials, especially the prime minister, can control the PMF leadership behavior and force them to abide by government decisions.
Is Biarritz the starting point for new US-Iran talks?
Gerald Feierstein
Senior Vice President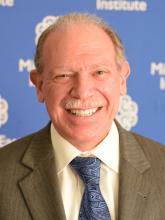 Over the weekend, French President Emmanuel Macron continued his apparent pursuit of a role as intermediary between the U.S. and Iran, aiming to reduce tensions in the region and restarting dialogue. Following a meeting with Iranian Foreign Minister Mohammad Javad Zarif in Paris on Friday, Macron invited Zarif to make an unanticipated visit to Biarritz on Sunday, as the G7 leaders, including U.S. President Donald Trump, continued their summit meetings. According to press reports, Zarif met only with French Foreign Minister Jean-Yves Le Drian during his stay, which included a 30-minute Macron drop-by, and departed Biarritz immediately afterwards.
There was some confusion about how much Trump knew of the Zarif visit in advance. Despite the initial White House denial that the French had briefed Trump and the other G7 leaders on Saturday, the French insisted that Trump had been informed. After initially declining to comment, Trump himself confirmed that he knew in advance about the Zarif visit but indicated that it was "too soon to meet" the Iranian foreign minister.
Even in the absence of direct discussions between the two sides, the parameters of a potential resumption of U.S.-Iranian negotiations have been clarified somewhat. U.S. Treasury Secretary Steven Mnuchin reiterated the country's willingness to negotiate with Iran without preconditions, while Trump suggested that his administration would pursue its own outreach to the Iranian regime. Iranian officials told reporters that they would seek a relaxation of sanctions to permit some resumption of oil sales before sitting down with the U.S., while insisting that their ballistic missile programs would not be on the table. The Iranians have also insisted on acknowledgement of their "right" to enrich uranium, a point of contention between the two sides for years, including during negotiations leading up to the 2015 Joint Comprehensive Plan of Action. Thus, Biarritz may provide an early hint that the frozen U.S.-Iranian dialogue may be thawing.
Mr. Zarif goes to Biarritz
Alex Vatanka
Senior Fellow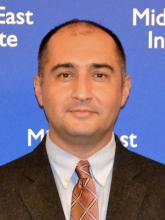 Iranian Foreign Minister Mohammad Javad Zarif's visit to the G7 summit in Biarritz, France, was less of a surprise than it was likely a case of a missed opportunity for diplomacy. For weeks the rumor mill in Tehran had been churning out speculation that Paris might invite President Hassan Rouhani to attend the summit. The repeated visits of President Emmanuel Macron's personal envoy, Emmanuel Bonne, to Tehran was supposed to have prepared the ground for a big breakthrough in the U.S.-Iran standoff. Zarif claimed that Paris had put an offer on the table last week: Iran would reassure the world that its nuclear program will remain nonmilitary in nature in return for relief from U.S.-imposed sanctions. It is not clear if the latest proposal is much different from the similar French proposal that Iran rejected in mid-July. In the end, U.S. President Donald Trump, who would later claim to have approved the details of the French-Iranian talks in advance, opted not accept Tehran's request for a new round of sanction waivers for Iran to sell its oil in order to stay in the 2015 nuclear deal. Back in Tehran, hard-liners are already attacking Zarif for attending the G7 summit and call it a submission to a Western agenda. Meanwhile, Rouhani not only defended the French-mediated talks but hinted that he might be willing to meet with Trump if he felt that might go to serve the "interests of the Iranian people," as he put it. An opportunity is around the corner as Rouhani is planning to attend the opening session of the U.N. General Assembly in New York in September. That said, Rouhani is far less convinced about the value of a meeting with Trump than he is interested in persuading the world, and particularly the Europeans, that Tehran is the reasonable party in this U.S.-Iran impasse.
Erdogan's weak hand in Idlib
Robert S. Ford
Senior Fellow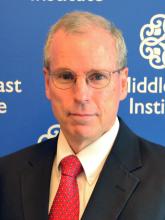 Turkish President Recep Tayyip Erdogan has a weak hand when he meets Russian President Vladimir Putin in Moscow on Tuesday to secure a halt the Syrian government's attacks in the northwestern Syrian province of Idlib. The Turkish observation posts in Idlib have not deterred Syrian government assaults, and the Syrian army surrounded one of those posts when it recaptured the town of Khan Sheikhoun last week. Beyond its military disadvantage, Ankara faces the prospect of a new wave of Syrian civilians trying to escape the slowing advancing Syrian army. A UN official said on August 21 that 576,000 Syrian civilians have been already displaced by fighting in Idlib since May 1. Turkey's interior minister reiterated last week that Ankara would not allow Syrian civilians to cross into Turkey, saying Ankara instead could help prepare more displaced-persons camps inside Syria. Erdogan's hand is especially weak as he confronts Putin because Ankara is enmeshed in sharp disputes with Washington.
Moscow wants more than Turkey has delivered so far in Idlib. Foreign Minister Sergey Lavrov today stressed that Syrian attacks do not violate a September 2018 ceasefire deal because Turkey had not disarmed terrorist elements in Idlib. Russian officials, including Putin, have highlighted attacks on the Russian airbase at Hmeimim, near the Syrian city of Latakia. Meanwhile, the Syrian government wants to free the highway linking the cities of Homs and Aleppo from rebel control in the short term, even as it works to reestablish control of all of Idlib over the long term. Russia has larger interests with Turkey, and thus Erdogan and Putin may find an agreement that enables the surrounded Turkish observation post to be safely moved to a new site. However, without deeper Turkish concessions on Syrian rebel forces in Idlib and Syrian government control of the highway, Idlib likely will not gain much of a respite.
Israel promotes domestic tech industry despite reservations
Michael Sexton
Director, Cybersecurity Initiative
Israel continues to embrace and promote parts of its domestic technology sector despite ethical reservations from privacy and human rights groups. Israel has loosened regulations on the export of offensive cyber weapons, such as those developed by the Israeli company NSO Group. Israel is also deploying locally developed facial recognition technology at West Bank checkpoints. These technologies have some human and strategic advantages but also raise concerns about potential abuse and invasion of privacy.
The FBI allegedly used NSO Group's hacking tools after the 2015 mass shooting in San Bernardino, California, to access the iPhone of one of the shooters. The dispute between the FBI and Apple divided popular opinion, although privacy activists and encryption experts overwhelmingly defended Apple. NSO Group's technology, however, was also discovered on the phones of Saudi journalist Jamal Khashoggi's associates prior to his 2018 murder, according to the University of Toronto's Citizen Lab. NSO Group reportedly restricted the Saudi government's use of its software following the murder, but the Israeli government's move to ease export restrictions signals that the software's high potential for misuse does not warrant a policy shift.
Israeli deployment of facial recognition technology at West Bank checkpoints speeds up wait times, where Palestinians need only scan an ID and stare at a camera before passing. The technology, developed by the Israel-based company AnyVision, is projected to be deployed at all West Bank checkpoints within months. The renovated checkpoints improve the notoriously slow process for Palestinian travelers, but facial recognition technology has come under serious scrutiny for its difficulty accurately identifying members of ethnic minorities. In China facial recognition is now incorporated into the national surveillance system to track ethnic Uighurs specifically. (AnyVision's CEO has stated the company only sells systems in democratic countries and has no business in China, Russia or Africa.)
These developments signal Israel's increasing embrace of high-tech surveillance and its willingness to aid other countries to develop similar systems. Israel has developed a sprawling security state to cope with the ubiquitous threat of terrorism, but the implications of that culture for emerging technologies set up future conflict with privacy and human rights watchdogs.
Photo: HAIDAR HAMDANI/AFP/Getty Images
---
The Middle East Institute (MEI) is an independent, non-partisan, non-for-profit, educational organization. It does not engage in advocacy and its scholars' opinions are their own. MEI welcomes financial donations, but retains sole editorial control over its work and its publications reflect only the authors' views. For a listing of MEI donors, please click here.