This essay is part of the series "All About China"—a journey into the history and diverse culture of China through essays that shed light on the lasting imprint of China's past encounters with the Islamic world as well as an exploration of the increasingly vibrant and complex dynamics of contemporary Sino-Middle Eastern relations. Read more ...
---
The principle of 'democratic centralism' is the core tenet of the governance model of the People's Republic of China. But for decades, this principle has coexisted with the practice of administrative and fiscal decentralization. The Belt and Road Initiative (BRI) — a central policy framework with decentralized initiatives — is a case in point. Under the BRI's Silk Road Economic Belt (SREB) and the Maritime Silk Road (MSR), China's inland provinces and coastal peers have been obliged to implement the top-down national strategy while at the same time having been granted the latitude to interpret the strategy to suit their commercial interests.
Fujian and Jiangsu provinces occupy two distinctive niches along the Maritime Silk Road with respect to their relations with Middle Eastern partners. Locking in for the long term and diversifying energy cooperation with Saudi Arabia lies at the core of the role that Fujian has sought to claim for itself as the "starting point" of the MSR. Meanwhile, Jiangsu has staked out a place for itself as the "intersection point" of the SREB and the MSR by investing in the United Arab Emirates' (UAE) expansive efforts to become a major global hub for logistics and shipping.
Provincial Subservience?
China's BRI-related activities involve a complex, heterogenous mix of national and sub-national actors.[1] [2] While theoretically provincial governments and urban municipalities are subservient to Beijing, in practice they have enjoyed a great deal of discretion in economic policy for much of the post-Mao reform period. Cheung and Tang trace the devolution of authority to sub-national actors specifically in developing trade and investment relationships to China's "reform and opening up" under Deng Xiaoping.[3]
Whereas some argue that provincial actors have gained the space to resist or even depart from national policy,[4] others judge provincial participation in foreign and economic policy to be "indirect," "limited," and operating within centrally determined boundaries.[5] However, scholars generally agree that under Chairman Xi Jinping the Party has reclaimed the authority it had delegated to the State and has recentralized economic decision-making.[6] Under Xi, the 'pendulum of power' has swung away from State Leading Groups (committees) and back toward Party Leading Groups. The point here is not to challenge the latter claim. Rather, it is to suggest that notwithstanding Party-driven top-down design, the interpretation and implementation of policy continues to rely on the state bureaucracy and on loose frameworks of cooperation overseen by provincial governments and a variety of central agencies.[7] The Belt and Road Initiative (BRI) represents this hybrid model in action.
Much of the burgeoning literature on the BRI focuses on its geoeconomic potential and implications.[8] [9] A second body of work portrays the BRI as a manifestation of China's efforts to revive or shape (a Chinese form of) globalization.[10] [11] Yet, there is also a strand of literature that considers domestic factors in the BRI's formulation and implementation.[12] [13] [14] The work by Summers is especially relevant here, as it demonstrates that the BRI has its roots in sub-national ideas and practices and that provincial and local actors have an important role to play in the Belt and Road's implementation.[15] [16] Similarly, as Li has shown in the case of Guangxi, sub-national actors have served as policy propellers, implementers, boosters, and, to some extent, competitors of the central government in the BRI.[17]
Sub-national actors are tasked by Beijing with developing their own project plans for executing the BRI. Central agencies hold the purse strings, licensing, and project approval authority.[18] Yet, recentralization of economic decision-making under Xi has not equated to finely detailed plans and micro-managed outcomes. Variation in the level of economic development across provinces as well as (presumably intentional) ambiguity in official documents has led to the BRI being one strategy marked by multiple paths of implementation[19] —a feature that is evident across many fields of domestic policy as well. The main policy document on the BRI contains a section entitled "China's Regions in Pursuing Opening-Up"[20] that sets out roles for various provinces, municipalities, and regions. Jones and Zeng have shown how the content of this document was the result not just of deliberations at the national level but also of input by provincial and other actors.[21]  
The BRI appears to function as a hybrid top-down policy design, bottom-up implementation model featuring broad policy pronouncements and central directives that allow SOEs and local leaders the latitude to advocate and interpret. The BRI architecture is such that Chinese provinces — some as large as mid-sized countries — are proactive participants. BRI implementation functions as a kind of decentralized cooperation that is pluralistic while at the same time centrally coordinated. Both the incentive structure and the system of governance in China foster this type of arrangement. Local officials hope to secure their promotion by fulfilling center-assigned political tasks with local resources.[22] Actions taken by provincial and local officials in support of central directives serve as justification for economic autonomy in a setting where fiscal federalism prevails.[23] [24] By advancing the aims of the BRI, sub-national actors position themselves to obtain tangible benefits from their participation with destination countries — including securing their own promotion through the Party Cadre system — as well as to gain policy support from the central authorities.
The Fujian-Saudi and Jiangsu-UAE Junctions on the Maritime Silk Road
Different provinces rely on the Belt and Road — whether the Silk Road Economic Belt (the trans-continental passage) or the Maritime Silk Road (the sea route) — as a catalyst for economic growth to varying degrees. In crafting their individual development plans so as to align with the Belt and Road Initiative, provincial governments have sought to optimize their coastal or other advantages and have vied with one another to win coveted policy support.
In mid-2017, China issued the Vision for Maritime Cooperation under the Belt and Road Initiative,[25] which provides a blueprint of Beijing's plans for developing an overseas network of maritime industrial zones that are integrated with China's domestic maritime sector.[26]
The initial step and priority of this 21st Century Maritime Silk Road (MSR) is to connect the littoral Chinese provinces with partner countries that are situated along three "blue economic passages": 1) China-Indian Ocean-Africa-Mediterranean Sea; 2) China-Oceania-South Pacific; and 3)  China-Europe via the Arctic Ocean using the Northern Sea Route and the Northwest Passage ('Polar Sea Road'). Of these three passages, it is the first through which more robust commercial activities between China's coastal provinces and the Middle East are intended to flow.[27] To date, of the 11 provinces that line China's coast, Fujian and Jiangsu have developed arguably the most distinctive and dynamic relationships with the Arab Gulf States both within and outside the MSR framework.
Fujian
The concept of the Maritime Silk Road first emerged in October 2013, when Chairman Xi presented the idea in a speech to the Indonesian parliament.[28] Fujian officials got out of the gate early to claim leadership of the MSR,[29] and within just a few months of Xi's proposal the city government of Fuzhou, the provincial capital, established a $1.6 billion private equity fund  to support the initiative.[30]
China's 13th Five-Year Plan, issued in November 2015, identified Fujian as a core area for the development of the 21st Century Maritime Silk Road (MSR).[31] [32] Under the MSR, Fuzhou, as well as Xiamen and Quanzhou were designated as coastal strategic pivot cities.[33] The Fujian provincial administration set as its goals broadening two-way investment channels, guiding foreign investment into Fujian's leading industries, and supporting qualified domestic enterprises to build economic and trade cooperation areas and bases for trade logistics, production and processing of raw materials and manufactures abroad.[34]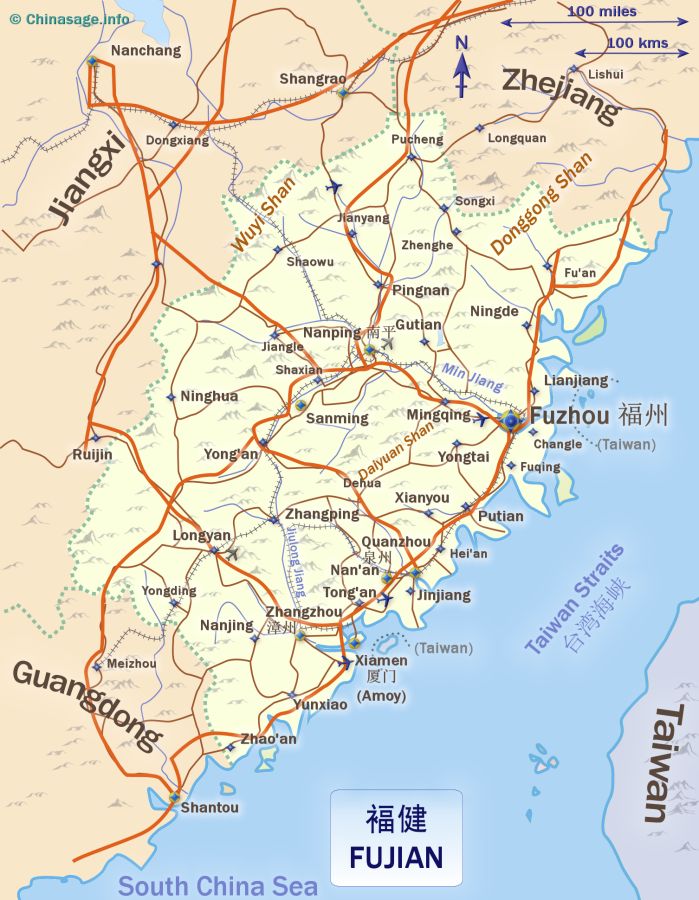 Officials at the municipal level too have reshaped city development plans. City authorities in Quanzhou, which in recent decades has emerged from a maritime backwater to an incubator of private sector growth and a dynamic economy of regional significance,[35] issued an action plan in January 2016 to build the provincial "core area," which includes as one of its ten action points developing a "New Middle East Corridor"[36] that would link Quanzhou to King Abdul Aziz Port in Dammam, the Kingdom's main port in the Gulf. 
Fujian's relations with the New Middle East Corridor are centered on the energy sector, as might be expected given China's heavy dependence on Middle Eastern oil. The province's energy-based ties to the region are anchored in a "strategic oil partnership" with Saudi Arabia.[37] Pre-dating the launch of the Belt and Road Initiative, the defining moment in the evolution of that partnership, and in Fujian province's role within it, was the inauguration in 2007 of a joint venture project involving Saudi Aramco to upgrade and expand the integrated refining and chemicals complex in Quanzhou City near Meizhou Bay.[38] With the entry into commercial operation of that project two years later, Fujian established itself as an important focal point of Sino-Saudi energy cooperation. The success of the Fujian project in turn served as a catalyst for the establishment of the Yanbu Aramco Sinopec Refining Company (YASREF) Ltd., a joint venture between Saudi Aramco and the China Petrochemical Corporation (Sinopec).[39]
Chairman Xi's visit to Riyadh in 2016,[40] reciprocated by King Salman's trip to Beijing in March 2017 laid the groundwork for the forging of a "comprehensive strategic partnership" between the two countries.[41] Since then, Saudi Aramco, particularly its Asia subsidiary, has played a major role in seeking to develop synergy between China's "Belt and Road Initiative" and "Saudi Vision 2030." Under its business plan to support the flow of reciprocal investments between China and Saudi Arabia, [42] Saudi Aramco Asia has intensified efforts to expand engagement in the downstream business.
Seeking to leverage the benefits from China's Free Trade Zone (FTZ) initiative, Aramco Asia is planning to build a chemicals distribution hub for products it manufactures in Fujian and has identified Xiamen as "prime candidate."[43] Saudi Aramco's pending acquisition of a controlling stake in Saudi Basic Industries Corp (SABIC) would further expand its own chemical and refining downstream operations.[44] These results of the merger, could in turn, deepen and diversify its business in China, where, for example, SABIC is pursuing a petrochemicals project to be built in the Gulei Industrial Park in Fujian.[45] [46]
Energy cooperation between Fujian province and Saudi Aramco has led the way for increased, more diversified trade relations and new business opportunities. Fujian's trade with MSR countries registered strong gains in 2019.[47] Saudi Arabia is ranked among the province's top three trade partners,.[48] [49] emerging as a leading destination along the MSR for exports from Xiamen[50] and Quanzhou.[51]
It is important to mention that while the ties that have developed between Fujian Province and Saudi Arabia are strong and significant, they are not exclusive. Fujian officials have been actively pursuing business opportunities elsewhere in the Gulf, particularly in UAE. For five consecutive years, the Fujian Provincial Department of Commerce has organized the Fujian Brand Pavilion and trade matchmaking meetings at the Dubai World Trade Center.[52] Saudi Aramco and SABIC, too, are already operating in or seeking to enlarge their footprint in other parts of China – Hainan, Liaoning, Zhejiang, Guangdong, and Tianjin. [53] [54]
Jiangsu
Jiangsu is China's largest manufacturing province and second-leading contributor to the country's GDP after Guangdong. In a visit to Jiangsu in December 2014, Chairman Xi referred to the province as the "intersection point" of the New Silk Road. [55] Yet, unlike Fujian and despite an intensive lobbying effort by provincial officials, neither Jiangsu nor any of its cities was mentioned in the Vision and Actions document released the following March.[56]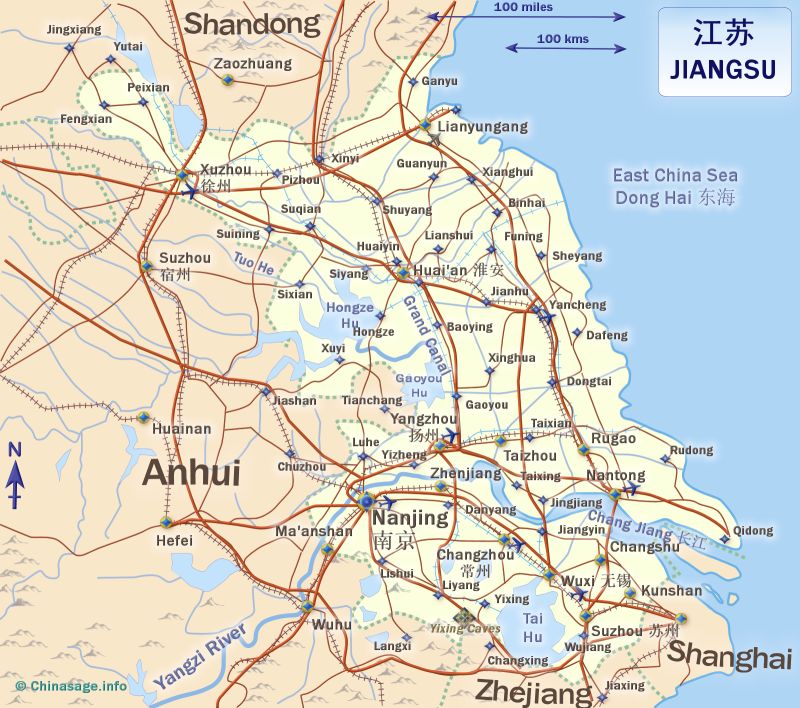 Nevertheless, Jiangsu authorities remained determined to promote the province within the BRI, producing their own preferred policy narratives and establishing the Jiangsu One Belt One Road Investment Fund — seed money to attract public and private investment.[57] Jiangsu officials presumably recognize that their prospects for access to central financial and political support within this scheme can be advanced by providing demonstrable evidence that the province is on a path to indeed becoming intersection point of the New Silk Road. According to the most recent iteration of Jiangsu's development guidelines, the "Five Key Plans," the province will accelerate efforts to build a transportation hub integrating land, sea and air links, a center for opening up and attracting high-quality resources, a demonstration area for industrial capacity cooperation with other countries, and a brand for foreign cultural exchanges. [58] 
Meanwhile, at the municipal level, Lianyungang — home to Jiangsu's main container and dry bulk port — had sought to claim its place in the provincial and wider national strategy by positioning itself as a major maritime gateway for Central Asian countries. In May 2017, Lianyungang was brought under the management of Jiangsu Port Group as part of a long-term plan to contribute to the BRI — an apparent effort by higher-level (provincial) government harnessing an urban champion to its own advantage.[59] Two years later, the State Council approved the expansion and liberalization of the port.[60]
Jiangsu Province's Maritime Silk Road interactions with the Middle East, like those of Fujian, are focused on the Gulf Arab States. However, Jiangsu-Gulf activities differ from those of Fujian in several respects. First, Jiangsu's outreach to the Gulf is primarily concentrated on the United Arab Emirates, and less so on Saudi Arabia. Second, Jiangsu has sought to expand investment and export opportunities primarily for provincial firms that are largely in non-energy sectors by aligning with UAE's efforts to become a global logistics and shipping hub. Third, to date, the flow of investment in the case of Jiangsu, unlike with Fujian, has been primarily outward. 
The UAE is a gateway for about 60% of China's exports to Middle East and North Africa (MENA) markets.[61] In recent years, Jiangsu province, which accounted for 13.8% of China's total foreign trade in 2019,[62] has sought to enlarge its firms' market share within the MENA region and capture business in East Africa as well — aims that are compatible with those of China's MSR and that align with the UAE's Vision 2030 agenda.[63]
The cornerstone of Jiangsu's MSR engagement with the Emirates is the China-UAE Khalifa Industrial Zone of Abu Dhabi (KIZAD) Demonstration Zone, a project announced in July 2017 and led by the Jiangsu Provincial Government.[64] At the time the deal was reached, Huang Lixin, Executive Vice Governor of Jiangsu Province and a signatory to the investment cooperation agreement, expressed his determination to "build the UAE-China Industrial Capacity Cooperation Demonstration Zone into a landmark program of the 'Belt and Road' initiative and a beacon of UAE-China exchanges and cooperation."[65]
Shortly after the deal was reached, the Industrial Capacity Co-Operation Financial Group Limited (ICCFG) — a Chinese state-owned financial services firm charged with providing strategic investment and financial support to Chinese enterprises operating in the Demonstration Zone — was established.[66] The Jiangsu Provincial Overseas Cooperation and Investment Company (JOCIC), the officially designated main stakeholder of the industrial zone, then signed a 50-year lease on a parcel of land within KIZAD; created the China-UAE Industrial Capacity Cooperation (Jiangsu) Construction Management Co. Ltd to develop the parcel; and obtained investment commitments from five Chinese companies — all from Jiangsu.[67] Since then, these original tenant companies have been followed by others, and the industrial zone,[68] which initially was expected to occupy a little over 2 sq kms has been expanded to 12.[69]
Over the past 18 months, important milestones have been reached in the development of the Demonstration Zone. In January 2019, Roadbot Tire Project KIZAD broke ground, becoming the first Chinese firm to set up in the industrial zone; and construction of the factory is nearing completion.[70] [71] [72] The zone also saw the launch of the first purpose-built accommodation project, designed to provide housing and community amenities for 5,000 management and operational employees.[73] Through its branches in Abu Dhabi and Jiangsu, the Industrial and Commercial Bank of China (ICBC) — the world's largest bank by assets — announced that it will provide services to streamline efforts by Chinese companies to set-up and operate at KIZAD. Meanwhile, Etihad Airways, the Abu Dhabi-based national airline of UAE, and JOCIC have signed corporate and freight services agreements.[74]
Although the Jiangsu provincial authorities have been proactive in helping develop new business opportunities in the KIZAD Free Trade Zone, it is worth mentioning that they have received the close attention of and strong encouragement from the central authorities. Chairman Xi's visit to UAE in July 2018 culminated in the signing of a clutch of MOUs, including two on the MSR Initiative.[75] On the occasion of the Second Belt and Road Forum in Beijing in April 2019, several new deals were announced aimed at boosting bilateral trade and investment, and the bilateral relationship was elevated to a "comprehensive strategic partnership."[76]
The Jiangsu administration's determination to push ahead with its activities in the Gulf should also be viewed in the context of its efforts to position the province to gain additional support from the center. The recent thrust of Beijing's domestic economic policy has been  to drive growth through regional blocs, notably through the Yangtze River Delta (YRD) scheme to integrate three neighboring provinces (Jiangsu, Zhejiang, and Anhui) together with Shanghai — with all four envisioned as part of the wider Yangtze River Economic Zone.[77]
Conclusion
As soon as Chairman Xi proposed the Belt and Road idea, provincial administrations sprung into action, launching individual campaigns to inject their interests and agendas. Whereas the Vision and Action guidance document released by Beijing designated Fujian Province the "starting point" of the Maritime Silk Road, it did not, as Jiangsu officials had expected, identify the "intersection point" of the Belt and Road Initiative. Still, both provinces forged ahead to produce their own narratives and develop their own plans to align with the BRI's declared aims.
Fujian and Jiangsu have positioned themselves differently under the Maritime Silk Road. Fujian has parlayed its preexisting energy-centered relationship with Saudi Arabia into a more robust and diversified relationship with Saudi Aramco — a relationship that could boost its fortunes in the inter-provincial maneuvering to implement the Yangtze River Delta scheme. Jiangsu's trade and investment activities under the MSR have been outwardly directed and focused primarily on areas of cooperation designed to capitalize on the UAE's ambitious plans to become a global logistics and shipping hub. In both instances, proactive efforts by provincial authorities have been complemented by the strong initiative displayed by key state-owned stakeholders in partner countries — Saudi Aramco in the case of Fujian, and Abu Dhabi Ports in the case of Jiangsu.
The actions taken by the Fujian and Jiangsu administrations illustrate the growing capabilities and experience of sub-national actors in implementing the central government's major policy directives. They also illustrate the latitude that such actors enjoy and the contribitions they make in underpinning national policy, developing local economies, and boosting China's international profile. The continued commitment at the provincial level is essential to progress in developing the MSR but no guarantee of its success. Beijing can be expected to ride the coattails of whatever progress can be achieved. However, if the investments made by entrepreneurial provincial officials, municipal authorities, and provincial-level SOEs fail to pay off, they should not count on Beijing either shouldering the blame or bailing them out.
Note: Thanks are due to Tristan Kenderdine for his comments and suggestions.
---
---
The Middle East Institute (MEI) is an independent, non-partisan, non-for-profit, educational organization. It does not engage in advocacy and its scholars' opinions are their own. MEI welcomes financial donations, but retains sole editorial control over its work and its publications reflect only the authors' views. For a listing of MEI donors, please click here.