Damascus has adopted many strategies during its decade-long war in an attempt to adapt to and overcome serious opposition gains and international interventions. The most ubiquitous of these are the brutalizing of dissident civilians while announcing substance-less reforms, legalizing loyalist militias as legitimate forces, besieging and forcibly cleansing anti-regime neighborhoods, and finally using the guise of "reconciliation" to reimpose its will over destroyed regions and people. All of these approaches had one thing in common: the use of violent coercion dressed up as political diplomacy. Today, with much of the country back under Assad's control, Damascus continues to try to strong-arm its remaining enemies into "negotiated settlements," akin to the so-called reconciliation agreements that saw thousands of families expelled from their homes and thousands more men forcibly conscripted into the armed forces. But the Kurdish-led government in northeast Syria and the Turkish-protected zones in northwest have proved much more difficult to threaten than besieged rebel towns.
The process of negotiating the handover of these two remaining independent regions has thus far been assigned to Ali Mamlouk, the 76-year-old director of the Ba'ath Party's National Security Bureau. A veteran of the Ba'ath old guard, Mamlouk theoretically oversees all four of Syria's intelligence agencies and enters negotiations with the weight of the regime behind his words. However, according to those who have met with him, he is unimpressive and powerless. Damascus' recent attempts to reclaim the rest of Syria have, likewise, been a failure.
With this in mind, Damascus may begin looking for a new man to impose its will on the remaining obstacles to total victory. The corrupt and paranoid nature of the regime's security and military leadership means few men today have the competency, standing, and trust to take over Mamlouk's position. Yet despite his rural Sunni roots, one general has managed to play a part in nearly every step of the regime's counter-revolution, all while building a web of networks across much of Syria as he worked his way up the complex internal ladders of the mukhabarat.
Maj. Gen. Hussam Luka was born in 1964 in the small Circassian farming town of Khanasir, some 30 miles southeast of Aleppo city. Luka's mukhabarat resume has been well covered by pro-opposition media, yet it only reveals part of his story. As The Syrian Observer wrote in 2019, Luka began his career as a police lieutenant in Aleppo in 1984, eventually transferring to the Political Security Directorate after achieving the rank of colonel. After spending some time in the small intelligence directorate in Afrin and Damascus, Luka was appointed to head Political Security's Homs Branch in 2004. The now brigadier general was transferred to head the Hama branch at the onset of protests in 2011, but was quickly moved back to Homs as the protests and the regime crackdown intensified. Luka would play a central role in the fighting in Homs city for five years, during which time he is accused of orchestrating multiple massacres of civilians and for which he was sanctioned by the United States. In July 2016 the now major general was promoted to assistant director of the General Intelligence Directorate, also known as the State Security Branch, which played a central role in the reconciliation deals Damascus began pursuing across the country. It is in this position that, according to pro-opposition media, Luka personally led the negotiations to expel the last remnants of the Syrian opposition from Homs' al-Waer neighborhood in May 2017. In November 2018 he was appointed director of the Political Security Directorate, and eight months later the director of the General Intelligence Directorate, where he remains today.
The steady rise of Hussam Luka through the ranks of Syria's mukhabarat obscures the more complicated role he played throughout the war, and the specific attributes that will likely see him propelled even further. Luka's rise from police lieutenant to the head of one of Syria's four mukhabarat directorates is remarkable in itself. That he achieved this as a Circassian from rural Khanasir, bereft of the privileges and patronage networks accessible to most Alawites and urban Sunni elite, even more so. Those that know him or have met him describe Luka as a smart man and skilled speaker, whose early life in rural Aleppo makes him particularly adept at negotiating with opposition leaders in a way old school Ba'ath and Alawite officers are often incapable of. Luka's ruthless, smooth-talking nature has netted him powerful allies from Aleppo to Latakia to Damascus, reportedly earning him the nickname "the spider." Now, his efforts and successes over the past 10 years in reimposing regime authority in opposition communities make him a prime candidate to replace Mamlouk and take over the larger negotiation file.
A new Sunni army
Throughout 2011, Damascus attempted to pursue a policy of escalatory violence against protesters and nascent rebel factions, relying almost exclusively on trusted, elite military units. Institutional distrust of the majority Sunni conscripts in the Syrian Arab Army (SAA) meant the military leadership relegated most of these brigades to their bases while deploying the Alawite-heavy Republican Guard, 4th Division, and Special Forces across the country. To bolster the ranks of these units, regime leaders mobilized and supported armed gangs known as shabiha, initially largely based around Alawite communities in ethnically diverse areas. As Ugur Umit argues, the creation of these Alawite militias initiated a new patronage system, opening hitherto sidelined (Alawite) communities to unfettered state access. But the revolution grew and the army crumbled, rank-and-file SAA defected while praetorian units were decimated. It was clear in 2012 that Damascus needed more bodies and an even further decentralized security approach. It is in this context that Iran's Islamic Revolutionary Guard Corps began working with the SAA command to form the National Defense Forces (NDF), a country-wide militia system designed to merge Alawite shabiha with newly mobilized Sunni communities into local auxiliary forces to support SAA operations in vulnerable Sunni or mixed regions.
It is the creation of the NDF and the turn to Sunni communities that provides Luka with his first significant opportunity. Leveraging the close relationship he had built with the Baniyas Oil Refinery management before the war, Luka diverted funds in the city to help form the Baniyas Center of the NDF. Luka has reportedly been crucial in continuing to secure funding for the unit since then. As such, he was able to order the Baniyas NDF to deploy to Khanasir when his hometown came under threat in late July 2013, marking the first deployment for the group outside of the coastal region. At least 18 NDF fighters died in just a few days of fighting, triggering internal protests and the withdrawal of the group back to Tartous. At the same time, Luka gained the support of Military Intelligence to set up his own militia in Khanasir, known as the Circassian Regiment, which remains in the town today.
The creation of the Baniyas NDF at the behest of Luka underscores the way the general utilized the security crisis to expand his networks and power across the country. According to those within his networks, Luka worked for years to connect powerful men and communities from Aleppo — where he first served as a regional mukhabarat director — with Homs, the coast, and Damascus. Luka thus established roots in every power center in the country, building relationships with the pre-war power brokers in Damascus while also gaining the loyalty of the new generation of Sunni and Alawite leaders across "useful Syria." Luka's skill as a speaker and ability to network is such that he has reportedly built up more loyalty in some of these areas in recent years than even the former Minister of Defense Abdullah Ayoub.
Luka takes over the reconciliation process
Hussam Luka's patronage network and work supporting pro-regime Sunni militias did not go unnoticed by Damascus, which seems to have seen in him a valuable tool for reintegrating dissident Sunni communities. This process began with Luka's first appointment to the State Security Branch, which oversees most reconciliation deals, and his personal role in the reconciliation in al-Waer. The reconciliation process, known as taswiya, entails civilians and armed combatants officially registering with regime security and military forces upon their surrender, agreeing to a set of negotiated terms in exchange for the state forgiving their crimes. The regime has utilized this process, which was formalized under Decree 15 in July 2016, extremely effectively, alongside brutal military sieges, to force the capitulation of opposition-held towns across the country.
As the war wound down and the Russian and Syrian military commands began to look to the future, the SAA leveraged Luka's relationships and its trust in him to help rebuild the army. In May 2019, Luka, then the head of Political Security, was appointed to lead a commission to rebuild the army's 7th Division, which, while spending the war largely deployed in southern Syria and Damascus, had recently began incorporating some Aleppo-based militias.
Luka's role in the regime's reimposition of authority after the end of the all-out phase of the war would only grow from here. In late 2019 Luka was appointed the head of the Daraa Military and Security Committee, a body composed of the region's most senior military officials and tasked with coordinating the regime's security approach to the burgeoning insurgency in the south. Luka would spend the next two years meeting with ex-rebel commanders and local notables, using the presence of insurgents and ISIS cells to gradually reassert the regime's position in reconciled areas. Luka's emphasis on the security situation prevented Russian mediators from taking a firm stance in support of the 2018 agreement that they had created, allowing Luka to gradually erode the barriers it had erected.
He also met routinely with members of the various Daraa negotiating committees, where a lifetime of interacting with poor, rural Syrians set him sharply apart from the other, mostly Alawite military officers. One local source who has listened in on many of Luka's meetings and spoke to the author on condition of anonymity described him as such: "Luka is quite smart and a very good speaker. He intentionally wears plain clothes to express his closeness to the public. He knows how to communicate what he wants to the public using a soft voice and a smile on his face — be it a normal discussion or a threat with a military offensive. The fact that he was in charge of the security committee for a relatively long time means that he was, in the eyes of Damascus, a successful security officer with a record of achievements." The image of a ruthless yet cordial regime official matches that shared by a pro-regime Sunni officer who knew Luka from his militia days, describing him as a man who excels at using his background to gain the trust of others.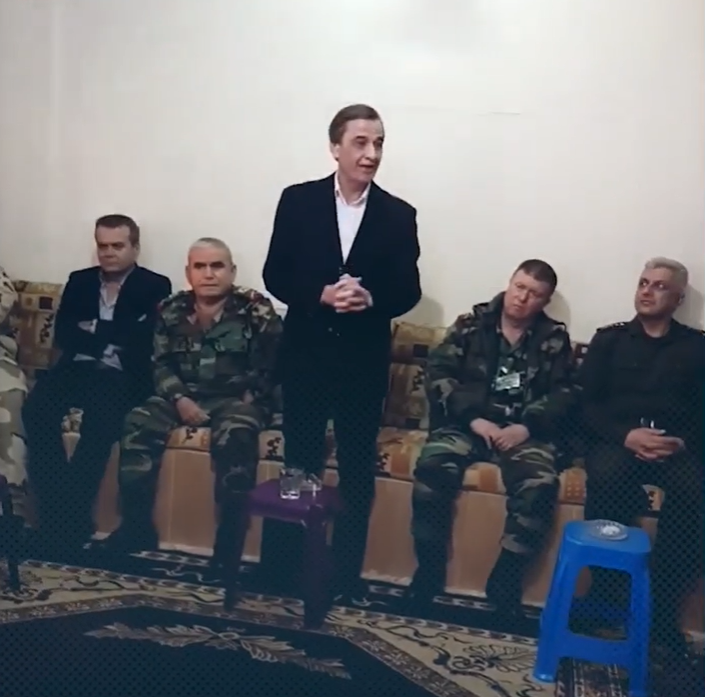 Luka's two-year project in Daraa culminated in the August 2021 military operation, backed by Russia, to impose full regime authority over several communities that had been granted a semi-independent status by Russian negotiators during the 2018 reconciliation process. The initial reconciliation agreements allowed many rebel towns to retain light weapons while preventing regime security forces from establishing positions within the towns themselves. As EUI researcher of wartime and postwar micro-dynamics in southern Syria Abdullah Jabassini writes, "While the regime's use of armed force coerced rebels to surrender and allowed it to reassert itself, the Russian-led negotiations prevented a full restoration of regime authority." The regime had long accused these towns of harboring the insurgents, which had been targeting regime checkpoints and transports with increasing frequency. The two-month operation, which left at least 22 civilians dead via indiscriminate regime shelling, culminated in renewed reconciliation agreements designed to address the gaps left in the original 2018 agreements.
Shortly after Luka imposed the regime's will in Daraa he initiated a new country-wide reconciliation process, opening new taswiya centers in at least eight governorates. The intent of this new initiative appears to be two-fold: first, to strengthen Damascus' control over peripheral, rural Sunni areas that it recaptured after 2017, and second to undermine the authority of the U.S.-backed Syrian Democratic Forces (SDF) in northeast Syria and the rebel Hayat Tahrir al-Sham (HTS) in northwest Syria. Luka and the chief of staff of the 4th Division, Maj. Gen. Ali Mahmoud, opened the first of several new centers in Deir ez-Zor in November 2021, followed by centers in southern Raqqa in January 2022. By March, these had succeeded in reconciliating more than 1,000 Syrians who had been living in SDF-held areas. In late January 2022, Luka opened a taswiya center in Daraa City to further facilitate the process of demobilizing ex-rebels and settling the status of civilians who had for years lived outside regime control. In late February another center was opened in Deir Hafir, in the eastern Aleppo countryside, and in early March Luka and Mahmoud appeared in the Safira countryside of southeast Aleppo at the ceremony for yet another new reconciliation center. Both of these were designed to reimpose the regime's influence over the rural east Aleppo region that was liberated from ISIS in early 2017, but which has since been plagued by security issues. While it's not clear if Luka personally attended their openings, new taswiya centers were also established across the Damascus countryside from late January until June, allegedly reconciling thousands of men. The campaign continued again in the fall of 2022, with the two generals opening centers in Khan Sheikhoun, Hama, and Suwayda in September and October. The Khan Sheikhoun center is reportedly intended to draw internally displaced persons (IDPs) from southern Idlib currently living in HTS-held territory, though it is unclear how those families would cross the frontline as the regime has so far refused to open a new civilian crossing.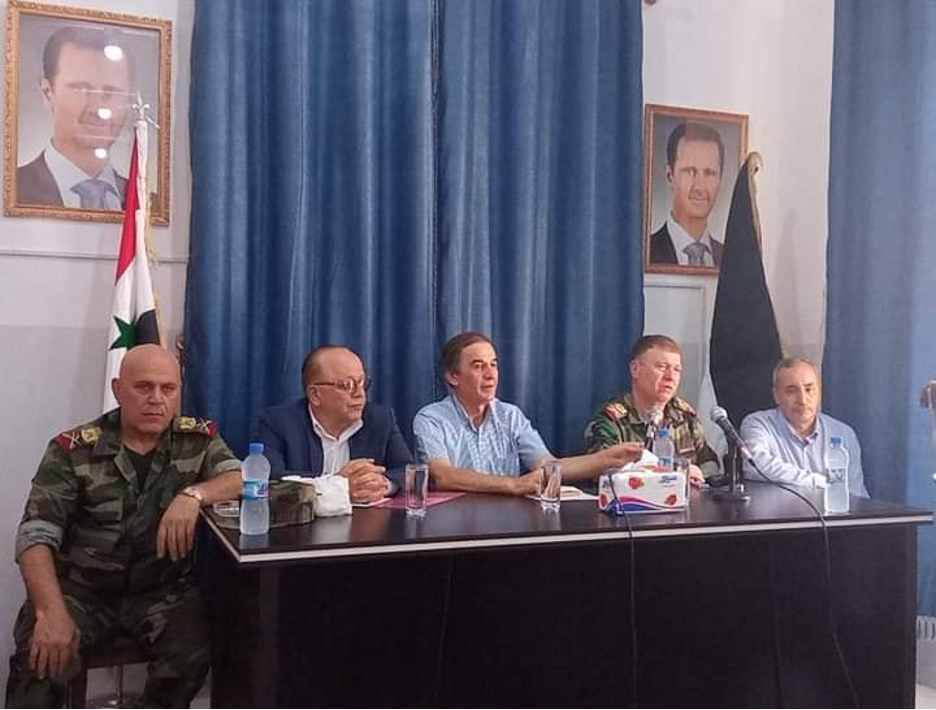 Shaping Damascus' future
Hussam Luka's career encompasses the brutal path the Syrian regime has set out for itself. From killing peaceful protesters to creating criminal militias to forcibly reconciling dissident communities, he has taken part in every step of Damascus' counter-revolutionary strategy. Now, with the frontlines appearing frozen and the country divided, Damascus is going all in on its dual violent coercion-diplomatic approach to its political rivals in the northeast and northwest. The October 2019 return of SAA forces to northeast Syria heralded a new stage of Damascus-Democratic Union Party (PYD) relations, with the former attempting to use the looming threat of a Turkish invasion and the unclear status of U.S. support to wring political concessions out of Qamishli, all while undermining the Kurdish authority's legitimacy in the economically crucial Arab regions. For northwest Syria, Damascus knows it only needs to erode Ankara's willingness to enforce the Idlib ceasefire to recapture the symbolically important region.
Despite what recent reporting may suggest, the regime has made little headway in either of these endeavors. Both Ankara and the PYD know they cannot trust any deal made with Damascus, and neither leadership sees the regime as capable of addressing their core needs. Even now, with the looming threat of an imminent Turkish operation, the SDF remains adamant that there can be no deal with the regime without significant protections for both their military and administrative institutions — an unacceptable proposal for Damascus. Yet until now these discussions have been led by Syria's Ali Mamlouk, an aged veteran of the Ba'ath party perceived by both Ankara and Qamishli as having no real power. Perhaps Damascus sees a better fit in Hussam Luka, a man who has proven his loyalty to the regime as well as his ability to build connections with those communities often ignored by the regime's old guard. Yet even if Luka does take over Mamlouk's position as head of the National Security Bureau, it is unclear how his smooth-talking negotiations will translate into real diplomatic changes.
Gregory Waters is a Non-Resident Scholar at the Middle East Institute, a consultant for the International Crisis Group, and a research analyst at the Counter Extremism Project. His research focuses on the Syrian regime's security forces, primarily utilizing open-source research to assess the capabilities and structure of the Syrian Arab Army and allied militias. You can follow him on Twitter @GregoryPWaters.
Main photo: Maj. Gen. Hussam Luka (standing) at an event for the recently opened Reconciliation Center in Safira, Aleppo, in March 2022.
---
The Middle East Institute (MEI) is an independent, non-partisan, non-for-profit, educational organization. It does not engage in advocacy and its scholars' opinions are their own. MEI welcomes financial donations, but retains sole editorial control over its work and its publications reflect only the authors' views. For a listing of MEI donors, please click here.