Regional Cooperation Series
This Policy Paper is part of the Middle East Institute's Regional Cooperation Series. Throughout 2016, MEI will be releasing several policy papers by renowned scholars and experts exploring possibilities to foster regional cooperation across an array of sectors. The purpose is to highlight the myriad benefits and opportunities associated with regional cooperation, and the high costs of the continued business-as-usual model of competition and intense rivalry.
Summary
While the prospects for creating a regional architecture in the Middle East may seem grim currently, it is a crucial time to begin thinking about regionalization as a long-term project. The ongoing conflicts in the Middle East are likely to continue over the course of the coming decades, but it is possible that game-changing events could occur that create the political will necessary for adversaries like Saudi Arabia and Iran to cooperate.  By looking at steps taken in Asia, Africa, Europe, and Latin America, this paper analyzes the conditions conducive to creating a regional order and how they arise at critical moments in history. Getting regionalization right can help create a pathway toward a regional institutional architecture and will be fundamental to establishing stability in the region.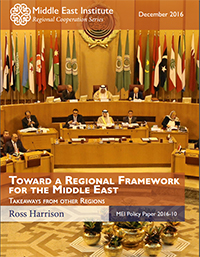 View PDF
Key Findings
A regional architecture for the Middle East could start around a state-centric approach for Iraq, Syria, Yemen, and Libya, while a later phase would address broader challenges
Regionalization efforts should begin by creating a set of tangible benefits for all states and focusing on measures that mitigate domestic constraints
One area of potential cooperation in the Middle East is water management, and could be modeled similar to the European Coal and Steel Community
The international community needs to focus its efforts on repairing the relationship between Iran and Saudi Arabia—a thaw in relations would be the biggest step toward regionalization
One of the principles for any Middle East regional architecture will need to be the sanctity of state boundaries
Read the full Policy Paper here.
---
The Middle East Institute (MEI) is an independent, non-partisan, non-for-profit, educational organization. It does not engage in advocacy and its scholars' opinions are their own. MEI welcomes financial donations, but retains sole editorial control over its work and its publications reflect only the authors' views. For a listing of MEI donors, please click here.