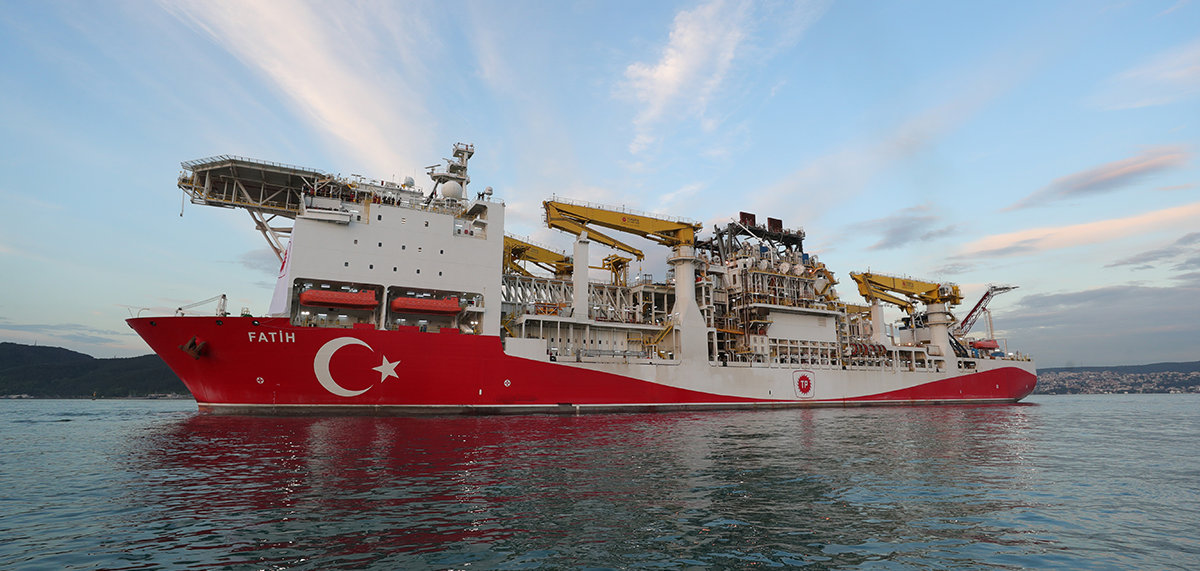 With its recent deepwater exploration success in the Black Sea and prominent geographic location for interregional hydrocarbon pipelines, Turkey can play a material role in shaping the geopolitical landscape today, especially in the natural gas sector.
The country will face a strategic conundrum, whether to utilize newly discovered gas resources entirely for domestic needs and thereby reduce gas imports that come with political baggage as well as foreign currency expenditures, or export gas to capture foreign revenue that Ankara desperately needs.
Background
Turkey relies on piped natural gas sourced from Iran, Azerbaijan, and Russia and liquefied natural gas (LNG) imported from Qatar, the U.S., and spot cargoes to meet domestic demand. In 2019 the imported gas bill totaled $41 billion for approximately 45 billion cubic meters (bcm), or 1.6 trillion cubic feet (tcf). The country has strategically positioned itself as a transit hub with interregional pipelines that carry hydrocarbons produced in the Caspian region to the Mediterranean port of Ceyhan (oil) and gas to the European grid via the Dardanelles. In addition, Russian gas transits the Turkish Black Sea through the TurkStream pipeline, supplying southern European markets. In 1997, Russia and Turkey also developed the Blue Stream pipeline, which came onstream in early 2003, providing Russian gas to the Turkish market.
The administration of Turkish President Recep Tayyip Erdoğan has ambitious goals to reduce gas imports and foreign payments, and ultimately become a gas exporter. With the recent Black Sea gas discoveries, the country will have strategic options.
From 2010-15 more than 70 tcf of gas was discovered in Cypriot, Israeli, and Egyptian waters. As activity in the eastern Mediterranean increased surrounding commercial development of Cypriot, Israeli, and Egyptian gas resources, Turkey assertively intervened, sending a Turkish-owned deepwater drillship to enforce its claim to its deepwater territory. This posturing was an attempt by Turkey to ensure it had a seat at the table for any development plans and assert its sovereignty over Cyprus waters.
After several Romanian deepwater Black Sea discoveries, Turkey pivoted and commenced exploration efforts in 2020 with the Tuna-1 well. The well, drilled by the Turkish ultra-deepwater drillship Fatih, in 2,100-meter-deep water, reached a total depth of 4,775 meters and encountered a significant gas column. The field, named Sakarya, is located near the intersection of Romanian, Bulgarian, and Turkish waters. The Turkish national oil company TPAO followed up the initial well with appraisal wells and at least two additional discoveries, Amasra and Turkali. The Karasu-1 well spudded in February is currently being drilled, with the industry anxiously waiting results after a three-month drilling plan. Although Turkey had been slow to share data with the global community and resources have not been subject to an international audit, it does indeed appear that TPAO has discovered a new major gas province in the Black Sea.
Implications
Turkey's attention to the eastern Mediterranean activities waned with its exploration success in the Black Sea. Since mid-2020, the Turkish state oil company has discovered an estimated 540 bcm, or 20 tcf, of gas resources. The Sakarya gas field could potentially supply up to 30% of domestic demand when it comes onstream in 2023 with an estimated 10.0 million cubic meters per day (mcmd), or 350 million cubic feet per day. Maximum production is forecasted at 40 mcmd, or 1.5 billion cubic feet per day, by 2028.
Turkey will need to obtain capital from international markets to achieve these targets. Thus far, Schlumberger has secured some major front-end engineering contracts. Still, the bulk of the capital investment will need to be raised from financial institutions requiring technical and commercial transparency. This may be a challenge for the Turkish administration.
In addition to capital investment, the Turkish state oil company requires technical support. TPAO is in partnership discussions with SOCAR, the Azerbaijani state oil company, which has gleaned deepwater natural gas field development skills from its association with international oil companies in the deepwater Caspian operations.
For Turkey, the recent discoveries positively impact gas supply. Approximately 84% of its existing gas supply contracts are set to expire by 2026. With Sakarya scheduled to start production in 2023 and reach peak production by 2028, Turkey now has some commercial options when negotiating supply contracts. Any capital saved from reducing gas imports will need to be redirected to Sakarya development costs.
Looking ahead
Assuming Turkey can deliver the project and is successful in finding additional resources, it could be possible for the country to develop a modest LNG export facility that could generate foreign revenue in the current and forecasted LNG market. Revenue generated from LNG sales could exceed piped gas import costs, providing a net positive impact on energy costs. Black Sea resources could replace LNG import volumes and provide Turkey with an option to develop LNG export capabilities, especially if additional resources are discovered. Reducing foreign energy expenditures while entering the global LNG export market would help to realize one of Erdoğan's aspirations.
Another possibility would be to curtail Russian gas exports via the TurkStream pipeline and replace the gas with Turkish molecules. While the LNG concept is still a long way off, it is potentially feasible with the current resource base. The curtailment of Russian export gas destined for Eastern Europe is certainly doable since Russia has already suspended gas exports to Bulgaria via TurkStream, and as a result the system is underutilized and has spare capacity. The replacement with Turkish gas would only occur in 2023 when Sakarya comes onstream but introduces the idea that Turkey could play a part in contributing gas to southern markets in the EU utilizing existing infrastructure. Should this occur, Turkey could shut out Russian gas from southern European markets, including ally Serbia. The Erdoğan administration is politically savvy, and Black Sea resources will be exploited to maximize the government's benefit. Gas will enter the domestic market, but if advantageous to the government's regional strategy, export schemes will be considered.
NATO, the U.S., and the European Union could consider facilitating investments in the new Black Sea gas plays, supporting Turkish fast-track development, reducing Turkish consumption of Russian gas, and allowing more Azerbaijani gas to reach the European market. Does Turkey see the significance of the material Black Sea discoveries and the infrastructure play in relation to the current geopolitical situation?
Due to geopolitics, Turkey has increased its global stage presence at the moment with the Ukraine-Russia conflict, NATO expansion, energy infrastructure, and Black Sea gas discoveries. As a result, expect the eastern Mediterranean developments to mature with minimal Turkish interest.
Wayne Ackerman has more than 30 years' experience in the upstream exploration and production sector and major capital project development, including LNG. He is also the founder and president of Ackerman and Associates Global Consulting, LLC, and a member of the Advisory Council for the Program on Economics and Energy at the Middle East Institute (MEI).
Photo by Mustafa Kamaci/Anadolu Agency via Getty Images
MEI is an independent, non-partisan, non-for-profit, educational organization. It does not engage in advocacy and its scholars' opinions are their own. MEI welcomes financial donations, but retains sole editorial control over its work and its publications reflect only the authors' views. For a listing of MEI donors, please click here.