On Jan. 8, Turkey inaugurated the TurkStream natural gas pipeline from Russia, seemingly deepening Ankara's ties with Moscow. However, a fuller analysis of Turkey's current energy policies and consumption trends indicate a dramatic shift westward, away from Russia and Iran. This change is reflected in Turkey's current gas imports mix, compliance with Iranian energy sanctions, inauguration of the Trans-Anatolian Natural Gas Pipeline (TANAP) section of the Southern Gas Corridor to Europe, and future energy import plans.
Last week, Turkey hosted Russian President Vladimir Putin and various regional leaders in Istanbul for the inauguration of the TurkStream pipeline. The pipeline allows Russia's Gazprom to directly supply Turkey and move gas onward to other markets, such as Bulgaria and Serbia, without transiting Ukraine. However, TurkStream at this stage does not entail increased Russian gas supplies to Turkey, just a different route.[1] A far more significant development for Turkey's gas imports was last year's full operation of the TANAP pipeline and connection to Greece. This enabled Turkey to import additional gas from Azerbaijan and also serve as a transit route for the first volumes of gas exported from the Caspian to Europe. In addition, despite current tense relations, Turkish President Recep Tayyip Erdogan has expressed interest in discussing with Israel import of gas supplies and using Turkey as a transit route for further sales to Europe.[2]
With the opening of the TANAP pipeline and the availability of abundant and lower priced  liquified natural gas (LNG) supplies, including from the United States, Ankara's natural gas import composition has shifted away from Russian and Iranian supplies and toward increased imports of LNG[3] and pipeline gas from Azerbaijan. These blows to Russia and Iran were further exacerbated by a one-tenth cut in overall natural gas imports last year spurred by a sharp decline in domestic natural gas consumption.[4]
While Russia remained Turkey's largest natural gas supplier in 2019, with 14 billion cubic meters (BCM), its exports to Turkey fell by almost half. Meanwhile imports from Azerbaijan increased by a third to 9.2 BCM and LNG imports, at close to 11 BCM, continued to reach last year's peak amount. Turkey's imports from Iran also fell to only 6.2 BCM, down from 8 BCM in 2018, although the percentage of Turkey's imports from Iran remained the same.[5]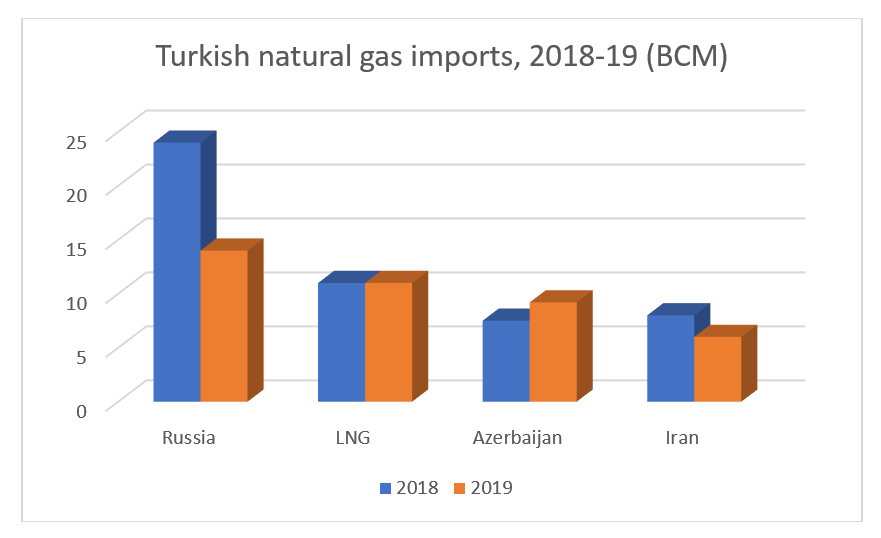 Turkey's compliance with Iran sanctions has also changed noticeably. Prior to the 2015 conclusion of the Joint Comprehensive Plan of Action, as the Iran nuclear deal is officially known, Turkey's Halkbank engaged in extensive sanctions violations using the natural gas trade from Iran as a cover for additional financial transfers. This scheme has led to a New York lawsuit against Halkbank and the conviction of its deputy general manager.
In response to the 2018-19 U.S. sanctions on Iran imposed by the Trump administration, Turkey seems to be taking a much more compliant approach, especially in the energy sector. Turkish refineries began refusing to import cargos of Iranian oil even before Washington ended the sanction waivers given to Ankara. Moreover, Turkey has been reducing natural gas imports from Iran, evidently in preparation for potential sanctions and U.S. requests to reduce these imports as well.
Why is Turkey changing its energy policies and what's ahead?
Ankara is making a major shift in its energy supply mix and policies for several reasons. One is the opportunity to increase gas supplies from Azerbaijan with the initiation and ramping up of gas supplies from Azerbaijan's Shah Deniz 2 field via the TANAP pipeline. Azerbaijan and Turkey maintain a strategic relationship and Turkish state companies are investors in the Southern Gas Corridor, both in upstream production facilities and in the TANAP pipeline. The price of the Shah Deniz origin gas is also more stable for Turkey. Thus, Azerbaijan is viewed as Turkey's most reliable gas source and now that more supplies are coming online, its market share will increase to the detriment of Russia and Iran. As an investor in Shah Deniz upstream and TANAP, the Turkish government also benefits financially from these supplies and their further transit on to Europe.
There are also several motivations to increase LNG imports. First, the Trump administration is encouraging exports of U.S. and other LNG among its allies, and Ankara most likely is attempting to send a positive signal to Washington by complying, especially with purchases of U.S. origin LNG, in an effort to ease the current tense relationship between the two countries. In addition, Turkish LNG importers seem to be pressing hard to promote LNG imports. The state of the LNG market in 2019 also created low price opportunities for Turkey.
Turkey and especially Turkish companies are taking the U.S. imposed Iran sanctions seriously. There seems to be a large gap between Turkey's official rhetoric on the U.S. imposed sanctions on Iran, which it formally opposes, and Turkish companies' actual compliance with them. This is similar to the situation in Europe, where despite formal opposition of the EU institutions and European governments to U.S. imposed sanctions on Iran under the Trump administration, European companies are complying with them.
Both increased gas imports from Azerbaijan and LNG imports allow Turkey to cope with potential future U.S. sanctions on Iranian gas exports and also with further potential disruption of Iranian gas supplies to Turkey due to instability or conflict in Iran. Indeed, from their inception, gas exports from Iran to Turkey have often been unreliable, falling short of contracted amounts and of varying quality.
This trend of increased Azerbaijani and LNG supplies to the detriment of Russian and Iranian supplies is likely to be strengthened in 2020, as greater Azerbaijani supplies become available with the ramping up of Shah Deniz 2 exports and new Turkish tenders for LNG imports. In addition, in 2019, renewable energy reached a record high in the percentage of Turkey's electricity production. This trend will most likely continue and allow for further reduction of imported fuels.
Prof. Brenda Shaffer is a Senior Fellow at the Atlantic Council's Global Energy Center and a visiting researcher and professor at Georgetown University. She is a foreign policy and international energy specialist, focusing on global energy trends and policies, European energy security, Azerbaijan, politics and energy in the South Caucasus and greater Caspian and Black Sea regions, Iranian natural gas exports, ethnic politics in Iran, and Eastern Mediterranean energy. The views expressed in this piece are her own.
Photo by Mustafa Kamaci/Anadolu Agency via Getty Images
---
Endnotes
---
The Middle East Institute (MEI) is an independent, non-partisan, non-for-profit, educational organization. It does not engage in advocacy and its scholars' opinions are their own. MEI welcomes financial donations, but retains sole editorial control over its work and its publications reflect only the authors' views. For a listing of MEI donors, please click here.