This week's briefing on recent news and upcoming events in the region featuring Marvin G. Weinbaum, Randa Slim, Alex Vatanka, and Gonul Tol.
A US-Taliban agreement but no sign of peace in Afghanistan
Marvin G. Weinbaum
Director for Afghanistan and Pakistan Studies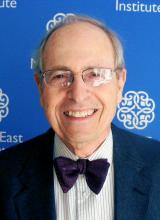 An agreement in principle has apparently been reached between U.S. and Taliban negotiators in Doha. It
awaits only the approval of President Donald Trump. The deal reached after nine rounds of talks is
reported to include an initial withdrawal of 5,400 American troops over four and a half months. Believed
absent from the draft accord is the earlier insistence that substantial progress first be made in intra-
Afghan peace negotiations and in reaching a comprehensive ceasefire. Those goals have apparently
have been pushed to the future for Afghans to find a way to achieve by themselves.
The agreement seems to offer few concessions by the Taliban. They are thought to have agreed to refrain from attacking withdrawing American troops or targeting their military bases. It is not yet clear whether the Taliban will allow for a small counter-terrorism force to remain in one guise or another, as many in Washington have thought crucial. The Taliban promise a full ceasefire once the foreign troops are gone and to begin serious Afghan peace talks, but have not budged on their refusal to include representatives of the Kabul government in negotiations. Most problematic, the U.S. has taken on good faith the Taliban's pledge to break ties with al-Qaeda and deny terrorist organizations an opportunity to operate from Afghan soil.
President Ashraf Ghani has yet to pass judgment on the pending accord. But many in Kabul insist that the Taliban have not changed their colors and cannot be trusted. They see the agreement as a surrender and betrayal by the Americans, and fear that once the American forces have left the insurgents will move to seize power and install an Islamic emirate. There are disturbing indications that some Afghan power brokers are already exploring with the Taliban ways to secure their interests within a new regime.
Meanwhile, the level of violence continues to escalate. Just as the deal was being presented in Kabul, the Taliban mounted a massive car bomb attack near a large, heavily secured compound, known as Green Village, where many foreign contractors reside. This strike that took mainly civilian lives, including children, follows closely serious clashes within two provincial capitals in the country's northeast. While the U.S. and Taliban may be on the verge of signing a peace agreement, the Afghan war seems destined to continue and may, indeed, accelerate.
A new phase in the Israeli-Hezbollah conflict
Randa Slim
Senior Fellow, Director of Conflict Resolution and Track II Dialogues program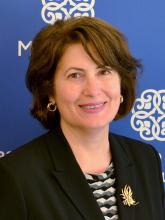 The conflict between Hezbollah and Israel has entered a new phase. The rules of the game that have been in place since the end of the 2006 war no longer apply, and new ones need to be negotiated. How this negotiation takes place will depend on regional and domestic factors governing each side's escalation calculus.
Regionally, tensions between the United States and Iran are increasing. Iran has successfully entrenched itself across the Middle East thanks to a sustained, decades-old effort to fund and train a network of regional militias and proxies, of which Hezbollah is the linchpin. The Syrian civil war is entering its final phase with Iran and Hezbollah's ally, Bashar al-Assad, in the winner's seat. With the tacit blessing of Russia, Israel has been targeting Iranian and Hezbollah forces, weapons convoys, and storage depots in Syria for the past few years. In recent months, however, Israel has upped the ante by attacking the weapons depots of pro-Iranian Iraqi militias, dragging Iraq into its ongoing proxy war against Iran.
Domestically, Israeli leaders are facing elections on Sept. 17, the outcome of which might change the incentives and/or restraints on Israeli strategy vis-à-vis Iran and Hezbollah. Increasingly, Israeli military and intelligence officials are prioritizing threats stemming from Iranian regional entrenchment, especially Hezbollah's plans to develop a precision-guided missile arsenal.
On the other side of the equation, Hezbollah must take into consideration Lebanon's fragile economy, which is teetering on the brink of collapse. U.S. sanctions on Iran and Hezbollah have also placed serious financial stress on Hezbollah's operations and made life increasingly difficult for its base.
So far, both parties see the costs of war outweighing its benefits, and they are limiting themselves to a carefully calibrated tit-for-tat escalation strategy. The Sunday cross-border clashes between Israel and Hezbollah are likely to be the main feature of this new phase of conflict. According to Hassan Nasrallah, Hezbollah's secretary-general, every time Israel targets its members operating in Syria and Lebanon, his party-cum-militia will retaliate against Israeli soldiers. He also warned that they will no longer let Israeli drone operations in Lebanese airspace go unanswered.
At some point this strategy will no longer serve one and/or both parties' interests. Israel might come to the conclusion that its strategy of chipping away at Iranian and Hezbollah military capabilities through targeted, limited attacks in Syria, Lebanon, and Iraq is no longer sufficient to meet the threat of Hezbollah's precision-guided missiles. Based on Israeli estimates, these attacks have so far fallen short of rolling back Iranian regional entrenchment and of stopping the development of Hezbollah's missile project. For Iran, its regional proxy militia network is part of its "forward defense" strategy. For Hezbollah, a precision-guided missile arsenal is essential to maintaining a mutual deterrence regime with Israel and, more importantly, its regional role. Given the stakes involved for all the protagonists, war seems inevitable.
Iran and Russia explore closer economic ties
Alex Vatanka
Senior Fellow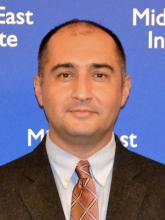 Iran's Javad Zarif was in Moscow again this week, accompanied by Energy Minister Reza Ardakanian. This was his 26th trip to the Russian capital since he became foreign minister in 2013. The mission had two goals. First, to keep the Russians up to date about Tehran's diplomatic efforts as another Iranian delegation travels to France this week in an effort to negotiate a temporary truce in the U.S.-Iran nuclear standoff. The second objective, and the reason for Ardakanian to join the trip, was to push ahead with economic cooperation and specifically "joint projects" to develop Iran's vast oil and gas reserves.
This is not the first time that the Iranians and the Russians have explored the idea of pursuing "joint projects" in Iran. As the Iranians are in a bad economic situation as a result of the reimposition of U.S. sanctions, the Russians are pushing for preferential terms for any projects they undertake. Still, it is unlikely that Iran would agree to make big concessions to Russia at this point, such as giving more operational control over any oil and gas fields that the Russians might want to develop. The fact that Ardakanian accompanied Zarif and not Oil Minister Bijan Zangeneh, who is Tehran's top point man on foreign investment in the energy sector, is itself quite revealing.
From a Russian perspective, they have for years complained that Tehran continues to prefer Western economic partners even as the West has let Iran down repeatedly by bending to American demands to stay out of the Iranian market. Will this time be any different? Perhaps, since Iran is about to enter into a free-trade agreement with the Russia-led Eurasian Economic Union at the end of October. This might lead to closer economic ties and more trade and investment, but a lot more credible steps need to be taken before one can speak of a new era in Russian-Iranian economic relations.
Deepening Turkish-Russian defense cooperation
Gonul Tol
Director for Turkish Studies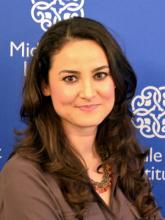 Turkey and Russia have been deepening their defense ties. Amid threats from NATO allies, Turkey received the first shipment of hardware for the Russian S-400 missile defense system in July. Delivery of the S-400 prompted a U.S. decision to kick Turkey out of the F-35 fighter jet program and stop the sale of jets to its NATO ally. The U.S. move does not seem to have deterred Turkish President Recep Tayyip Erdogan from seeking closer defense cooperation with Moscow, however. On an official visit to Moscow last week, Erdogan said Turkey will deepen its defense ties with Russia. Russian President Vladimir Putin showed off his latest stealth fighter to Erdogan and told reporters that Russia was ready to discuss further sales and even joint production of weapons.
When Erdogan viewed displays of the Russian Su-57 stealth fighter at an airshow outside of Moscow, he inquired whether the fighter jet was available to buy, to which Putin replied, "You can buy." Turkey needs fighter jets soon and whether the Su-57 can be mass-produced to address its defense needs remains to be seen. Military experts argue the purchase of the Su-35 is more likely. Buying Russian fighter jets would be a sea change for a country that has been part of the Western defense structure for almost seven decades. The question is whether Turkish-Russian defense cooperation will survive the two countries' divergence on the foreign policy front, particularly in Syria, where they support opposing sides and are locked in a conflict in Idlib. It might, especially if the U.S. slaps further sanctions on Turkey that could damage its defense industry.
Photo: WAKIL KOHSAR/AFP/Getty Images
---
The Middle East Institute (MEI) is an independent, non-partisan, non-for-profit, educational organization. It does not engage in advocacy and its scholars' opinions are their own. MEI welcomes financial donations, but retains sole editorial control over its work and its publications reflect only the authors' views. For a listing of MEI donors, please click here.