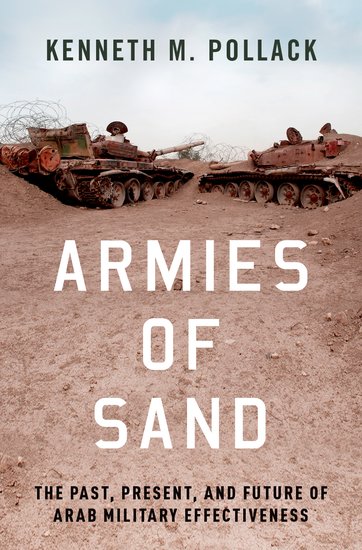 The Middle East Institute (MEI) is pleased to host a book talk with Kenneth Pollack, resident scholar at the American Enterprise Institute (AEI), former CIA intelligence analyst, and the author of Armies of Sand: The Past, Present, and Future of Arab Military Effectiveness.
In his book, Pollack revisits the history of Arab militaries from the end of World War II to the present. He examines the lasting impact of Soviet intervention on Arab militaries, explains the root causes of underdevelopment in Arab state militaries, and explores the relationship between Arab society and warfare.
How has reliance on Soviet doctrine affected Arab militaries' strategies and outcomes? How are Arab militaries shaped by culture, civil society initiatives and civil-military relations? How have historical gains and losses influenced present day Arab militaries and what does the changing reality of war making portend for the future of Arab militaries and the regional military balance?
MEI's Senior Vice President, Amb. Gerald Feierstein, will moderate a conversation with the author following his talk.
Speaker biographies:
Kenneth Pollack
Resident scholar, AEI
Kenneth Pollack is a resident scholar at AEI, where he works on Middle Eastern political-military affairs, focusing in particular on Iran, Iraq, and the Gulf countries. Before AEI, Pollack was affiliated with the Brookings Institution, where he was a senior fellow at the Saban Center for Middle East Policy. Before that, he was the center's director and director of research. Pollack served twice at the National Security Council, first as director for Near East and South Asian affairs and then as director for Persian Gulf affairs. Pollock began as a Persian Gulf military analyst at the CIA. Among other recognitions, Pollack was awarded the CIA's Exceptional Performance Award twice and the Certificate of Distinction for Outstanding Performance of Duty. Pollack has also worked on long-term issues related to Middle Eastern political and military affairs for the joint chiefs of staff when he was a senior research professor at the Institute for National Security Studies at National Defense University. Pollack is the author of Unthinkable: Iran, the Bomb, and American Strategy; A Path out of the Desert: A Grand Strategy for America in the Middle East; The Threatening Storm: The Case for Invading Iraq, and more.
Amb. Gerald Feierstein (moderator)
Senior vice president, MEI
Amb. Gerald Feierstein is senior vice president at MEI. He retired from the U.S. Foreign Service in May 2016 after a 41-year career with the personal rank of Career Minister. As a diplomat he served in nine overseas postings, including three tours of duty in Pakistan, as well as assignments in Saudi Arabia, Oman, Lebanon, Jerusalem, and Tunisia. In 2010, President Obama appointed Feierstein U.S. Ambassador to Yemen, where he served until 2013. From 2013 until his retirement, Feierstein was Principal Deputy Assistant Secretary of State for Near Eastern Affairs. In addition to his career-long focus on the Near East and South Asia, Amb. Feierstein also played a prominent role in developing and implementing State Department policies and programs to counter violent extremism.  As Deputy Coordinator and Principal Deputy Coordinator in the State Department's Counter-Terrorism bureau, Feierstein led the development of initiatives to build regional networks to confront extremist groups as well as to counter terrorist financing and promote counter-terrorism messaging.