In place of this week's Monday Briefing we asked over a dozen MEI scholars to discuss their expectations for key trends, events, and policies across the region in 2018.
Trump's year two in the Middle East: burying the peace process, struggling with Iran
Paul Salem, Senior Vice President for Policy Research and Programs
President Donald Trump's recognition of Jerusalem as the capital of Israel effectively ends an already moribund peace process. The U.S. administration will likely unveil some Jared Kushner-devised plan early in the year, which will promptly be forgotten by all parties.
On Iran, Trump has started the year reacting to anti-government protests. In the unlikely scenario that they spread and grow, the U.S. might see some decline in Iranian influence regionally; if they peter out, Washington would face a still resurgent Tehran. Trump might fully withdraw the U.S. from the P5+1 nuclear deal with Iran and press European companies to stay away from engagement in Iran. The Trump administration will also likely further ratchet up rhetoric against Iran. This might have dangerous consequences in Iraq where U.S. troops and Iranian proxies are in close proximity.
But it is in Syria where tensions might reach their highest. Washington plans to keep forces in Syria to protect the areas liberated by the Syrian Democratic Forces and to maintain pressure on Assad and Iran's proxies.. But Syria policy will not be without its contradictions: Trump seems to favor cooperation with Russia, while opposing the presence of Russia's main partner in Syria, Iran, and its proxies.
Finally, most leaders in the region will be still waiting to see if the Trump administration can consolidate itself; for most of 2017, the Secretaries of State and Defense seemed to be on one side of many issues, while the president was on another.
Saudi-Iran war unlikely
Bilal Y. Saab, Director of the Defense and Security Program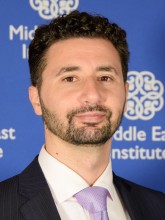 Although the likelihood of a direct military clash between Saudi Arabia and Iran remains small—in fact much smaller than a reoccurring war between Hezbollah and Israel—the story will continue to occupy the lion's share of Middle East news in 2018.
To be sure, there's reason to believe that the cold war between these old antagonists could turn hot. First, there's a more hawkish and risk-taking leadership in Riyadh. Second, there's the real risk of escalation in Yemen. Third, there's Iran, who could easily miscalculate because it feels emboldened following its victories in Iraq and Syria.
Yet none of these factors are powerful enough to challenge a robust and time-tested principle in American grand strategy: the prevention of major conflict in a Gulf region whose stability remains critical to the health of the U.S. and global economy. That is precisely why the United States has forward-deployed a large and powerful military force in the area since the early 1980s and has yet to draw down. Even the Trump administration, which seems determined to counter Iran, will prudently try to achieve the goals of its new Iran strategy without causing war.
This doesn't mean that Saudi-Iranian tensions won't flare up in 2018. It's even possible that naval skirmishes might happen in the waters of the Gulf. But let's stop worrying about likely nightmares of a long and bloody fight similar to the 1980-88 Iran-Iraq War or anything resembling a conventional confrontation. The US military deterrent in the region is immensely powerful, and even if some shots are fired, in anger or accidentally, all bets are that Washington will intervene swiftly and decisively. Until U.S. grand strategy changes, the "no Gulf war assumption" is safe.
Nuclear deal to survive as internal unrest grows in Iran
Alex Vatanka, Senior Fellow
Given Trump's determination to push back against Tehran, it might be understandable to assume the year 2018 will be when the nuclear deal with Iran will unravel. This is, however, unlikely to happen.
Despite the mass anti-regime protests in Iran, Trump's Iran policy will likely continue to be driven by domestic political calculations. A year in office, there is still no sign in the Trump administration of a holistic strategic blueprint to deal with Iran. To kill the nuclear deal is effortless; to replace it with a wide-ranging policy that can successfully tackle the expansion of Iranian power in the Middle East is much harder.
In Tehran, the reading is that Trump can at best continue to sabotage Iran's efforts to reintegrate its economy into global markets, but that he has neither the political capital, support nor the will to launch a military attack on Iran as was done against Iraq in 2003. The Iranian regime will hence knuckle down, continue to cut deals with the Russians, Chinese and others to keep their economy afloat while consolidating their geopolitical wins from 2017 in Syria and Iraq.
Not all, however, is clear sailing for Iran's Islamist rulers. On the home front, trouble will remain just under the surface. A draconian fiscal budget for 2018—thanks largely to lower oil prices—means there will be less money in people's pockets. After the recent protests, the regime in Tehran will make adjustments on the margins but a sustainable strategy to address deep grievances among the Iranian people will require fundamental political reform. Time will show, but the Islamic Republic has a proven track record in believing only force against any opposition will deliver results. If 2017 was the year widespread protests by unpaid workers, pensioners and alike became the norm, 2018 will see the Iranian people demand their rulers focus more on domestic affairs and less on projecting power in the region.
Will the GCC survive 2018?
Gerald Feierstein, Director of Gulf Affairs and Government Relations
With global energy markets stabilizing and Iran's domestic challenges potentially distracting it from regional adventurism, 2018 should be a year of bright promises for the Gulf Cooperation Council. But as the abortive GCC summit in Kuwait demonstrated in December, the organization's own internal conflicts render the future of the GCC unclear.
Senior officials in Saudi Arabia and the UAE will acknowledge quietly that they seriously mismanaged their political and economic assault on Qatar last June. Nevertheless, there is no evidence yet that Riyadh and Abu Dhabi are prepared to end the confrontation or negotiate a settlement. In fact, Saudi and Emirati senior leaders speak publicly of a willingness to allow the confrontation to drag on for years.
Tangible damage to Gulf political, economic, and security interests has been relatively limited until now. The Qataris have managed to find work-arounds for most of the economic effects of the embargo. After declaring that the conflict has not impeded U.S.-GCC security cooperation, the U.S. has canceled some joint exercises because of the dispute.
The diplomatic fallout within the GCC has been more severe. December's announcement by Saudi Arabia and the UAE that they were forming a new partnership "to cooperate and coordinate … in all military, political, economic, trade, and cultural fields" underscored that the GCC is increasingly a tale of two alliances—the Saudis, Emiratis, and Bahrainis enhancing their internal coordination while Qatar, Kuwait, and Oman, resisting Saudi/Emirati domination, remain on the sidelines. This new reality led one senior Omani official to warn darkly that the sultanate would make new arrangements if the GCC were no longer a reliable security partnership. These internal conflicts are likely to come to a head in 2018.
Turkey-U.S. relations to remain tense
Gonul Tol, Director for Turkish Studies
The troubles that haunted Turkish democracy and Turkey-U.S. relations in 2017 are likely to get worse. With 2019 presidential elections approaching, President Recep Tayyip Erdogan will continue to clamp down on his critics and criminalize the legitimate opposition in the parliament. The government has already jailed more than 10 members of the pro-Kurdish Peoples' Democratic Party on terrorism charges and taken control of over 80 municipalities in the Kurdish southeast region. Erdogan and others in his government recently called the head of the main opposition party, Republican People's Party, "a national security threat" after he accused Erdogan and his family of transferring large amounts of money to offshore bank accounts.
If Erdogan thinks that economy will crumble before the 2019 elections, he might call for early elections, leaving little time for opposition to launch an effective campaign. Turkey-U.S. relations suffered a historic blow in 2017 when the United States suspended visa services in Turkey and Ankara responded in kind. With the problems that led to the collapse in bilateral relations still lingering, Washington might take its time to appoint a new ambassador to Turkey.
There are very few left in Washington who promote closer ties to Ankara. The administration has been more vocal of its criticism as well. Last week, President Donald Trump's national security adviser General H.R. McMaster criticized Turkey's role in "sponsoring radical Islamist ideology." There is also concern within the administration about Turkish policy in the Syrian town of Idlib. To enforce the de-escalation zone, Turkey sent troops to Idlib in October. There were reports that Turkish forces were escorted by al-Qaeda-linked groups.
All these are a harbinger of more trouble to come in Turkey-U.S. relations in 2018. If Trump's National Security Strategy calls for tougher action against Iran, it may throw another wrench into ties with Turkey, which has recently improved its ties with Tehran.
New opportunities for ISIS and al-Qaeda
Charles Lister, Senior Fellow
This will be a crucially important year in determining whether progress made against ISIS in Syria and Iraq in 2017 is consolidated, or squandered. As the year begins, ISIS remains far from a defeated force, let alone an idea. In fact, late-2017 was full of indications that the jihadist group had already adapted back to playing an insurgent role in Iraq and it remained a potent offensive force in several pockets of Syria. The U.S.-led coalition may have won many important battles, but it now holds a great responsibility to assist local actors in stabilization, reconstruction (where legally, or morally acceptable), and political development. To take two steps back from this process—as was done in 2010 in Iraq—would be a terrible mistake.
ISIS' continued survival and recovery is not necessarily guaranteed, however. Late-2017 brought with it indications of internal divisions within ISIS' leadership and the group's surviving squadrons of fighters in places like Homs, outer-Damascus and Deir Ezzor in Syria, remain vulnerable either to military defeat or co-optation by other jihadist organizations like al-Qaeda.
2018 looks set to be a crucial year for al-Qaeda, ISIS's main jihadist rival. Having effectively lost control of its former Syrian affiliate Jabhat al-Nusra (now known as Hay'at Tahrir al-Sham), al-Qaeda's central leadership is faced with the challenge of re-asserting its authority globally. In this respect, the territorial demise of ISIS may provide potential opportunities for a possibly reinvigorated al-Qaeda leadership to re-assert itself as the global leader of Salafi jihad. Leveraging younger leadership figures like Hamza Bin Laden may also assist in that inevitable effort.
U.S. forces to stay in Syria
Robert S. Ford, Senior Fellow
In 2018, Russia will try again to convert its military campaign in Syria into a political deal to end the civil war. President Bashar al-Assad's government aims to impose essentially surrender terms on the opposition. It will, therefore, ignore Russian-brokered cease-fires when tactically advantageous and attack the last opposition strongholds, advancing slowly and painfully. Moscow and Damascus likely will move to isolate and de-legitimize harder-line opponents by negotiating with softer opposition elements, even if the softer opposition lacks influence over the remaining, desperate armed opposition forces. They want U.N. backing for this negotiating tactic.
As the fighting becomes more localized, Russian leverage over Assad also diminishes, especially when Assad enjoys strong Iranian backing. This three-way dynamic would adjust in Russia's favor were Tehran to dial back its unconditional support for the Assad government.
Approximately 2,000 U.S. forces are deployed in eastern Syria to ensure that ISIS does not regain territory in Syria, that "stabilization" gets underway in territories held by U.S. local allies, and that there is progress toward a negotiated end to the civil war. Where stabilization ends and reconstruction begins is unclear, and there is no sign of progress on a deal to end the war. It therefore appears that U.S. forces will stay in Syria, and represent an attractive target, indefinitely or until U.S. casualties force the administration's hand. Washington will find little regional support for its mission. Russia is demanding the Americans withdraw now, and Ankara, Tehran, Baghdad and Damascus are working at cross-purposes with the Americans over Syrian Kurdish autonomy.
The challenge of reconstruction in Iraq
Randa Slim, Director of the Initiative for Track II Dialogues
Iraq enters 2018 with millions of its citizens still internally displaced (IDPs). In the short-term, stabilization efforts are a priority including demining, providing shelter, local security and restoring essential services and access to potable water. Long-term, Iraq faces huge financial needs that will require public-private partnerships. Reconstruction will not be possible without unlocking the capacity of the Iraqi private sector. For that to happen, the regulatory and investment climate in Iraq must be improved and rampant corruption addressed.
The upcoming parliamentary and provincial elections in May 2018 will be crucial as both bellwether and determinant of Iraq's future political trajectory. Iraqis are betting these next elections will produce a more functional political system. There are legal, institutional and operational challenges to free and fair elections. The electoral law remains stuck in parliament. Organizing the elections in provinces and districts that have yet to be rebuilt, ensuring IDPs can vote, and people can vote free of intimidation by militias will be difficult.
A crucial challenge facing Iraqi long-term stability is what to do with the Popular Mobilization Units. Though they played an important role in rolling back ISIS, they represent a serious challenge to the Iraqi state.
ISIS remains a looming threat as not all ISIS fighters have been killed or captured and its ideology persists. The organization is shifting tactics to become an underground insurgency. Political and socio-economic conditions that led to ISIS' emergence in the past have yet to be addressed.
Roadmap for stability in Libya
Jonathan M. Winer, MEI Scholar
Libya's best hope for 2018 depends on the success of the road map created by U.N. envoy Ghassan Salamé to replace Libya's existing political institutions. That includes short-term reforms to the 2015 Skhirat Libyan political agreement, a National Assembly to be formed in February, adoption of a constitution if possible, and elections, currently set for September 2018. All those seeking to help Libya recover after years of internal strife should support this plan.
To succeed, Libyans should agree to share national resources between the central government and other Libyan localities, so Libyans everywhere have a shared stake in the new government's success. Libya's long-neglected south, too, should participate. Existing national institutions like the Central Bank of Libya, the National Oil Corporation, and the Libyan Investment Authority should remain undivided and independent. A reunified Libyan army should incorporate leaders and soldiers from all major regions, be led by professional officers from pre-revolutionary Libya, and be firmly under civilian control.
Inclusive national elections for parliament are the sine qua non of success. Libyan voters must decide who will be in charge of the country going forward. Then international actors, across the board, must back the winner. To succeed, the new government should be inclusive, not winner take all. While proven spoilers may ultimately be frozen out, those willing to compromise should be granted a share in Libya's future to promote the security and stability that the Libyan people deserve.
Yemen war to persist amid changing dynamics
Gerald Feierstein, Director of Gulf Affairs and Government Relations
Fallout from the collapsed Houthi-Saleh coalition has benefitted the Hadi government and the Saudi-led coalition. The coalition has achieved some territorial gains, primarily in Marib governorate, as formerly pro-Saleh loyalists and tribal elements have joined in efforts to expel the Houthis. A reconciliation between coalition partners and the Islamist Islah party, facilitated by Islah's renunciation of its ties to the Muslim Brotherhood, has further consolidated the anti-Houthi forces.
Meanwhile, the Houthi move to end its marriage of convenience with Ali Abdullah Saleh, culminating in Saleh's brutal murder, appears to have backfired. Although substantially weakened, Saleh had maintained political legitimacy in the eyes of many Yemenis. Deprived of his presence, the Houthis are perceived more nakedly as a narrowly-based, sectarian force openly aligned with Iran and pursuing objectives unacceptable to most Yemenis. Their standing was further damaged by their reign of terror in Sanaa and elsewhere since eliminating Saleh, arresting and killing perceived political enemies and alienating the population.
Despite the shifting balance of power, it remains unlikely that the Yemen conflict will be resolved militarily or that the Houthis will be defeated. But 2018 could be the moment that efforts to reach a political agreement gain new momentum. The formal, U.N.-led negotiation process has been frozen since mid-2016 as the Houthis have refused to return to the bargaining table or back away from their maximalist demands. But a number of Yemeni political figures are meeting quietly in efforts to agree on a formula to reinvigorate the talks. Further losses on the battlefield and politically may force the Houthis to recalculate their position.
A second term for Egypt's Sisi
Paul Salem, Senior Vice President for Policy Research and Programs
The political calendar for 2018 is dominated by the presidential elections expected in May. There is little doubt that incumbent President Abdel Fattah el-Sisi will run for, and win, a second term. It is not clear whether Egyptian rights lawyer Khaled Ali and former Prime Minister Ahmad Shafiq, both of whom had considered a presidential run, will be able or allowed to run. The political and rights situation in Egypt remains very restrictive.
Sisi's challenge will be not how to win, but how to pitch his second term to a tired public. In his first term he promised security and economic development; security continues to be breached in the Sinai and elsewhere, and despite signs of economic growth, the population is still suffering under high inflation, unemployment and poverty rates. Will he simply ask for more time to consolidate what he promised in his first term, or will he propose any new elements of political or economic development in his second term?
The economy is likely to show signs of recovery in 2018 after the painful currency floating at the end of 2016. Inflation rates are coming down as is the current account deficit, and tourism and balance of payments numbers are climbing up. The International Monetary Fund estimates GDP growth to reach a healthy 5.5 percent by end 2018.
Security will remain a challenge as the Egyptian authorities have not yet been able to defeat the ISIS insurgency in northern Sinai, and sporadic attacks on security, civilian and religious targets—both Muslim and Christian—continue to claim a high toll.
 
Reduced economic growth expected in Morocco
Samia Errazzouki, Co-editor, Jadaliyya
Much like last year, Morocco is facing a turbulent entry into 2018, marked by the wave of protests in the impoverished mine city of Jerada, where the death of two miners sparked widespread anger. Along with the protests in the northern Rif region, social mobilizations around the question of economic marginalization and corruption have not waned and will likely continue through the year. These pressures placed on the government and palace will only further lay bare the bifurcated nature of authority in Morocco—where the government absorbs the pressure, while the palace puts forth the facade of reform that does little to move beyond the status quo.
On the economic front, Morocco's government is preparing for a slight fall in growth after an above average year in agricultural production due to higher rainfall. While inflation is likely due to inch up in 2018, the looming question of the long-delayed and much-anticipated currency reforms remains on the table. A measure that has been widely supported by the International Monetary Fund, Morocco's move toward a more flexible currency regime has been marred with opacity and intrigue, likely amplified by ongoing political discontent. Financial authorities will continue to test the temperature in the country before moving forward with the first phase of the reforms.
As tensions grow in the region, Morocco will likely maintain its position of neutrality, especially with regard to Gulf Cooperation Council tensions with Qatar. In recent years, Morocco has embraced the image of a mediating party, most recently with the conflict in Libya, and it will likely continue to hold this position through 2018.
Lebanon 2018: Elections, Paris IV, and Regional Risks
Paul Salem, Senior Vice President for Policy Research and Programs
Parliamentary elections are scheduled for May. For the first time in the country's history, they will be held on the basis of proportional representation. The main Shiite and Christian parties are likely to do well, while Saad Hariri's Future Bloc is likely to lose seats. The new law will allow some smaller parties, and maybe some new civil society groups, to have representation in parliament for the first time.
Hariri is slated to head the new post-election government. His recent humiliation in Saudi Arabia shored up his position as still the principal leader of the Sunnis of Lebanon, and also strengthened support for him in the Christian and Shiite camps. Hariri will maintain a governing partnership with President Michel Aoun's Free Patriotic Movement.
The new government will look to an international donor conference—'Paris IV,' to be held after the elections—to shore up a flagging economy and a dangerous public finance situation. But the international community will demand serious reforms in governance effectiveness and transparency, as well as in strengthening the judiciary.
Externally, the country will continue to face uncertain risks. Saudi Arabia is still not happy with Hezbollah's comfortable presence and influence in Lebanon, and might yet take punitive measures, maybe economic, which Lebanon could ill afford. The Trump administration might intensify its pressure through sanctions on Hezbollah and those who cooperate with it, which might impact banking stability. And finally, the risk of another war between Israel and Iran's proxies in Lebanon—and Syria—is only getting higher.
Domestic and external pressures to mount on Pakistan in 2018
Marvin G. Weinbaum, Director for Afghanistan and Pakistan Studies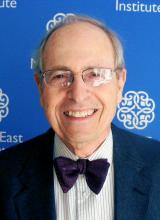 With 2018 an election year, Pakistan's domestic politics are likely to be dominated by partisan maneuvering. Although parliamentary contests are officially scheduled for the summer, several opposition parties threaten mass street demonstrations designed to install an interim government and force an earlier election. The ruling Muslim League is the odds-on favorite to return to power assuming Shehbaz Sharif, brother of Nawaz, leads the party. But were he barred from running by the courts, the party could splinter, possibly paving the way for opposition leader Imran Khan to form the next government. It remains to be seen what influence the military chooses to exert in the elections and notably whether it would permit the mercurial Khan to become prime minister.
A new crisis with India and a serious falling out with the United States over Afghanistan are always possible in the new year. Pakistan seems unlikely to assume the domestic risks that could reduce tensions. Its leaders will likely shy away from taking the actions against jihadi groups needed to resume comprehensive talks with New Delhi. And few expect Pakistan to accede to American demands so long as the Afghan Taliban cum Haqqani Network continue to be viewed by Pakistan's military as strategic assets. In both cases, a Pakistani public opinion, embedded with strong anti-Indian and American sentiments, seems to constrain the ability of the country's leaders to yield to outside pressures. Yet it is doubtful that Pakistan will be held to full account in 2018. Despite frustrations, both Washington and New Delhi seem anxious to avoid if possible the uncertainties of direct confrontation with a distracted and volatile Pakistan.
A violent escalation likely for Afghanistan
Ahmad Majidyar, MEI Fellow, Director of the IranObserved project
Afghanistan will encounter daunting security and political challenges this year. Emboldened by their latest battlefield gains, the Taliban are unlikely to negotiate peace but will continue violence and launch another deadly spring offensive to project power, undermine the government, and counter Washington's new military strategy. With ISIS militarily defeated in Iraq and Syria, more foreign fighters may choose Afghanistan as the next destination for their global jihadist ambitions.
And while Washington is preoccupied with the military mission in Afghanistan, political tensions within the country's national unity government may reach crisis point this year—further eroding the government's legitimacy and ability to govern effectively. Parliamentary elections, already delayed for two years, are slated for July. But sluggish electoral reforms and major technical and security problems make it almost impossible to hold fair elections by this summer. International support for democracy and human rights in Afghanistan may also decline.
On the positive side, additional American and NATO troops and relaxed rules of engagement will allow the U.S.-led coalition to train and advise the Afghan security forces more effectively and assist them to reverse the Taliban momentum and expand the shrinking writ of the government. More than a third of the country has fallen under the control or influence of the Taliban. The Trump administration will also step up coercive diplomacy to elicit Pakistani counterterrorism cooperation. And barring Pakistani action, the U.S. military will likely begin unilateral drones and Special Forces operations inside Pakistan to target the Taliban leadership and terrorist sanctuaries.
Criminal charges may force Netanyahu out
Eran Etzion, MEI Scholar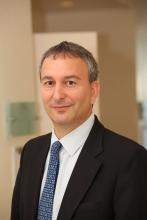 Israel is facing a year of historic significance. Marking its 70th anniversary, it will most probably bid farewell to its longest-serving prime minister, who will be forced down by a series of criminal charges. His departure will immediately reshape the political space, probably via early elections.
Another historic juncture likely to be crossed is the departure of Palestinian President Mahmoud Abbas, taking with him the moribund narrative of a "negotiated two-state solution." For the Israeli right, and the Palestinian radicals, 2018 will thus create a golden opportunity to bury any notion of a peace process and galvanize their respective narrative of a single exclusionary state from the river to the sea. This week, the Likud party central committee already passed a resolution calling for full annexation of the West Bank.
To its north and east, Israel is feeling the Iranian heat. The Israeli military is in full preparation for a third Lebanon war, now repackaged as a united Lebanon-Syria-Iran front. A unilateral U.S. withdrawal from the nuclear deal will further escalate the Israeli-Iranian conflict.
The Israel-Trump bond is expected to persist, due to mutual political expediency, at least as long as Netanyahu is in office. His successor will only encounter difficulties if he happens to be from the center-left and attempts to rebalance U.S.-Israel relations back to bipartisanship. Simultaneously, as if in a parallel universe, the Israeli hi-tech economy will continue to boom, deepening Israelis' pervasive sense of "a villa in the jungle."
Will Abbas turn rhetoric into action in 2018?
Nathan Stock, MEI Scholar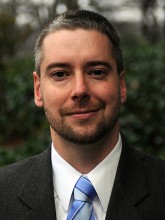 How the Palestinian leadership and people grapple with the new reality set by President Donald Trump is likely to be the question that defines Palestine's trajectory in 2018. President Mahmoud Abbas has made several strong statements, vowing that the U.S. has forfeited any role in the peace process, that Palestine will join dozens of U.N. agencies, and that the Palestinian political system will be reunited. However, experience suggests that Abbas has been quite hesitant to aggressively pursue any of these options.
While it is impossible to predict if the Palestinian leadership will overcome the inertia of the past, there are several issues to watch going forward. First, will Hamas and Fatah agree on a mechanism for power sharing? This likely would entail reform of the PLO, re-dividing representation within the organization; at least partial institutional reunification of the Palestinian Authority on the ground in the West Bank and Gaza; and, possibly, elections. Second, if the Palestinian factions get this far, can they inaugurate a new process of national consensus-building regarding their goals and strategy?
Third, could a reunified Palestine mobilize the assets it possesses, from grassroots activists at home to solidarity groups and friendly governments abroad, to create positive facts on the ground and generate support for its position? Finally, while Palestine appears to lack the necessary combination of grassroots leadership, energy and frustration necessary for a new uprising, it remains possible that widespread public discontent could generate mass resistance to the occupation, whether violent or nonviolent—irrespective of the wishes of the leadership.
Signs of hope for Arab human rights
Antoun Issa, Senior Editor
2018 will see a continued struggle for human rights in the region. Egypt remains a negative case: in addition to political repression, an extremely homophobic bill sits before the Egyptian parliament. If enacted, it would outlaw homosexuality in the country and constitute a radical crackdown on LGBT rights unseen even during the later years of Hosni Mubarak.
On women's issues, activists throughout the region will be looking to continue the momentum of several positive developments made in 2017. Underpinning Saudi Arabia's recent domestic pivot toward greater social reforms is a requirement to increase the participation of women in the workforce. Thus, policymakers might enact more social reforms promoting greater female inclusion to meet this end.
The challenge in 2018 for countries that have made legislative advancements on women's rights, chiefly Tunisia, Lebanon, and Jordan, will be implementation and enforcement. This is particularly so for Tunisia, which has gone further than all Arab states in removing—at least in law—several layers of discrimination against women, but violations continue to be reported.
Lebanon and Iraq are due for parliamentary elections this year, which will provide ample opportunity for civil rights actors in both countries to push their case to the electorate and bring greater awareness to domestic human rights issues. Lebanon's civil society has the best opportunity yet of snaring several parliamentary seats as the new election law is based on proportional representation. If successful, it would represent a dramatic leap forward in the pursuit of human rights in the country, particularly for vulnerable groups such as women and the LGBT community.