Afghan filmmaker Sahraa Karimi has spent decades documenting the plight of Afghan women. But when the Taliban returned with a vengeance following their takeover of Kabul on Aug. 15 of this year, she turned the camera on herself.
"I felt compelled to document everything in real time," explains the 37-year-old filmmaker, the former head of the Afghan Film Commission and an outspoken critic of the Taliban, who was forced to flee Kabul for her own safety and now resides in Rome. Via her Twitter account she sent video clips of her escape — first running home from the bank as the Taliban's tanks came rolling in — and then at the airport waiting, like thousands of others, for her evacuation flight.
As a new report by the U.N. says that Taliban rule over the past four months has been marked by killings and a "litany of abuses," Karimi's Twitter mini-documentaries have proved to be prescient dramas, capturing the panicked mood as thousands of civilian lives hung in the balance. It was a time when a deep sense of betrayal by the West haunted families hiding in their basements; a time when the ghosts of Saddam Hussein and the Shah of Iran or even the fall of Mosul hovered near, reminding Afghans that the only thing worse than being an enemy of the U.S. is being a former ally.
We've seen this movie before, and it always ends badly. As the world watched the surreal images of Taliban soldiers in the presidential palace, amid news that President Ashraf Ghani had abandoned his country, there was a dizzying sense of freefall, its velocity 1,000 times greater for Afghans. The social media pleas of Sahraa Karimi to help save her country, followed by a video of her trying to save herself, evoked vertiginous terror as she ran through Kabul crying, "They are coming to kill us!" while sirens blared in the distance and the Taliban drove tanks in the streets. She tweeted later, "The sky of Kabul, which was silent in the evenings at night and the summer evening breeze forced you to open the window and leave your face in the cool breeze of living at home, is now full of the sound of helicopters, warplanes. This is the side of the shootings that breaks people's hearts," she added. "We are sold."
In her breathless video, her delicate features and the red stone ring she wore on her right hand were also reminders that there is always room for beauty — and poetry — in the midst of horror. Sadly, it's often the poets they come for first.
And Karimi's cinema is pure poetry. Consider her last oeuvre, the award-winning 2019 feature film "Hava, Maryam, Ayesha," about the lives of three women in Kabul, whose private struggles intersect in surprising ways. Not only was this one of the first independent Afghan films to be shot entirely in country, amid increasing security threats (coinciding with the bombing of the Intercontinental Kabul in January 2019), and the first to broach taboo subjects like domestic abuse, abortion, and pre-marital sex, but it was also beautifully shot. Even on a shoestring budget and with very few professional crew or actors, every frame is rich with visual meaning, imbued with an almost painterly aesthetic.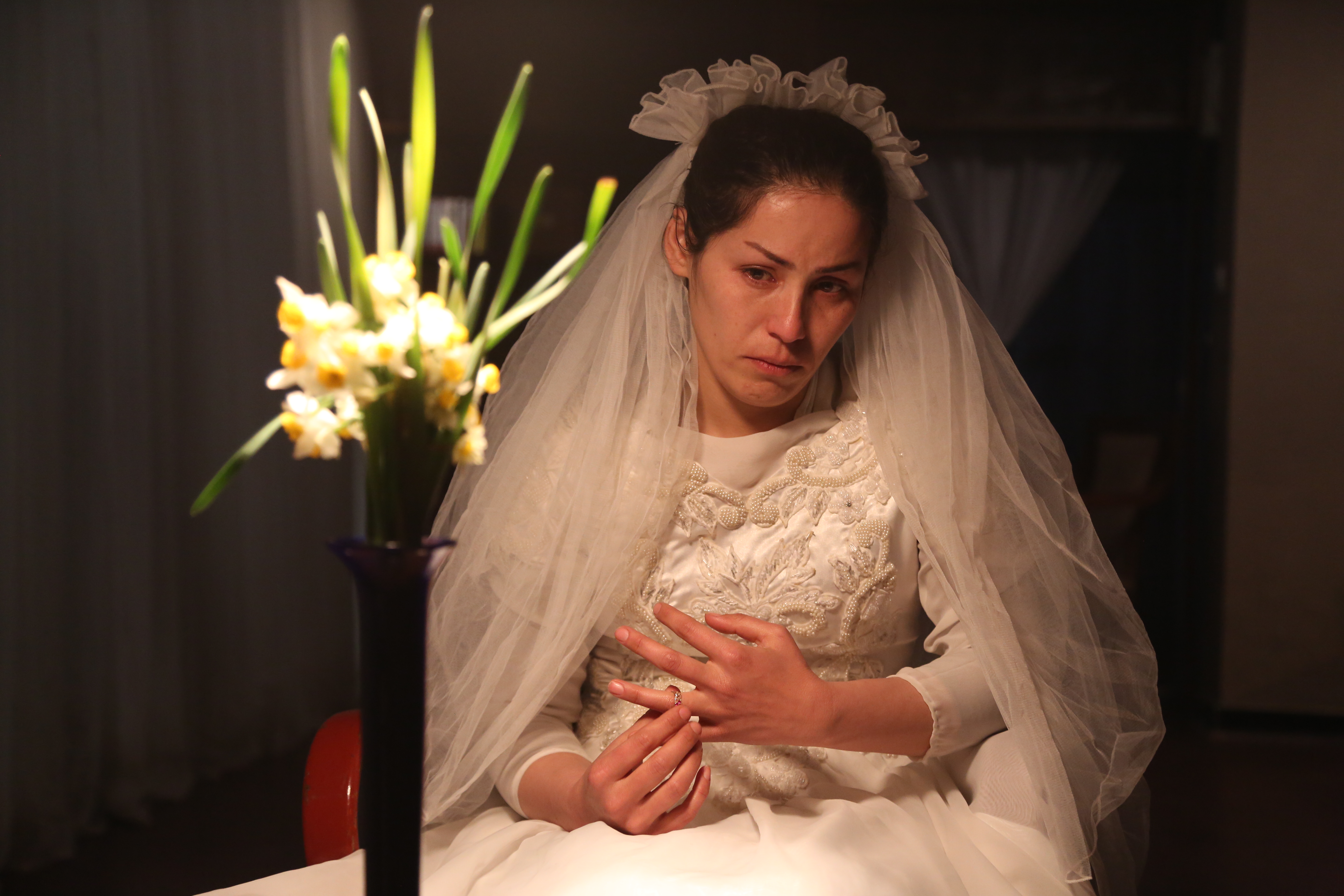 Evoking a sense of both Italian and Iranian neo-realism, married to a certain Slovak surrealism — Karimi earned a PhD in film directing in Bratislava — the film is a triumph. From its opening scene of a heavily pregnant Hava chopping firewood as her elderly father-in-law pontificates while playing with a bird in a cage, to the story of a news anchor named Maryam, trapped in her memories of her husband's infidelities while wearing her old wedding dress (like an Afghan Miss Havisham) and reading erotic poetry (by Afghan poet Zina Noor), to a narrative about a young woman named Ayesha engaged to her cousin but pregnant by another man, the film is filled with potent visual symbolism, a powerful feminist narrative, and a simultaneous love of country. This is no mean feat for one of the few Afghan women filmmakers, and the film that premiered in Venice and became Afghanistan's Oscar entry was duly rewarded with numerous international festival prizes and recognition from actor Angelina Jolie. One can only imagine what Karimi might have produced next if realpolitik had not intervened.
After her initial escape to Ukraine followed by an invitation to a panel at the Venice Film Festival, she is now teaching at the National Film School in Rome and writing a screenplay based on her own dramatic flight to freedom. The new film, which will be shot in Iraqi Kurdistan and is produced by the head of the Slovak Film Commission, comprises two parallel stories. One is about Karimi's final 40 hours in Kabul, while another flashes back to "what came before," says Karimi. The "before time" memories are about the nine years she spent making films in Afghanistan (from 2012-21). During that period, she became the first woman to head the Afghan Film Commission, transforming a moribund bureaucracy into a cultural embassy, reconnecting Afghan filmmakers to both domestic audiences and the outside world, and introducing new educational programs for aspiring young filmmakers. The film goes into production next year and promises to be both an excellent piece of cinema and an important documentation of the time before the Taliban takeover when Afghan women and artists made significant strides.
In fact, Karimi's entire life story, let alone the past decade, would make a compelling screenplay. She is the child of wealthy Afghan refugees — a Tajik mother and a "Persian from Kandahar" father — who abandoned everything to flee the Russian invasion for neighboring Iran. Karimi was born and raised in south Tehran, the working-class area where filmmaker Mohsen Makhmalbaf also hails from. Like the Ayesha character in her last film, Karimi lost her father at an early age and was raised by a strong, single mother who worked a variety of jobs to support her family. The young Karimi found solace and escape in literature, devouring whatever books she could find.
"I read books about independent women," she relates. "Virginia Woolf was my favorite. She was my role model."
Woolf's advice that every woman writer needs 500 pounds a year and a room of one's own, resonated with the young Karimi, who says, "I just wanted to get out of Iran, where I knew I would have no future and just get married and have kids. I knew I didn't want that kind of life, even from my childhood."
She was also a fan of Marguerite Duras, and eagerly read Camus, Dostoyevsky, Hesse, and Garcia Lorca. By the time she was cast in her first Iranian film in 1999, she was studying math and physics at high school, and had no intention of becoming an actor. But the experience eventually inspired her to pursue a career on the other side of the camera.
"I was the first Afghan girl who played a role in Iranian cinema," she relates, first starring at age 14 in 2000's "Daughters of the Sun," Mariam Shahriar's ground-breaking film (and first prize winner at the Toronto Film Festival) about a young girl from a poor family who is disguised as a boy and sent to work in a carpet factory. Things take a tricky turn when a fellow factory worker — a young girl — asks the "boy" to marry her and save her from an arranged marriage to a much older man. A second film in 2000, "White Dream" by Hamid Jebeli, saw the young Karimi cast as an Afghan girl working in a cemetery and sewing wedding dresses on the side.
Karimi says that connecting to the circle of artists and filmmakers in Tehran "opened up new opportunities for me and gave me a sense of freedom, of what was possible in life." And increasingly it was the art of filmmaking itself that fascinated the precocious young actor.
Then in 2001, just before her 17th birthday, Karimi's dream of escape from Iran came true. The cast of "Daughters of the Sun" was invited to the Bratislava Film Festival. As an Afghan refugee who couldn't easily obtain visas to leave Iran, it was a once in a lifetime opportunity — and she took it.
"I remember I couldn't get a passport," she recalls, "So I told them I was 20, not 17 — almost four years older than my real age."
Once in Bratislava, Karimi hoped to travel to Germany, but was informed this was not possible. "So I told them 'Ok then, I want to stay here and study film.'" She was dissuaded from doing this and told that she needed to first apply for asylum, learn Slovak, and do special university preparation courses. Furthermore, she was told, the film school in Bratislava only accepted five students a year. The indefatigable Karimi took this all in stride, and began studying filmmaking in 2003, eventually becoming the only Afghan woman in history to obtain a PhD in filmmaking, with a focus on the semiotics and aesthetics of cinema. Over a decade of studies, she produced over two dozen short films and documentaries, under the supervision of Dusan Hanak, one of the leading directors of the Czech and Slovak New Wave.
Her more important documentaries include "Parlika: A Woman in the Land of Men," shot in Kabul in 2016, about the famous woman activist from the Communist era who continued her work for decades.
"There's an ongoing history of violence against women in Afghanistan," says Karimi, "from the era of the mujahedeen through to the Taliban — but now it's the worst it's ever been."
When asked about the iconic photo of Afghan women at a university in Kabul in the early 1970s, happily studying and wearing mini-skirts, Karimi affirms, "They were in the minority. It was only a golden age for the elite and the privileged classes, not for rural women."
Another of her important works, 2014's "Angel," about a young woman studying to be a midwife in the remote Daikundi region of central Afghanistan, explored the reality for rural women, documenting the high rates of infant and maternal mortality with grace and insight.
While Karimi admits that it was a privilege to have a Slovak passport that allowed her freedom of movement, her decision to build a home in Afghanistan was prompted by a desire to "witness reality with my own eyes and to be a storyteller for my own people."
This desire continues to be a motivating force for Karimi, even in exile, as she prepares her new film about the events of Aug. 15.
"It was a big surprise for me," she says of the Taliban invasion, in spite of the warning signs. There was an increase in suicide bombings and she says, "Some days I knew I might die if I went outside my home." Eventually she learned she was on a Taliban hit list and had to stop using her car, when she found explosives placed under it.
Still, she says, "I didn't believe the whole government would collapse like that. When it did on August 15th, for me and my generation, this was the first time we saw the disintegration of our country. Before that we were part of the development of our country."
She sighs as she remembers that fateful day. "Within a few hours, we had to decide if we should stay or go. If I stayed, I would be killed, but if I left, I would lose everything I'd built up over a decade. I feared for the safety of my five young nieces. I was their role model and they grew up very free. I didn't want them to stay in Afghanistan under the Taliban regime. It was a very difficult decision, but in the end, I decided to leave. Within a few hours I lost everything — my plans, my dreams — I was witness to the falling apart of everything. Some Afghans have criticized me and said, 'You should have stayed and become a martyr.' But I didn't want to be a hero. I wanted to live and fight another day."
From her exile in Rome, Karimi continues to protest Taliban rule. "Some Afghans say, 'Maybe if you shut up you can return to Afghanistan,' but I hate them and think they are a bad regime. Their whole system of governance is wrong. I will tell the truth even if it costs me a lot." And so it has.
Now the Afghan Film Commission, where Karimi established the first national film festival and awards and drafted a national policy on cinema, is headed by a mullah. Staff go to an empty building every day, she says, to sign their work sheets, drink tea, and then go home.
If you could talk to Joe Biden, I ask, what would you say?
"Shame on you," she replies, not missing a beat.
"He shouldn't take any decision without enough information," says Karimi. "Unfortunately, Americans don't have correct information about Afghanistan as their advisors are mainly Pakistani. For the sake of Afghan people, they should choose someone wiser."
Karimi hopes that the U.S., which she sees as locked into a new cold war with Russia, China, and Iran, at the expense of Afghanistan, will refuse to recognize the Taliban. "The international community should push for democratic elections and the inclusion of women and ethnic minorities in social, political, and economic life."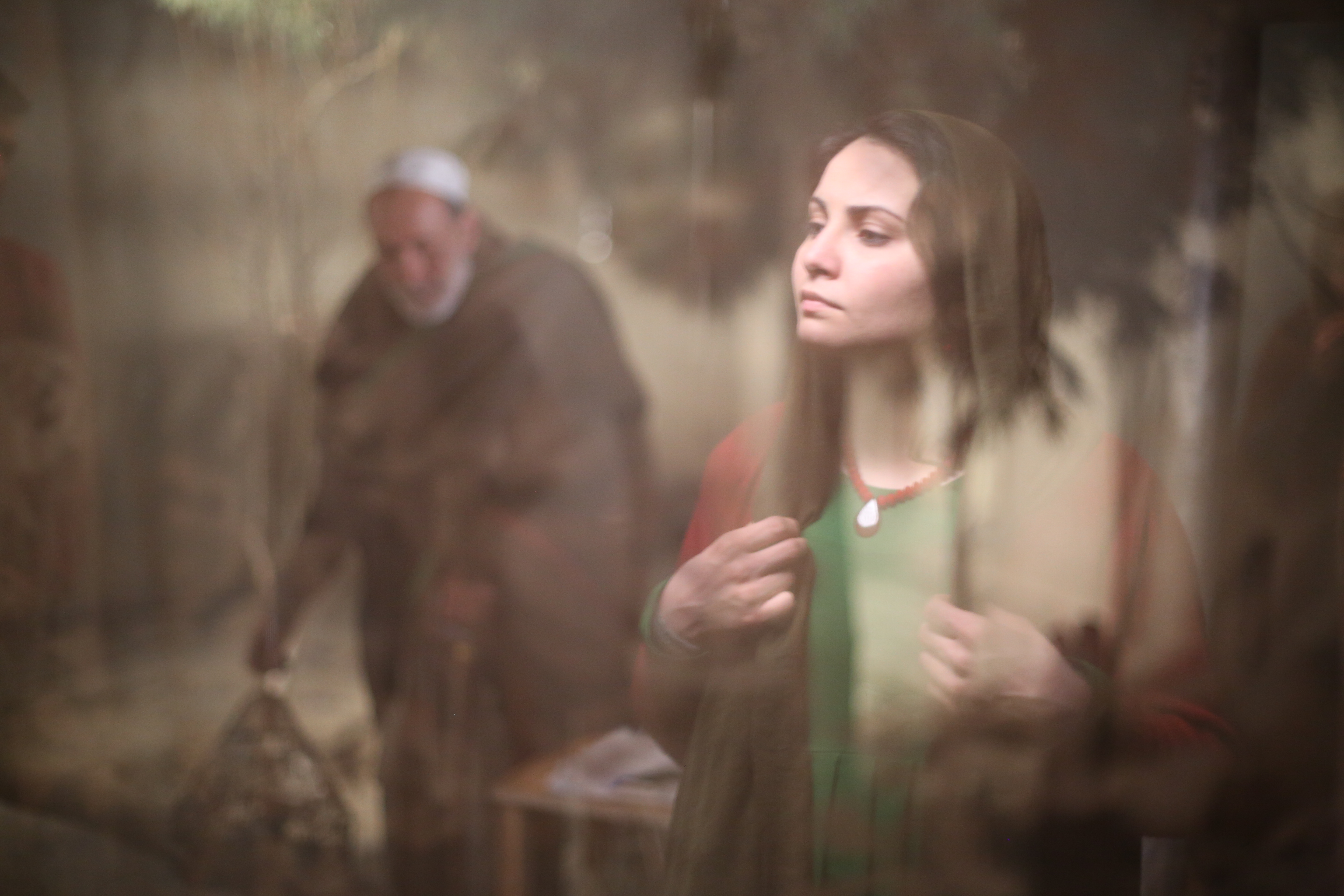 Meanwhile, she is focused on her new film, starring Arezoo Ariapoor and tentatively called "Flight from Kabul." Ariapoor played the plucky, heavily pregnant Hava in "Hava, Maryam, Ayesha," who after being injured by one of her father-in-law's traps set for a local wild cat, calmly destroys them all single-handedly and then climbs a ladder to the roof to offer milk to her feline friend. Like the characters in her films, Karimi has an uncanny ability to overcome incredible odds. Now their quiet strength in the face of adversity will find its match in the director's own story.
"My story," says Karimi, as the WhatsApp line begins to fade from her apartment in Rome, where the last king of Afghanistan Mohammed Zahir Shah once sought refuge and where a diaspora of over 12,000 continues to grow, "is the story of my country."
Hadani Ditmars is the author of Dancing in the No-Fly Zone: A Woman's Journey Through Iraq, a past editor at New Internationalist, and has been reporting from the Middle East on culture, society, and politics for two decades. Her book in progress, Between Two Rivers, is a political travelogue of ancient and sacred sites in Iraq. The views expressed in this piece are her own.
Main photo by FILIPPO MONTEFORTE/AFP via Getty Images
---
The Middle East Institute (MEI) is an independent, non-partisan, non-for-profit, educational organization. It does not engage in advocacy and its scholars' opinions are their own. MEI welcomes financial donations, but retains sole editorial control over its work and its publications reflect only the authors' views. For a listing of MEI donors, please click here.