Summary
Only several months after the Saudi-led military coalition waged its ongoing campaign against the Iranian-backed Houthi rebels in March 2015, the United Nations began issuing warnings about famine. Today, millions of Yemenis are on the brink of famine, with about half a million suffering from a cholera outbreak. This paper analyzes the causes of Yemen's humanitarian catastrophe and offers the Trump administration recommendations for helping the impoverished Arab state avoid a famine.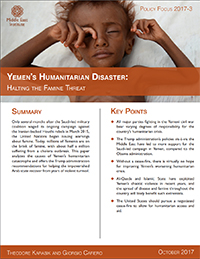 View PDF
Key Points
All major parties fighting in the Yemeni civil war bear varying degrees of responsibility for the country's humanitarian crisis.
The Trump administration's policies vis-à-vis the Middle East have led to more support for the Saudi-led campaign in Yemen, compared to the Obama administration.
Without a cease-fire, there is virtually no hope for improving Yemen's worsening humanitarian crisis.
Al-Qaeda and Islamic State have exploited Yemen's chaotic violence in recent years, and the spread of disease and famine throughout the country will likely benefit such extremists.
The United States should pursue a negotiated cease-fire to allow for humanitarian access and aid.
Read the full Policy Focus here.
---
The Middle East Institute (MEI) is an independent, non-partisan, non-for-profit, educational organization. It does not engage in advocacy and its scholars' opinions are their own. MEI welcomes financial donations, but retains sole editorial control over its work and its publications reflect only the authors' views. For a listing of MEI donors, please click here.