In this week's Monday Briefing, MEI experts Ahmad Majidyar, Alex Vatanka, Jean-François Seznec, Gerald Feierstein, Marvin G. Weinbaum, Gonul Tol, and Randa Slim provide analysis on recent and upcoming events including Europe's scramble to salvage the Iran nuclear deal following the U.S. withdrawal, Iran's response to Russia's call for all foreign forces to leave Syria, a meeting by Saudi Arabia, the UAE and Russia to discuss the impact of new U.S. sanctions on Iran, the arrest of women's rights activists in Saudi Arabia, new political tensions in Pakistan, a push in the U.S. Congress to enact sanctions on Turkey over its detention of an American pastor, and Iraq's efforts to form a new government following last week's parliamentary elections.
Subscribe for free to get the Monday Briefing delivered straight to your inbox by clicking here.
Europe has little wiggle room to keep Iran deal alive
Ahmad Majidyar, MEI Fellow, Director of the IranObserved project
While European powers are determined to salvage the 2015 Iran nuclear deal after the Trump administration's unilateral exit, it is far from certain if they will find effective ways to do so. The accord's survival hinges upon the EU's ability to incentivize Tehran with lucrative business deals to remain compliant, but the far-reaching U.S. sanctions will deter major European companies and banks from investing in the Islamic Republic.
Soon after Washington's withdrawal, major European companies, including French oil giant Total and Danish shipping group Maersk, said they would halt all activities in Iran unless they received U.S. sanctions waivers—prompting Tehran to say EU's efforts so far to protect Iran's interests in the deal have not been sufficient.
The EU may try to enact laws to protect its companies from U.S. sanctions or create a new financial system to purchase Iranian oil and gas in euro rather than the U.S. dollar. European countries may also provide credit lines to smaller companies not doing business in the U.S. to invest in Iran. But once the U.S. treasury reinstates all nuclear-related sanctions on Iran in the next months, it will be hard, if not impossible, for any international company to evade the U.S.-dominated global financial system.
The Trump administration hopes that European powers will support its efforts to escalate economic pressure on Tehran to force Iranian leaders to agree on a new, more compressive agreement. But there is a lack of consensus in Europe to side with Washington to work on a new deal.
Iran frustrated by Assad-Putin meeting in Sochi
Alex Vatanka, Senior Fellow
Bashar al-Assad's May 17 visit to Russia is generating much dismay in Tehran. Shortly after Assad's meeting with President Vladimir Putin in Sochi, the Russian envoy for Syria urged all foreign military forces to leave the war-torn country. This, Alexander Laverentiev insisted, includes Iran and its ally, the Lebanese Hezbollah. It was explicit, and Tehran's wiggle room to downplay Moscow's call has been limited.
So far the only official response has come from the spokesperson of the Iranian foreign ministry who declared, "no one can make Iran do anything against its will." This bickering will not become a full-blown controversy, but this latest episode once again highlights two basic realities. First, the Iranian dismay about Russia's intentions in Syria is part and parcel of Tehran's enduring mistrust of Moscow's efforts to become the undisputed kingmaker in the Syrian conflict. Deafening Iranian silence about Benjamin Netanyahu's May 9 visit to Moscow—after which the Israeli prime minister declared Russia will not prevent Israel from hitting Iranian forces in Syria—reflects only Tehran's inability to retaliate.
Secondly, and more importantly, Assad's surprise visit to Putin again raises questions about the end-goal Tehran has in mind for its costly intervention in Syria. In fact, it should raise questions about the Islamic Republic's 39-year drive to extend its influence in the Arab world. It began as an Islamist ideological project initiated by Ayatollah Khomeini in 1979, but a growing angry popular sentiment in Iran increasingly cannot avoid seeing the direct link between Tehran's ideological agenda and Iran's economic malaise that is choking the Iranian people.
Russian, Saudi, Emirati oil ministers to meet on Iran sanctions
Jean-François Seznec, MEI Scholar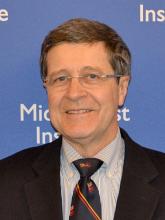 The energy ministers of Saudi Arabia, the UAE and Russia will meet this week on the sidelines of the St. Petersburg Economic Forum to discuss the potential impact of renewed U.S. sanctions on Iran.
Russian oil companies, like many European and Chinese firms, may be eager to "help" Iran overcome the U.S. sanctions, but will be stymied by the fear of U.S. secondary sanctions. Furthermore, the technology of Russian firms may not be sufficient to help Iran recover oil and gas from its older fields or to build the Liquid Natural Gas plants, which it needs to keep production and exports up.
On the other hand, Russia, Saudi Arabia and the UAE will be willing to help the world overcome the 1.2 million b/d potential decline in Iranian production due to renewed sanctions. The three oil producers can easily replace any decline in supply or merely not have to continue cutting production as they had previously agreed to do to keep prices up.
The world will be grateful for stable supplies and prices while the Saudis, Emiratis and Russians will be $90 million per day richer, a win-win situation for all except Iran.
Ultimately, a good Saudi-UAE-Russia relationship may be more interesting to the Russians than one with Iran. In March 2018, there were reports that the Saudi energy minister would sign 26 energy cooperation agreements with Russia this coming week in St. Petersburg.
Indeed, the Saudis and Emiratis may provide Russia with capital to develop new energy projects there. Hence, Iran's predicament could benefit Russia who will be able to increase oil production at better prices, get capital from Saudi Arabia and the UAE for high value projects and still look good in the eyes of the Iranians.
Saudi Arabia's unsurprising arrest of women activists
Gerald Feierstein, Director of Gulf Affairs and Government Relations
Saudi authorities have arrested seven women activists since May 15, according to press reports and Human Rights Watch (HRW). A number of observers who viewed the arrests as a departure from the kingdom's ongoing relaxation of its previously rigid social restrictions have expressed surprise. But, in fact, the arrests should come as no surprise.
While Saudi Crown Prince Mohammed bin Salman has embarked on a broad program of economic modernization and social reform, dubbed Vision 2030, he has said explicitly that his program does not include broadening the political space.
In fact, arrests of activists have continued without interruption despite the reform project. According to earlier HRW reporting, nearly all of the members of the Saudi Civil and Political Rights Association have been imprisoned for their pro-rights advocacy.
Several bloggers and social media activists, including women advocating for improved women's rights and prominent blogger Raif Badawi, have been sentenced to extended prison terms for their activities. Notoriously, the Saudi regime subjected dozens of prominent business and government leaders to imprisonment in the Ritz-Carlton Hotel in late 2017 for as long as several months over charges of corruption without ever providing a legal basis for the arrests or an opportunity for those charged to defend themselves in a court of law.
The government has not yet indicated what charges will be brought against the women arrested in recent days. But suggestions that the women have committed "treason" for threatening national unity are an ominous indication that their imprisonment may be for an extended period of time.
Pakistan tensions resurface after Sharif's explosive interview
Marvin G. Weinbaum, Director for Afghanistan and Pakistan Studies
Political tensions in Pakistan are on the rise over former Prime Minister Nawaz Sharif's comments on May 12 implicating Pakistan in a 2008 terrorist attack in Mumbai that killed 166 people. His comments appeared to confirm India's repeated claims that Pakistan orchestrated the attack and drew wide criticism, including from top military officials who have repeatedly denied India's accusation.
On May 20, Reporters Without Borders charged that the Pakistani government had restricted Dawn—the newspaper that interviewed the former prime minister— from distributing publication of the interview. His comments come during a time when Pakistan is facing the possibility of being blacklisted by the Financial Action Task Force (FATF).
In February, FATF added Pakistan to a gray list for failing to curb money laundering and financing of armed terrorist groups. Pakistan has until June to submit a plan of action for countering terrorism financing and money laundering. Being put on a blacklist by FATF could heavily impact Pakistan's banking and financial system.
Sharif's remarks could influence his party's chances in the upcoming general elections scheduled for this July. Imran Khan, leader of the Pakistan Tehreek-e-Insaf party, has called for Sharif to be tried for treason, and other opposition parties have also condemned him. Leaders of the Pakistan Muslim League have tried to distance themselves from Sharif's comments and have accused Indian media of "grossly exaggerating" what Sharif told Dawn. Though given the opportunity, a bitter Sharif, barred from office in April by Pakistan's judiciary, has refused to back down from his explosive remarks.
Turkey sanctions bills float around Congress
Gonul Tol, Director for Turkish Studies
Turkey is going to the polls in June amidst several threats of sanctions. Last week, the House Committee on Armed Services approved a draft bill containing a clause that would halt the sale of military equipment to Turkey until the U.S. defense secretary provided Congress with a report on Turkey-U.S. relations.
Another bill was proposed in the House of Representatives, calling for halting sales of more than 100 F-35 fighter jets and related intellectual property to Turkey. And more such proposals might be in the making.
The case of the detained American pastor, Andrew Brunson, whom Turkey accuses of colluding with terrorist groups, is being watched closely by members of Congress. They might push for sanctions before he appears in court again in July. There is also bipartisan concern on the Hill about Ankara's decision to purchase Russian S-400 missile defense systems.
Congress is not the only one considering measures against Turkey. The UN is investigating whether Turkey shipped Israeli-made electronic equipment to Iran in violation of UN Security Council sanctions on Tehran. Turkey's state-owned Halkbank is also in trouble for its role in evading Iran sanctions. A senior manager of the bank was recently sentenced to 32 months by a Manhattan court. The U.S. treasury might take several measures against the bank, including levying a hefty fine and cutting the bank off from the international money transfer system SWIFT.
After having ruled the country for 16 years, President Recep Tayyip Erdogan does not have much to offer domestically. So he campaigns on a discourse of fear mongering and pitches himself as the defender of the nation against a Western assault. He is likely to use these sanctions to prove his point.
New Iraqi government could see a broad coalition
Randa Slim, Director of the Initiative for Track II Dialogues
The negotiations are underway in Baghdad to form a governing coalition. To-date, these negotiations indicate a potential governing coalition including Moqtada al-Sadr, Haider al-Abadi, Ammar al-Hakim and Hadi al-Ameri. The Kurdistan Democratic Party (KDP) and some factions within the Patriotic Union of Kurdistan (PUK) will likely join this coalition. Given the bad history between Sadr and former Prime Minister Nouri al-Maliki, Maliki is set to join the opposition ranks.
There are three long-term implications of the election outcomes. First, no political party can now claim monopoly of the leadership of any of Iraq's communities. Some parties still have a better hold on their base than others, but the political fragmentation is here to stay.
Second, Iraqi voters, Shiite and Sunni, voted against sectarian policies. Arab Sunnis are now betting on the system which many of their co-religionists branded as anti-Sunni, to secure their rights. The Shiite vote against Maliki was also a vote against the sectarian policies he endeavored to institutionalize.
Third, while the Popular Mobilization Forces PMF) have proven they are an important political actor to reckon with, they lack a sustainable long-term narrative. Unlike Hezbollah in Lebanon, whose domestic brand is defined by the resistance against Israel and the defense of Lebanese Shiite political and economic rights, the PMF have defeated their enemy and Iraqi Shiites do not contest the political system as a protector of their rights. The PMF now need to deliver on public goods in government jobs and social services, otherwise their popularity, earned by their sacrifices in the fight against ISIS, will decrease.