This year was already expected to pose challenges for Morocco, Algeria, and Tunisia. Inflationary pressures have been driving up the price of goods since the fourth quarter of 2021. Persistent unemployment, worsened by the COVID-19 pandemic, aggravated social discontent. Now, as winter turns to spring, socio-economic stability in the Maghreb is being imperiled by the conflict in Ukraine and insufficient rainfall at home. Higher prices for food commodities and hydrocarbons are upending budgetary calculations across North African capitals.
The impact of each of these factors will vary greatly from country to country. Algeria's ruling military regime might be strengthened by the boost in energy export revenues fueled by higher oil prices, but it will still have to contend with a population battered by high food prices. What Morocco, Algeria, and Tunisia have in common is that costlier food and energy will galvanize discontent toward governments dealing with elastic bouts of popular dissatisfaction.
All three countries, highly dependent on commodity imports, were already vulnerable to food crises — especially financially strapped Tunisia. Drought and a global economy hard hit by the impact of war might jolt these negative trends into social upheaval.
Food insecurity
Maghreb countries have long struggled with food insecurity. Climate change has worsened this problem, with increasingly regular droughts alternating with large-scale floods that destroy agricultural infrastructure and crops. The COVID-19 pandemic has further disrupted the economies of Morocco, Algeria, and Tunisia. Food prices began to rise toward the end of 2021, triggered by logistics issues, insufficient domestic production of food commodities, and the broader consequences of the pandemic. Global prices for cereals had risen by over 27% annually by September 2021. This trend affected most food commodities, tightening the budgets of lower-income households across North Africa.
Algeria's annual inflation rate reached 8.5% in December 2021. By that point, high prices and the scarcity of commodities such as cooking oil had led to physical altercations in supermarkets across Algeria. In Morocco, inflation reached 3.1% year-on-year in January 2022, driven by a 4.3% rise in food prices and a 2.3% increase in non-food products. Surging living costs incited protests in major Moroccan cities on Feb. 20, 2022, the 11th anniversary of the first Arab Spring protests in the country.
Drought worries
The growing problem of food insecurity has been greatly exacerbated by a pattern of reduced rainfall that has persisted in the Maghreb for the first few months of this year. By January 2022, global prices for agricultural commodities had jumped by 35% relative to a year before. Alarmed by the lack of rain, governments in the Maghreb planned to import more cereals to offset lower domestic production. By February, Morocco had declared an "exceptional drought year," and the country's ruler, King Mohammed VI, announced a Dh10 billion ($1.01 billion) financial support mechanism to combat the impact of insufficient rain on the agricultural sector.
In Algeria, December 2021 and January 2022 saw roughly one-third of the country's normal rate of rainfall. Dams were at 37.6% capacity in early February, with Algerian authorities hoping that spring rains might ease the effects of the dry winter.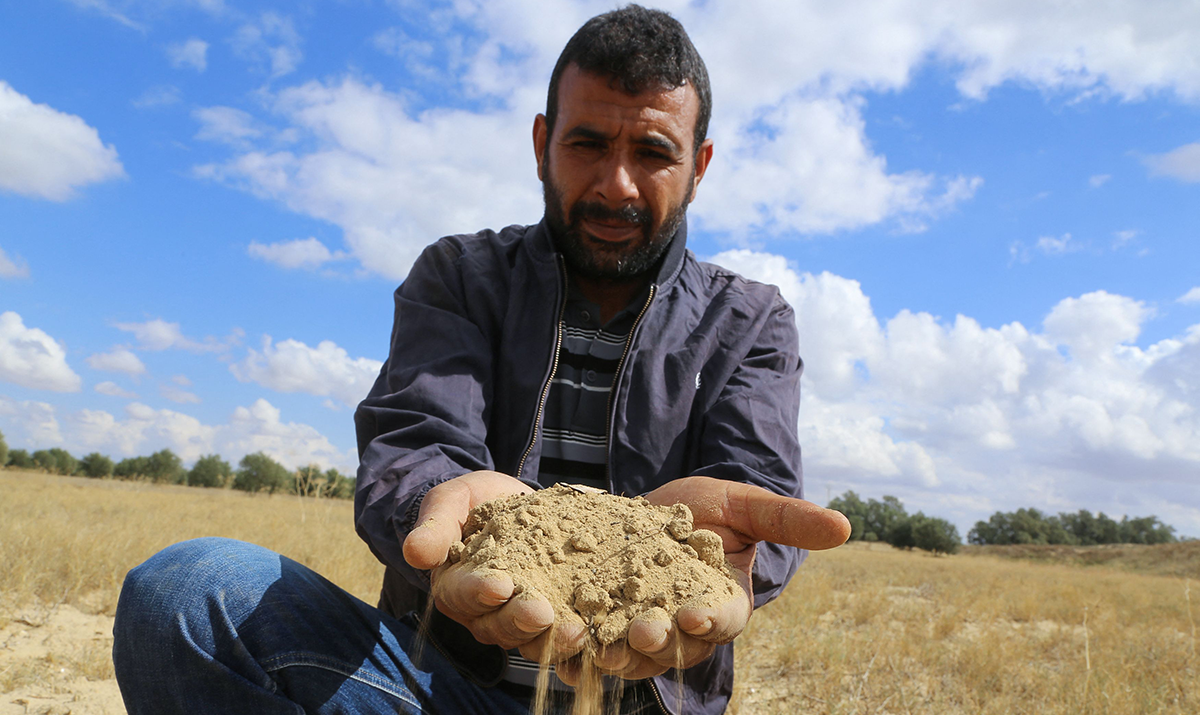 Bread and politics
For decades, access to subsidized food staples has been the difference between authoritarian stability and chaos in several countries in the Middle East. In 1977, Egyptian President Anwar Sadat's attempt to cut bread subsidies fomented popular riots that left 171 dead and hundreds injured, forcing him to walk back his decision. In 1983-84, it was Tunisian President Habib Bourguiba who faced bread riots after he moved to eliminate subsidies on wheat and semolina. An estimated 110 Tunisians died in the ensuing disorder and government repression.
Maghreb countries have also witnessed more recent examples of what happens as a result of scarcity and price hikes. Higher commodity prices contributed to the outbreak of protests in Tunisia in 2008-09 and the toppling of President Zine El Abidine Ben Ali in 2011, which sent shockwaves throughout the region. A decade later, in 2018-19, the removal of bread subsidies in Sudan helped jumpstart the popular revolt that pushed long-time President Omar al-Bashir out of power.
War in the East, instability at home
Russia's invasion of Ukraine has complicated North African countries' procurement of additional cereal supplies, since Russia and Ukraine account for 30% of global wheat exports. In the first week of March, global wheat prices had already reached a 14-year high.
Wheat exports from the two countries will be compromised in 2022 because of conflict in Ukraine and economic sanctions imposed on Russia. Ukraine has banned exports of wheat and other grains, while Russia has imposed a partial ban on grain exports. Thus, North African countries will have to compete with the other wheat importers for a more limited supply of cereals. The longer the Russo-Ukrainian conflict lasts — disrupting future crops in the Black Sea — the greater the impact will be for food security in the Maghreb.
The governments of Morocco, Algeria, and Tunisia are aware that stability will depend on securing adequate cereal reserves and tamping down prices. For governments in the Maghreb, 2022 will be a year — perhaps the first of many — of rising subsidies and bloated budgets.
Grain needs in Algeria, Morocco, and Tunisia
That Algeria has resumed buying wheat from France — after a diplomatic row in late 2021 pushed it to bar wheat imports from its former colonizer — is a testament to the sense of urgency that has gripped the region. Algeria generally imports between 12 million and 13 million tons of cereals annually. This year, however, cereal imports will likely increase due to insufficient rainfall. Authorities have stated that the country has wheat reserves for the rest of the year, yet Algeria has continued its purchases, securing 600,000 to 700,000 tons of wheat on March 10 alone, at an estimated price of $485 a ton — much higher than the estimated $345.50 a ton it paid one month prior.
Morocco might also need to increase its cereal imports from 8 million tons in 2021 to 10 million tons this year. Authorities have projected a rise in the budget expenditure on soft wheat subsidies to Dh3.8 billion ($391.7 million) in 2022, up from Dh3.3 billion ($340.2 million) in 2021 and Dh1.3 billion ($134 million) in recent years. The Moroccan government had expected subsidies for wheat products to cost $161.6 million in 2022, but this calculation was made before the start of the conflict in Ukraine. The war will push up Morocco's subsidy costs and is encouraging the country to diversify its cereal suppliers. After France, Russia and Ukraine are the kingdom's second and third largest suppliers of soft wheat, accounting for 25% and 11% of its imports respectively. Morocco subsidizes the price of wheat, to protect both bakeries and consumers from excessive global market volatility. Soft wheat importers can only charge mills a government-fixed price of $27.50 per quintal. This means the government has to pay the difference to importers from the national budget — a cost that is likely to rise as the year progresses and the pressure on wheat prices continues.
Of the Maghreb states, Tunisia is perhaps the least well equipped, economically and politically, to handle the price increases caused by drought and war. The country has been embroiled in political disputes since President Kaïs Saied sidelined its elected parliament and seized expanded executive powers in July 2021. Saied's increasingly authoritarian stance has added uncertainty to Tunisia's politics. The president has proposed a constitutional referendum and legislative elections this year to mitigate the crisis.
At the same time, Tunisia is trying to secure a deal with the IMF for an additional rescue package, which might force the government to reduce or eliminate subsidies.
Tunisia imports 50% of its cereals for human consumption and 60% of grains needed for animal fodder. Total cereal imports come out to about 3.5 million tons each year, dwarfing the 1.5 million to 1.8 million tons produced domestically. Tunisia has regularly sourced its wheat imports from Ukraine, Russia, and the European Union. Like other countries in the region, it is now looking for alternatives. Tunis-based think tank IACE estimates that, at current cereal prices, government expenditure on subsidizing essential food commodities for 2022 may jump by roughly one-third to more than $1.2 billion — up from the $746 million initially estimated in the government budget. Besides dealing with a three-year drought that has stifled agricultural output, Tunisia also suffers from insufficient storage capacity for its cereals, limited to three months of imports.
Trade Minister Fadhila Rabhi stated in February that French-style baguettes, a staple of the Tunisian diet, sell for $0.06 but actually cost $0.14 to produce. Rabhi seemed to be alerting Tunisians that they may be asked to pay a more realistic price for bread well before the end of 2022. Prior to the start of the war in Ukraine, the Central Bank of Tunisia expected inflation to hit 6.8% this year; now, this prediction seems optimistic.
The problem of rising oil prices — unless you're Algeria
For Morocco, Algeria, and Tunisia, higher costs for food commodities will threaten livelihoods and upend state budgets. But they won't affect all three countries in the same way. For Algeria, higher energy prices resulting from the war will line government coffers with export revenues.
Algeria's oil and gas account for 95% of its export revenues and 60% of state income. The country's hydrocarbon export revenues increased from $20 billion in 2020 to $34.5 billion in 2021 and could be much higher in 2022. Brent crude prices averaged $71 per barrel in 2021, and skyrocketed to nearly $130 a barrel by the first week of March 2022 due to the situation in Ukraine, before declining to around $110 as of late March. Prices are likely to remain elevated if the Russian invasion of Ukraine turns into a protracted conflict with increasingly unpredictable effects.
In February, with oil prices rising, President Abdelmadjid Tebboune surprised Algerians with a freeze on tax increases. The government has also begun distributing an unemployment benefit of about $90 to young Algerians. This measure was part of the planned budget, but the economic cost of implementing it will be significantly lower in today's context of high crude prices. Algerian authorities' plan to remove subsidies on cooking oil, wheat flour, domestic gas, and electricity — which cost the state $17 billion last year — might be abandoned if oil prices remain high.
But higher oil prices will also increase the cost of everything else. For Algeria, which sources most of its consumption from abroad, high oil export revenues will be balanced by an inflated import bill.
In Morocco, which sources about 90% of its energy needs from imported fossil fuels, higher hydrocarbon prices will squeeze both the national budget and average Moroccans. Despite its growing renewable energy capacity, which accounts for roughly 37% of the kingdom's electricity generation mix, a high dependence on coal, natural gas, and petroleum sourced internationally leaves the country vulnerable.
Moroccans are already paying more at the pump. The country abolished fuel subsidies in 2014 and, since then, fuel prices have stayed below $0.99 a liter. But now, in the midst of the conflict in Ukraine, Moroccans in Casablanca are faced with diesel prices of $1.14 per liter and gasoline exceeding $1.32 per liter.
Tunisia also increased fuel prices in early March for the second time in a month. Although the country exports modest amounts of gas and oil, it imports refined petroleum products, which, at current price levels, erodes any benefits from high hydrocarbon prices. According to the country's minister of energy, each dollar increase in the price of oil adds an extra $47.5 million to state spending on fuel subsidies.
Long-term crisis
In the near term, Morocco, Algeria, and Tunisia will see inflated budget expenditure as authorities attempt to rein in food prices, especially for staples such as bread. But the countries of the Maghreb will likely continue to face this crisis for the long haul. The destruction in Ukraine and economic sanctions on Russia may disrupt cereal crops in those countries for years to come. Other cereal producers may enact export restrictions because of supply limitations, raising prices further and shrinking the supply of basic commodities.
In the Maghreb, governments' capacity to protect households from price hikes will determine their ability to maintain social cohesion. In the worst-case scenario, 2022 might just be the start of another decade of regional upheaval.
Francisco Serrano is a journalist, writer, and analyst. His work focuses on North Africa, the broader Middle East, and Latin America. The views expressed in this piece are his own.
Photo by ANIS MILI/AFP via Getty Images
---
The Middle East Institute (MEI) is an independent, non-partisan, non-for-profit, educational organization. It does not engage in advocacy and its scholars' opinions are their own. MEI welcomes financial donations, but retains sole editorial control over its work and its publications reflect only the authors' views. For a listing of MEI donors, please click here.