A recent contemporary art show mounted in the 13th century Qalawun Mosque in Old Cairo made an unintended point — that whatever the merits of the exhibited work, it was bound to be upstaged by the majestic setting with its elegant masonry, intricate inlay wall panels, wood-carved pulpit, tiled prayer niche, and elaborate stucco. All are stunning examples of art forms on the verge of disappearing yet integral to Egypt's cultural legacy, while the craftsmanship and craftspeople that produced them are essential for the conservation of these medieval masterpieces.
Cairo was renowned for its artisans well into the 20th century, when wood, glass, stucco, and metal work featured in the décor and furnishings of the opulent residences maintained by the elite during the monarchy. Tourism provided a secondary market for finely-crafted souvenirs such as embossed copper and brass trays or lampshades and carved wooden screens. Shifts in tastes and lifestyles, along with a decline in tourism and the influx of Chinese manufactured souvenirs, reduced demand, and with it the employment opportunities for master craftspeople and the workshops that kept their trades alive. Efforts to rescue Egypt's traditional crafts from extinction are fortunately under way and have lately received a boost from Saudi Arabia-based Art Jameel, an organization that supports arts, education, and heritage. Egypt's former minister of culture, Farouk Hosni, who oversaw numerous restoration projects during his tenure from 1987 to 2011, made a bid to revive local crafts in 2001, with the building of Fustat Traditional Crafts Center, named for its location in Cairo's oldest quarter. Although a second building was added in 2005, the center's mandate remained uncertain and the facility was underused until 2006, when a visit from the UK's Prince Charles jumpstarted the endeavor. 
Charles introduced an exhibition of the work of students from the Visual Islamic and Traditional Arts Programme (VITA), established at the UK's Royal College of Art in 1984, which focused on the replication in different media of the geometric and floral patterns that characterize Islamic decorative arts. During his visit, Charles was awarded an honorary doctorate from Al Azhar University, for promoting greater understanding of Islam in the West. The VITA, which later became part of the Prince's Foundation School of Traditional Arts, taught the technical aspects of reproducing these motifs, as opposed to the art history surrounding them, breaking complex processes down into simple, practical, detail-oriented steps.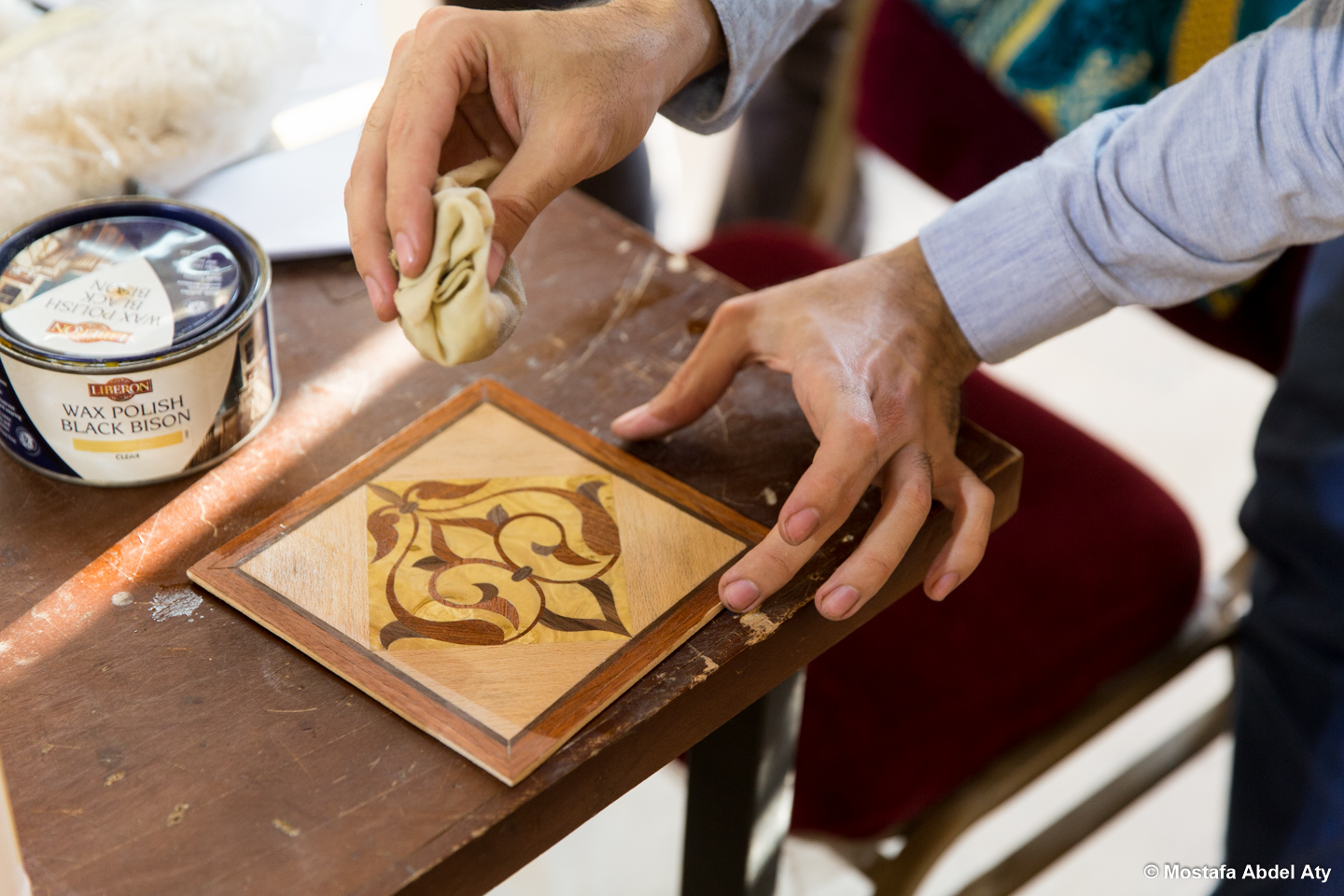 Impressed by the exhibition, Hosni proposed that a similar school be established in Cairo, directed and funded by the Prince's Foundation. Charles agreed, and Fustat Traditional Crafts Center began its transition into a school, co-sponsored since 2008 by Art Jameel under the auspices of Egypt's Cultural Development Fund.
Initially, tutors from the Prince's School conducted two-to-three-week courses to teach geometric patterns and upgrade the quality of the center's ceramics workshops. The improvements were dramatic; Charles commissioned the students to produce vases and plates that he gave as Christmas gifts in 2007 and 2008. The next step was to tailor the coursework to local needs and offer it to a wider public. Mamdouh Sakr, director of Jameel House of Traditional Arts as the school located in the Fustat Center is now called, helped design a two-year tuition fee-free program that has seen 117 students graduate since 2009. 
Aside from monthly sessions with Prince's School tutors, local master craftspeople also conduct classes in ceramics, wood, brass, glass, and gypsum work (stucco). Accomplished craftspeople are a dying breed in Cairo, and not always willing or able to teach; finding those who were required "detective work," said Sakr. Over the last decade Jameel House has been able to add new instructors from its alumni. The aim, said Sakr, is "to generate more master craftsmen. That's how you conserve an art form — by direct transmission."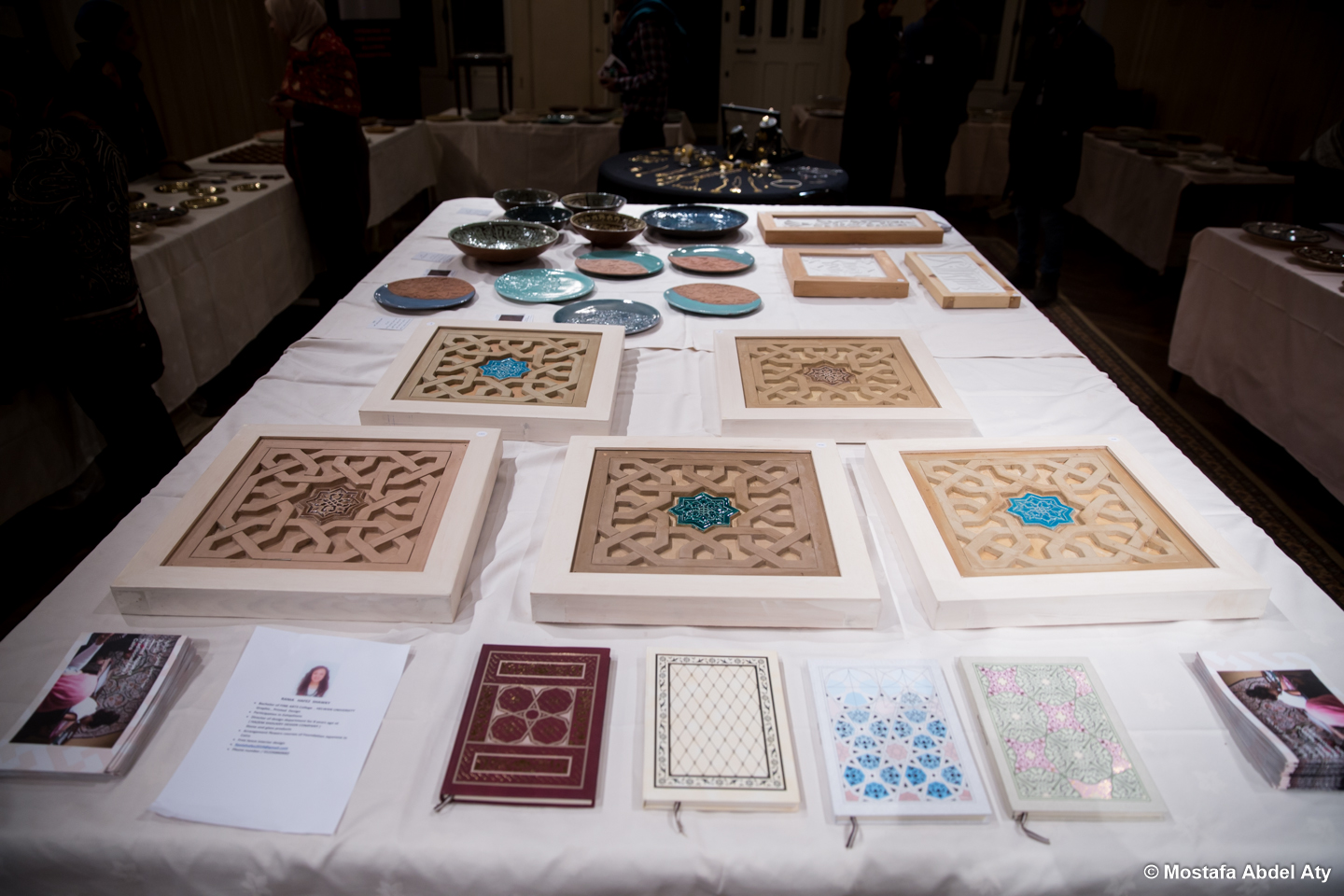 The Jameel House program receives several hundred applications annually, from those who have heard about it through Facebook and word of mouth. No previous training is required for admission and anyone over 18 may apply. The first cut is made after a basic drawing test using a ruler and compass; those who pass present their portfolios and some are invited for a further interview. The 20-24 selected for participation vary in age, as well as social and educational background. Students spend the first year working with different media, learning the logic of the patterns and gaining an appreciation for the precision necessary to produce them. "This isn't an art to which you sign your name," said Sakr. "It's something universal; you're repeating it to understand the language."
For the second year, students choose a medium in which to specialize. Classes are conducted in the workshop facilities in Fustat and in the field, sketching and analyzing the decorative elements of Islamic monuments, and gaining an appreciation for the craftsmanship and the possibility of recreating it, as well as for the wealth of material heritage Egypt possesses. "In London they go to a museum. In Egypt we can go to our streets," said Sakr. For their graduate project, students copy or adapt a feature from an historic building in their chosen medium under the close guidance of their instructors.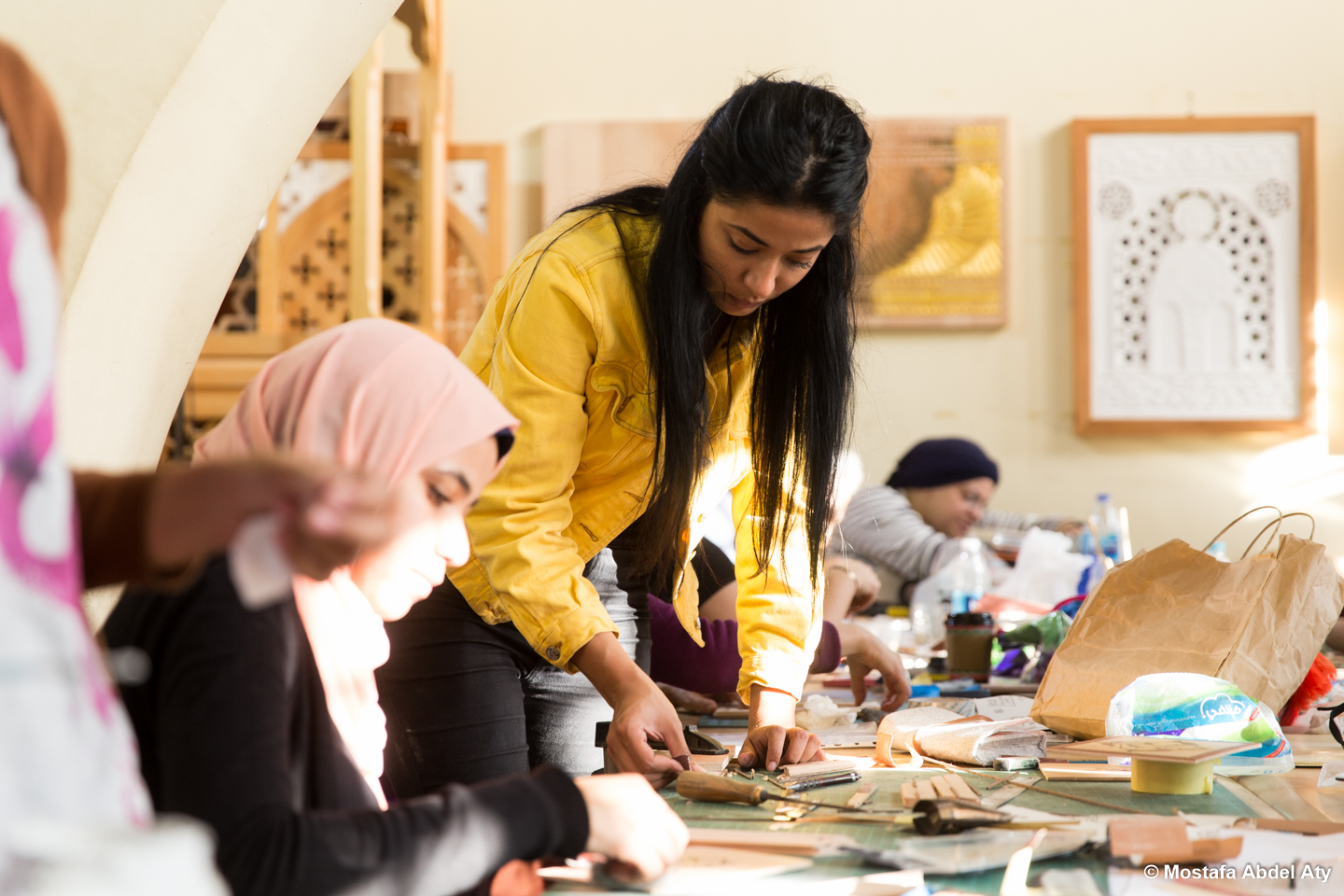 Some students came to the program with backgrounds in fine arts or Islamic art and architecture. One of these is Ola Said, who now works as an instructor at Jameel House, in addition to operating Turath Conservation Group with her husband from their home in Darb el-Ahmar, in Old Cairo. An engineer with a degree in restoration, Said found her "ultimate joy" when she enrolled in the Jameel House program and began working with her hands. Specialized in ceramics, Said acknowledges that however great one's passion for the crafts, "it's a struggle to make a living from it." In March 2019, Art Jameel established Atelier Cairo as a platform to assist graduates in finding financially viable means of practicing their skills.
The Zamalek space serves as a showroom, meeting place, and location for workshops open to the public led by Jameel House graduates, who earn a fee and the chance to show their work, while raising awareness of traditional crafts. The Atelier organizes annual exhibitions for alumni, where their work is sold, while assisting them in mounting their own enterprises and providing training in presentation, branding, and digital marketing. The Atelier's purpose, said Basma Hamed, who works closely with alumni as communications manager for Jameel House and Atelier Cairo, is "to open opportunities [and help them] to create their own story" using the artisanal vocabulary they have acquired. One alumna is launching a jewelry design and production business with the Atelier's assistance; another is using geometric patterns for fabric items.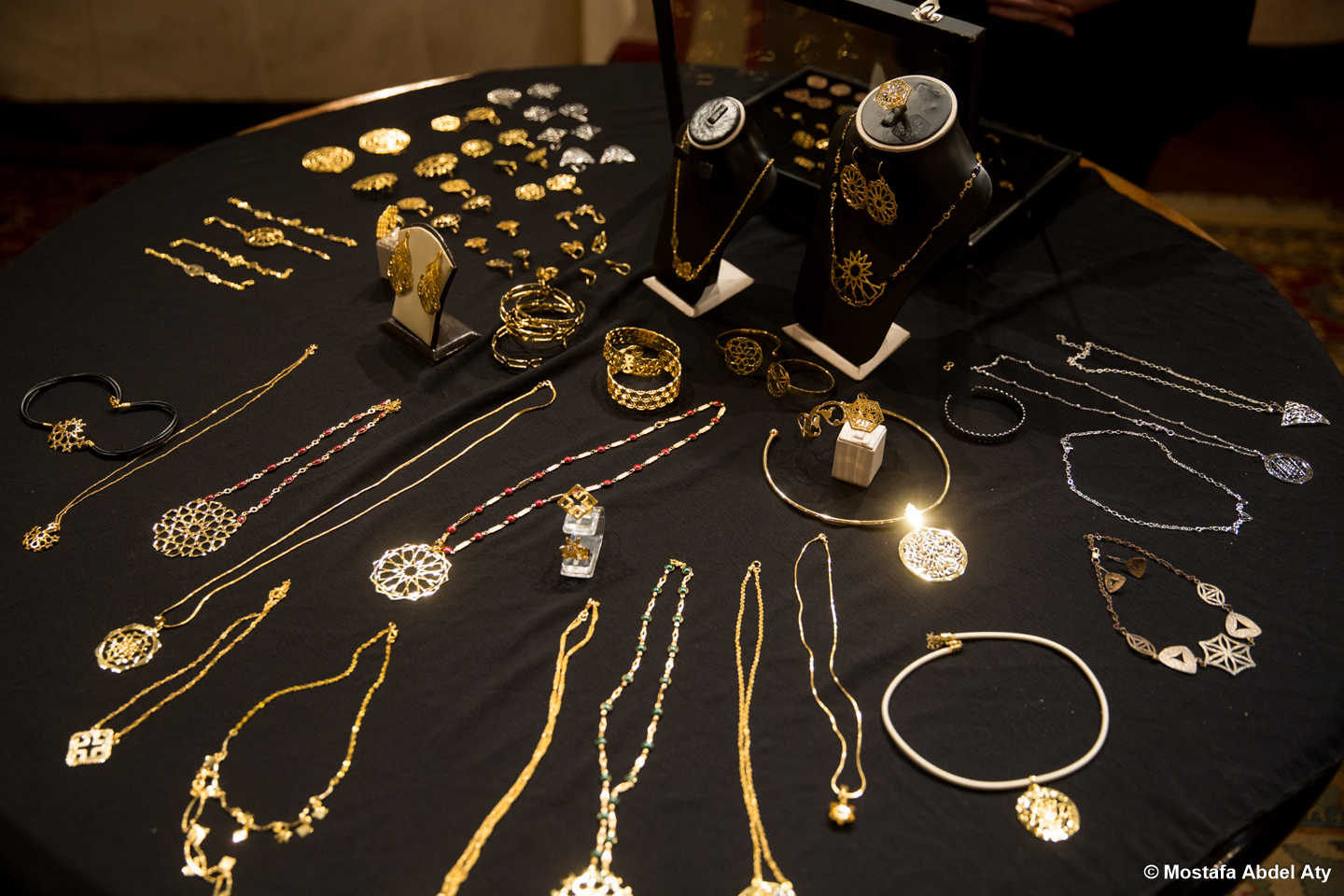 While commercial applications offer potentially profitable ways to practice their skills, graduates of Jameel House could also make a significant contribution to the conservation works that are constantly under way in Egypt. Practiced in creating precise replicas of decorative elements using authentic materials and techniques, "alumni could fill a gap in the field of restoration" where skilled craftspeople are in demand, according to Said. Jameel House alumni gain a range of periphery skills — like working on group projects, planning, and producing results on deadline — that make them excellent candidates. "This is something we can do. Make use of us," said Said, appealing to the institutions involved in restoration work.
A 2017 alumna, Heba Hosny, is currently part of a World Monuments Fund (WMF) team restoring the Takkiyat Ibrahim al-Gulshani, a 16th century Sufi religious complex in Old Cairo. With the support of Art Jameel, the Ministry of Antiquities, and other local agencies, the WMF held its annual Watch Day at the Gulshani site on June 29, 2019, hosting a series of community-oriented events "[highlighting] the importance of local stewardship in the sustainable preservation of heritage sites."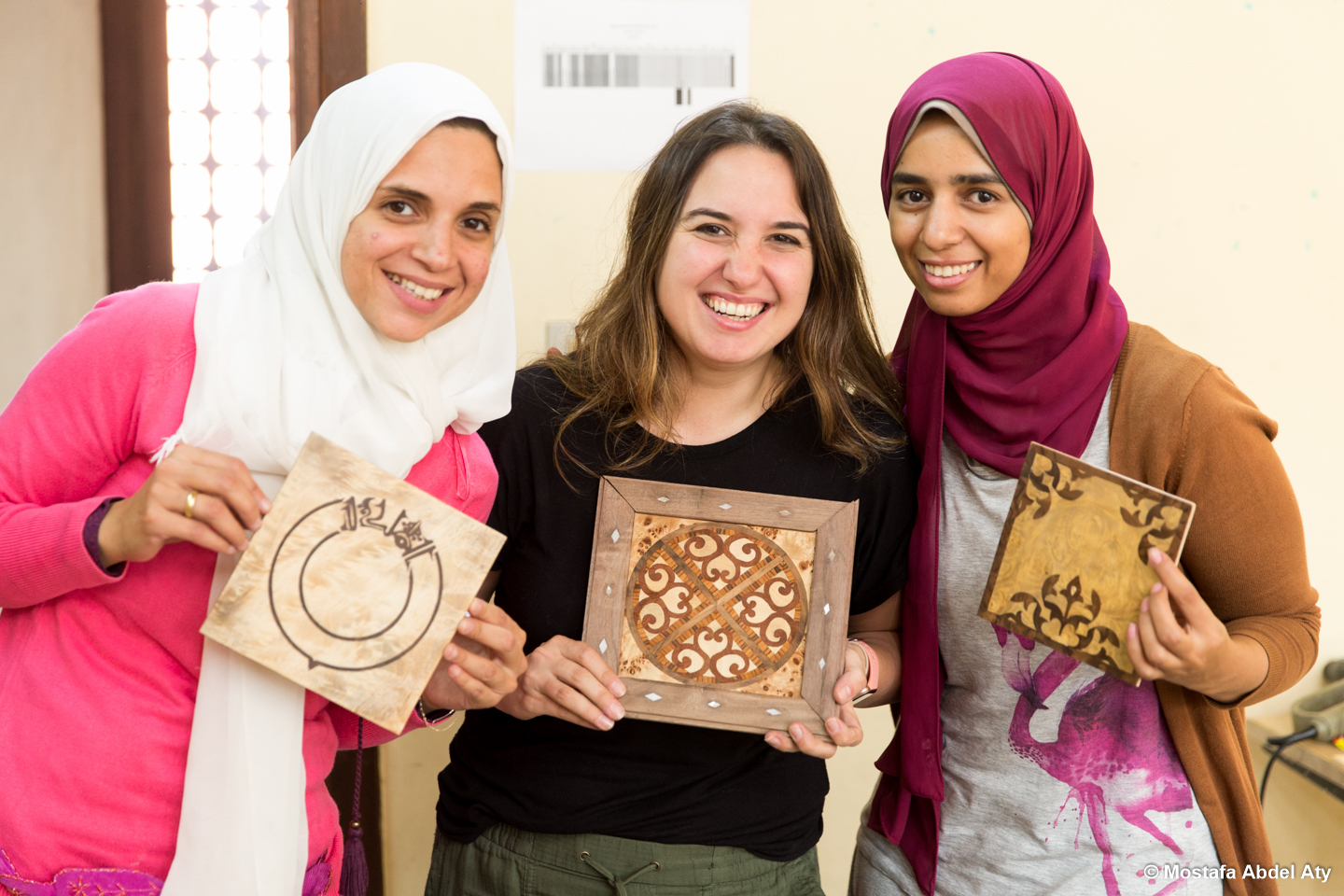 While conservation was once the sole domain of those conducting the interventions, institutions like the WMF, UNESCO, and the Aga Khan Foundation have increasingly emphasized community engagement, through training and job creation, workshops, and activities tailored to the project's context. In its work at the 15th century Mamluk Qayt Bey complex in the City of the Dead, Cairo-based conservation group Archinos stresses that the long-term survival of historic buildings and spaces can only be achieved "by reintegrating them into the lives of the local community members and demonstrating that cultural heritage can be useful and beneficial for them." The recognition that communities are integral to the preservation of material legacies of universal value has led to the democratization of the process, with artisanal education an increasingly vital component.
The Jameel House of Traditional Arts school and Atelier Cairo are well positioned to replenish the stock of skilled Egyptian craftspeople, helping to ensure their livelihoods and, in doing so, keeping rare and beautiful art forms alive.
Maria Golia, an American writer, has lived in downtown Cairo for over two decades. She is the author of Cairo, City of Sand and Photography and Egypt (Reaktion Books, UK, 2004, 2010). The views expressed in this article are her own.
All photos courtesy of the Jameel House of Traditional Arts, Cairo.
---
The Middle East Institute (MEI) is an independent, non-partisan, non-for-profit, educational organization. It does not engage in advocacy and its scholars' opinions are their own. MEI welcomes financial donations, but retains sole editorial control over its work and its publications reflect only the authors' views. For a listing of MEI donors, please click here.